Carlsson have presented details of their Mercedes-AMG C 63 S package, the Carlsson CC63S. It is supposed to add some motorsport flair to the range-topping C-Class together with some exclusive carbon fibre components and a bespoke interior package.
To start with, Carlsson have given the engine a small tune. The 4.0 litre V8 bi-turbo engine sees an increase of 115 bhp and 125 Nm; this corresponds to peak figures of 625 bhp and a maximum torque of 825 Nm respectively. The Carlsson CC63S manages the zero to 100 km/h sprint in just 3.8 seconds.
On to the CC63S area, Carlsson fit a new front spoiler lip and augmented air intake frames for the front together with canards. The side skirt and rear apron are constructed from carbon fibre whilst the boot lid mounted rear spoiler reduces lift. The underbody diffuser and black-chromed tailpipes finish the look.
Two packages are on offer. With the Carbon Package 1 you get the front spoiler, the rear skirt insert, diffuser, the sport rear silencer and the rear spoiler at a price of 9.990,00 Euro without VAT. The Carbon Package 2 contains an additional the air ducts, the mudguards, as well as the air outlet cover and is available for 15.990,00 Euro without VAT. The canards are additional, as are the flaps on front and rear of the side skirt and flaps on the rear apron.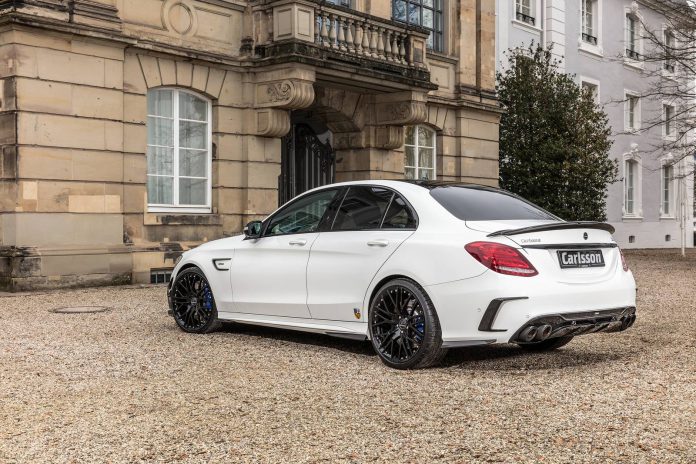 The wheels are brand new Carlsson designs called 1/10 X. They will be available from Spring 2017 in "Brillant Edition" and as a "Dark Series". For maximum speeds of up to 320 km/h, Carlsson fits the 20 inch 1/10 X wheel with Michelin Pilot Supersport tyres. The wheels measure 8.5 x 20 inches on the front axle and 9.5 x 20 inches on the rear axle.
The interior of the Carlsson CC63S includes a Tartan check pattern emulating classic Mercedes sportscars like the Gullwing and Uhlenhaut Coupé. Elsewhere, Nappa leather and Alcantara cover the remaining surfaces.