No less than 50 years ago Pirelli created the first tire developed for and tailored to just one specific car; The Lamborghini Miura. These days it is common that Pirelli develops custom P Zero tires for every model as per manufacturer wishes. However 50 years on from the launch of the Miura and its specially developed Cinturato HS CN72 belted tyre Pirelli aims to shake up the tire industry again.
This time it is not the tire itself that stands in the spotlight but the way customers experience in the brand when they are looking for a fresh set of rubber. Pirelli dreamt of a high-end location – like a fashion boutique – where customers can change their tires and interact with the Italian brand. This dream turned to reality at the first P Zero World in Los Angeles.
[youtube]https://youtu.be/FqZhHMULW1o[/youtube]
Located at the prestigious Santa Monica boulevard just a few minutes away from the high-end fashion boutiques at Rodeo Drive and the mega mansions of Beverly Hills the first P Zero World is a bold statement. It is at the heart of the Californian supercar scene and the black building with Pirelli P Zero branding stands out from the non-descript offices surrounding it.
Inside black continues to dominate and the tone set on the building's outside is continued into the smallest details. The walls are lined with a mix of display tires and full sized prints from the famous Pirelli calendar. Right next to the entrance we find a Red Bull F1 car and the tire selection for this year's F1 races.
Pirelli P Zero World Store in LA
On the other side a bright yellow McLaren 650S Spider shines away and this is not the only car on display – a classic Porsche 911, a Maserati GranTurismo and even Chip Foose's first truck; a stunning Ford F100 all grace the P Zero World with their presence.
The cars on display will chance regularly and are supplied by partners and friends of the shop manager Claus Ettensberger. Ettensberger is well known in the American aftermarket scene as he was responsible for bringing many of the German tuning brands to the United States the last few decades. He is the first partner that Pirelli chose for a Pirelli P Zero World but there are more to follow.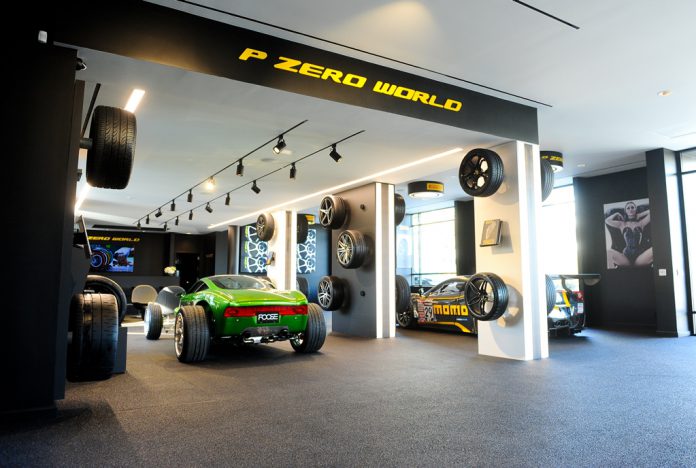 Pirelli aims to open half a dozen more P Zero Worlds in selected cities with a high concentration of performance and luxury car owners like Tokyo, Melbourne, London and Munich. In addition to these P Zero Worlds that offer customers a pleasant place to change their tires and a location for special events, Pirelli looks to open so called P Zero Centers which you can see as a shop-in-shop at existing tire or car dealers.
So how does the Pirelli P Zero World does things different? Once you arrive at the slick building along Santa Monica boulevard you can park at the courtyard which is usually packed with exotic cars. Walk inside and hand you car keys to one of the employees and they will get to work. Changing tires usually doesn't take longer than 30 minutes. In the meantime you can relax in the lounge, work, watch TV or explore the cars on display in a very modern environment – totally different from my usual tire changing experience.
Changing tires is one thing but Pirelli promises there is more to the P Zero World. And a look at the recent event calendar of the Pirelli P Zero World in LA couldn't express it more clearly. A red carpet opening party with celebrities rubbing shoulders with motorsport legends, a private live viewing of the US and Mexican F1 Grand Prix, a launch of the latest McLaren 570 GT and many others. The Pirelli P Zero World is like a stylish Club House for Pirelli drivers where you can also get some new tires.
The shop has a storage area with the most common tires in stock, more exotic sizes can be ordered. I would expect a location like this would work out in price but this should not be the case and the pricing should be competitive with most discount tire shops. But here you get free WIFI, a cool place to relax while your tires are fitted and great Italian 'caffè'!