It seems like Ferrari have news to share with us every day at the moment! Today we are hearing about the new Ferrari J50, a stunning new limited edition model based upon the Ferrari 488 Spider. It has left some asking if this is what the 488 Spider should have looked like all along!
The special edition was unveiled at the National Art Center in Tokyo to commemorate the 50th anniversary of Ferrari in Japan. Just 10 of the J50's will be made available. The two-seater, mid-rear-engined roadster gets an exclusive targa body style evocative of iconic Ferrari's of the 1970s and 1980s.
The Ferrari J50 was created by Ferrari's Special Projects department. It is a product of the Ferrari Styling Centre with each car tailored to the customer's individual requirements. The design features similar styling to the Pininfarina Sergio concept we saw in Geneva a few years ago.
It gets deep front air intakes with a distinctive styling line running from the front, along the flanks. The bonnet looks very similar to that of the LaFerrari. Both the side and the rear receive a complete redesign and the roof gets a set of roll over hoops. Dual exhausts and quad tail lights are the most noticeable changes! The profile of the front window gives the effect of a helmet visor.
Aerodynamically, the J50 is superior to the 488 Spider with a set of radiators positioned closer together thanks to the new front bumper. The windscreen header rail sits lower directing more airflow to the diffuser and spoiler.
The J50 benefits from detailed aerodynamic development with a number of significant functional solutions. Firstly, the radiators have been positioned closer together, and the front bumper has been completely redesigned. The windscreen header rail has been lowered allowing more airflow over the aero foil and thus over the rear spoiler.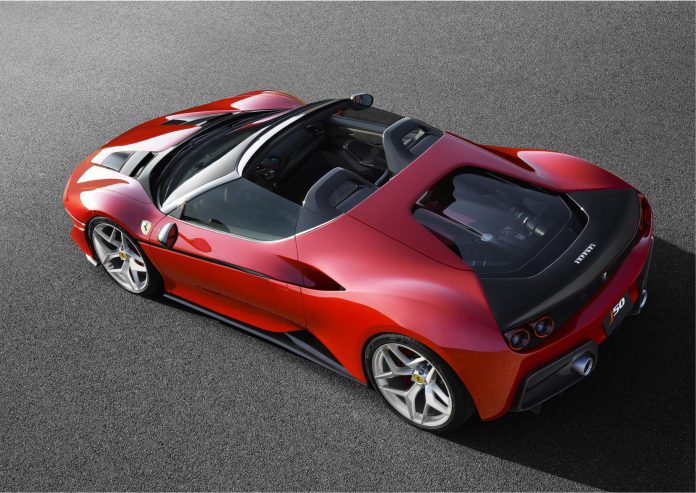 Ferrari describe the J50 as a barchetta, although it is more accurately described as a targa. A two-piece carbon fibre hard top is stowed behind the seats.
The J50 gets and enhanced version of the 3.9 litre V8 which powers the 488 Spider. It produces 680 hp, an extra 10 hp over the normal Ferrari 488 Spider. The 20 inch forged rims are unique to this limited-edition model.
Inside the cabin, unique colour schemes are on offer with the show car sporting a special shade of three-layer red on the outside with a red-over-black interior trimmed in fine leather and Alcantara. There is no word on when these cars will be delivered or on pricing, although we suspect that detail will be provided on a strictly need-to-know basis!