44 years since the introduction of the BMW 5-Series the manufacturer from Bavaria unleashes the 7th generation of it's popular business limousine. We seized the opportunity to put the brand new BMW 530d to the test in Portugal.
Over 7.9 million 5-Series have been built since its inception in 1972. It is still praised today for it's driving dynamics and not surprisingly the briefing for the latest generation was clear: create the most dynamic 5-Series ever. The BMW engineers set to work and although the new 5-series increased in exterior dimensions they managed to shave up to 100 kg of cars weight, increase performance and reduce fuel consumption.
At the market launch in February 2017 the 5-Series will be offered with four engine options: the entry-level 2.0 liter 4-cylinder diesel 520d, the 3.0 liter 6-cylinder diesel 530d, the 2.0 liter 4-cylinder petrol 530i and the 3.0 liter 6-cylinder petrol 540i. Later next year the range will be extended with a special 520d Efficient Dynamics, 530e iPerformance plug-in hybrid and our favorite; the 4.4 liter V8 M550i xDrive. BMW hasn't officially announced it yet but at a later stage we can also expect a successor for the M550d and of course the M5.
All models are available with and without xDrive – BMW's all-wheel drive system – except for the M550i which comes exclusively with xDrive. At launch all models are only available with BMW's 8-speed Steptronic. Pricing ranges from between 47,450 euro for the 520d to 82,700 euro for the M550i in Germany.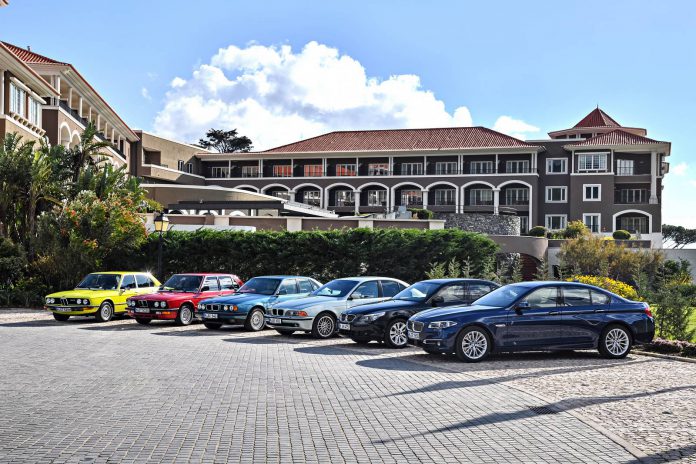 Taking a closer look at our test car; the 530d xDrive's 3.0 liter six cylinder engine produces 265hp and 620Nm of torque. This allows for a pretty good sprint from 0-100 km/h in just 5.4 seconds and an electronically limited top speed of 250 km/h. The last generation 530d was one of my favorite long distance travel cars and the new 530d doesn't disappoint in that regard. Ample torque in combination with excellent fuel economy provides great long distance range and enough power to make any highway journey as comfortable as it can be.
Design wise the new 5-Series looks very similar to the new 7-Series – from a distance I really need to look twice to tell them apart. Taking a closer look the car sets itself apart from the previous generation by a front that looks wider, new LED headlights and several aerodynamic optimizations that help reduce drag and provide the 5-Series with one of the best aerodynamic values in the segment. These include a air curtain on the outside of the front, air breathers in both front doors and a sharp line along the side of the rear bumper that creates a cleaner airflow away from the vehicle.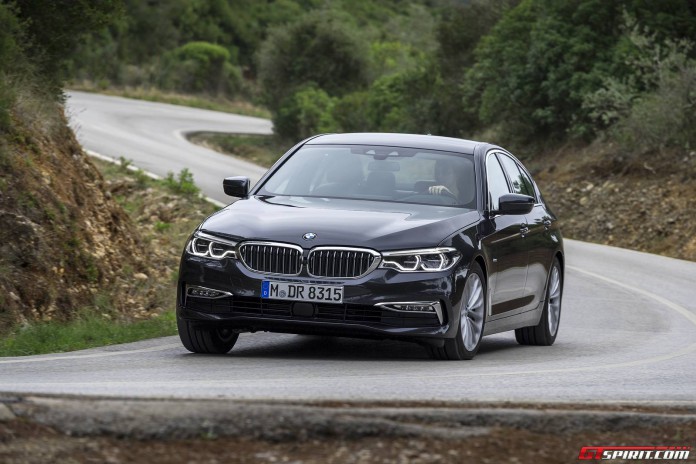 BMW offers three different exterior and interior packages that shape the looks of the car; Sport, Luxury and M Sport. Our G30 BMW 530d is a Luxury model and is finished in some grey metallic which looks pretty boring, however this is very much up to personal taste. If it was up to me I would go for a black 5-Series with the M Sport package which can be chosen with all engine variants – even the 520d. Optionally there is a also a M Performance line which includes a carbon fibre front splitter, side skirts and carbon fibre rear diffuser – this looks great but I couldn't find it in the price list so if you are interested in it make sure to ask your dealer.
The new BMW 5-Series comes with an all-new suspension setup that aims to provide excellent driving dynamics without a reduction in comfort. And my first test drive with the new BMW 530d shows that they succeeded quite well. It came equipped with the standard steel suspension with adaptive damping. In sport mode it is a bit stiffer than in comfort providing better cornering but even then it filters out most holes and bumps. It does lean a bit in the corners but the optional dynamic drive system aims to fix that with active stabilizers in the front and rear. Or you can order the M sport suspension which has a 10mm lower ride height and sportier suspension setup. In combination with the new rear wheel steering option that transforms the 530d from a long distance travel companion to quite the cornering specialist.
Inside the interior saw an evolution from the last generation. Whereas its closest competitors see more of a revolution in interior design, BMW stays true to the concept of the last generation five-series. Customers familiar with the last 5-Series will not have any issues finding the buttons and functionality they used to have – in addition BMW added a whole range of new tech. The analogue speedometer and rev counter are replaced by a digital display but it does not offer the flexibility and functionality of the digital driver displays in the E-Class or latest Audi models. Instead BMW invested a great deal of time in improving their heads-up display which now shows a great deal of info and extended navigation instructions.
The main infotainment display is no longer framed but now stands tall from the dashboard. It is increased to 10.25 inch in size and is as crisp and clear as it can be. The new home screen shows several pads – essentially widgets that allow you to quickly navigate main topics and they are interactive so you get a great deal of info directly at the homescreen.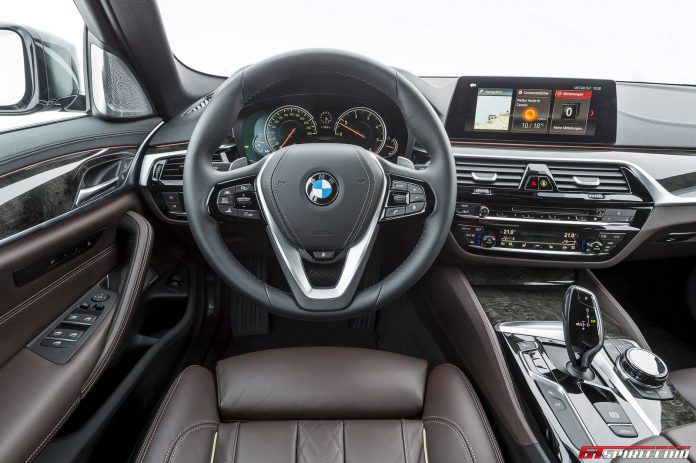 Underneath the infotainment is still based on BMW's iDrive system which was my favorite infotainment system from a usability perspective for years. But with all the new functionalities it is showing weaknesses – it is hard to find specific settings and is not as intuitive as other infotainment systems that are developed more recently. Having said that BMW does offer the most means of interacting with the infotainment through iDrive controller, touchscreen, voice control and gesture control. Although the latter two are optional extras they add a expanded dimension to interacting with the car.
I can write a separate article on all the connectivity and assistance systems that the 5-Series can be equipped with so I will focus on the things I particularly like- and dislike. On the new 5-Series you can opt for the latest version of adaptive cruise control and lane assist. Lane assist now also helps you switch lanes on highways when travelling over 70km/h. Just make sure intelligent safety – BMW's name for driver assistance systems – is active and the display shows a green steering wheel, hold down the indicator for two seconds and the car will steering automatically into the lane you want it to go. Quite a nice extension of the existing system and works well.
What to spec?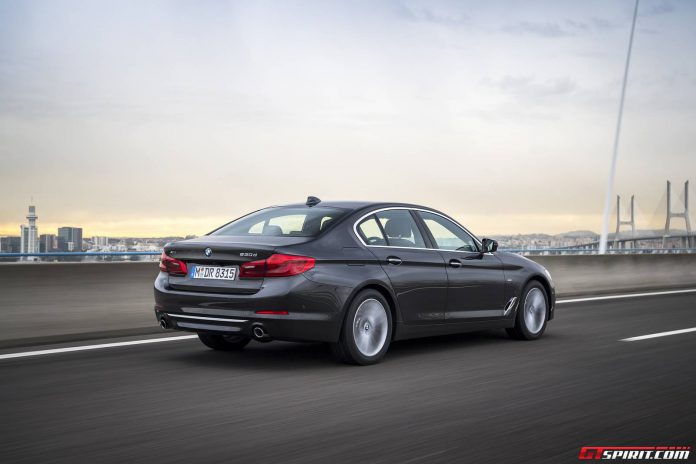 Having tried a few different specifications of the new 5-Series and tested quite a few of the available optional extras here are some of the things I would consider:
M Sportpackage – Gives the 5-Series a sportier look and includes the stiffer M sports suspension with a 10mm lower ride height and M sport brakes with blue brake calipers.
Dynamic Damper Control – Allows you to change the damper stiffness between comfort and sport, also includes an adaptive (auto) mode that changes the damper setting depending on road and driving conditions.
Comfortseats with massage function – Pure luxury and thanks to the adjustable side supports provide good support for a sporty driving style.
Seat cooling – best way to stay cool in Summer.
Comfort access – keyless entry and keyless go including opening and closing the bonnet with your feet.
BMW Display Key – Cool gadget that displays info like range, car status etc and allows you to park the vehicle remotely if you order the remote parking option.
Adaptive LED headlights – Includes adaptive high beam and cornering lights.
Driving Assistant & Driving Assistant Plus – A collection of safety and comfort assistance systems including adaptive cruise control, lane assist, lane changing assist, intersection warning and collision prevention front- rear- and side.
Head-Up Display – Very good system to keep your eyes on the road. Displays speed, navigation instructions and adaptive cruise status.
ConnectedDrive – A must for all 5-Series. Includes the 10.25 inch touchscreen infotainment display, navigation, smartphone connectivity, real time traffic and much more.
BMW Advanced Car Eye – Officially listed as accessory this system is a essentially a duo dashcam with a full HD front- and rear camera and it only costs 255 euro making it one of the cheapest options available for the 5-Series.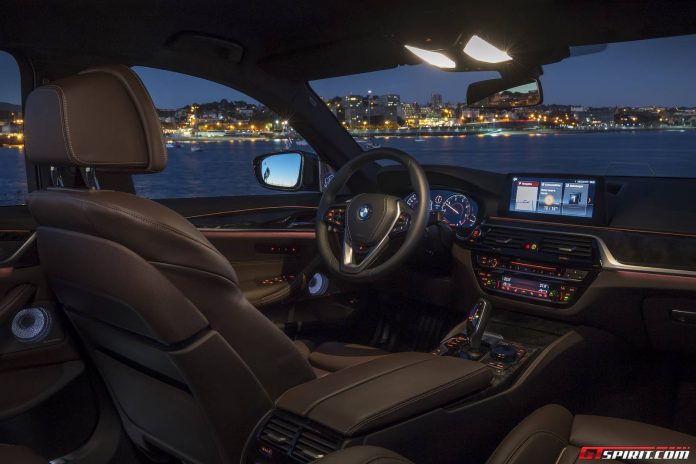 The BMW 5-Series also offers wireless Apple Car Play but I would spend my money elsewhere – just take the regular BMW connectivity package and you have plenty of ways to play media etc. The Bowers & Wilkins high-end audio system is great but quite pricey.
Conclusion
The new BMW 5-Series is as close to the 7-Series as it can get. Both in terms of design as in terms of infotainment and assistance systems it comes very close to BMW's flagship limousine. Inside the differences to the previous generation are more of an evolution than a revolution which makes the new 5-Series a bit more conservative than its direct rivals. What is far from conservative are the new infotainment, connectivity and assistance systems including no less than four means of controlling and interacting with the infotainment. The iDrive system however is now showing some limitations in terms of usability and I wouldn't be surprised if the sheer amount of options and settings overwhelms some of the future owners.