The Jeep Wrangler is cool. It does not matter if you're 80 or 8, chances are you have a memory of Willys Jeeps from the war or a Jeep from the Disney movie Cars – the jeep was a revolutionary 4×4 and still continues to be produced to this very day.
The design is still iconic and there is no mistaking the Jeep Wrangler for anything else on the road. Designers Hofele-Design have taken the latest generation Wrangler and created something that looks fit to patrol the lands of Jurassic Park. It looks MEAN – meet the Evolution HF.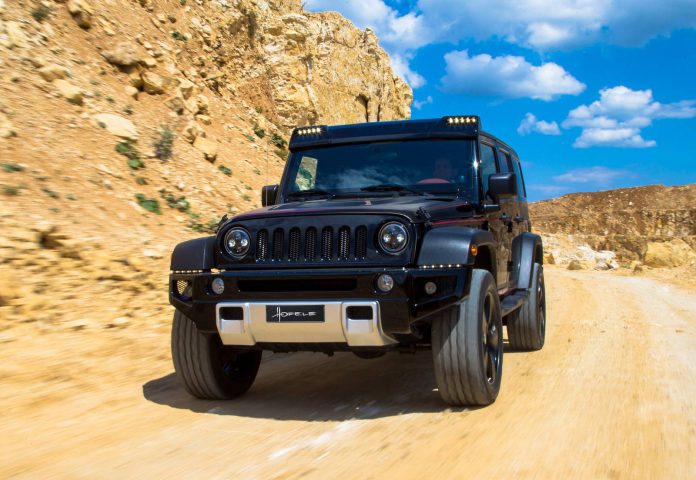 So, what have Hofele-Design done to make this look like such a menacing yet sophisticated machine? In typical Hofele tradition they started with the grill, in this instance making it smaller to make the car appear wide. In conjunction with the raised front bumper the car looks extremely purposeful, as if ready to wade across the Amazon river.
There is a bulging power dome on the front bonnet, the two integrated air vents not only great but allow for additional cooling performance.
Unlike the factory car, the wheel arches and hardtop roof are painted making the car look a lot more premium. We are big fans of the glossy black finish. Additionally, window covers visually make the windows much sleeker and give the illusion that the roofline lowered and sportier.
Hofele-Design have not starved the interior of their innovative design touches and tweaks, the changes are substantial and bring the best out of the Wrangler. The seats are upholstered in the finest leather and finished beautifully with double-diamond stitching more common in a Bentley than a Wrangler. With Rye-Beige, Nappa Nougat Brown and five other colours available, customers are not limited to standard factory options.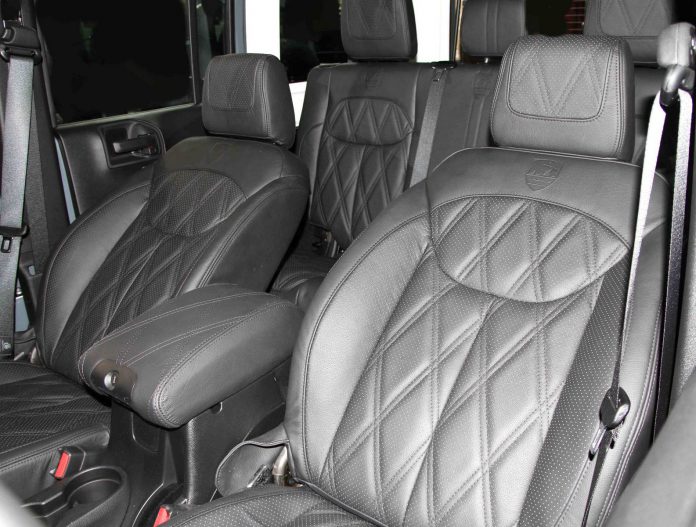 Those that desire even more of a visual punch can choose to option an additional front roof shield complete with integrated LED clusters that make the Evolution HF makes a statement from a distance.
Hofele-Designs Evolution HF does not just look the part. A new exhaust system with double oval exhaust tips from polished steel works with an optional active motor sound blaster system that transforms the sound of the 2.8 litre diesel to that of a full bodied V8.
Those that want to exploit more performance from their Wrangler need not look any further than Hofele-Design. A plug-and-play performance upgrade kit is available and raises max power to 222 horsepower and torque to 520Nm.
The Wrangler is a car that can do it all, from driving on the beach, to the golf course or simply cruising in style in built up cities and Hofele-Design have taken the appeal to another level with the Evolution HF. This really is a Wrangler with added appeal.