Exclusively for the American market, here is the 2017 Audi R8 V10 Plus Exclusive Edition with innovative Laserlight technology. The 'Matrix LED' lights that we know in Europe are not available in across the pond, so Audi came with a different lighting innovation for the American market.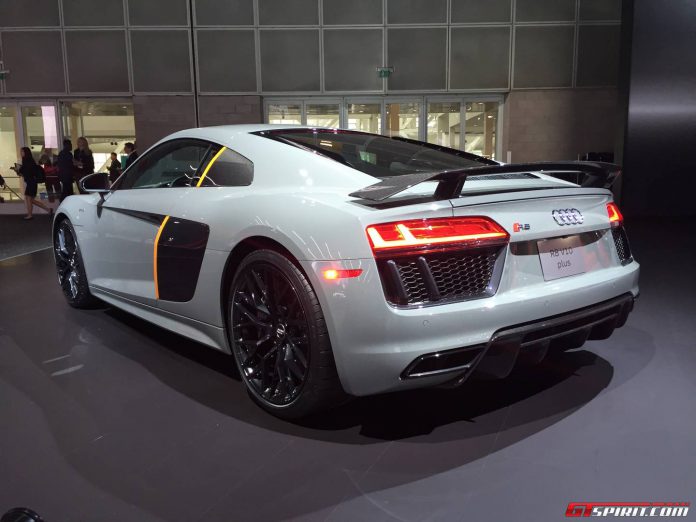 The new technology is first shown off on this Audi R8 V10 Plus Exclusive Edition, which is limited to only 25 examples. It comes with a range of standard equipment that normally optional, such as fixed backrest racing shell seats, Audi carbon ceramic brakes, carbon fiber rear diffuser, front lip spoiler, exterior mirror housings, and a fixed rear wing spoiler.
The exclusive supercar furthermore represents the best that the Audi Exclusive program has to offer. It is finished in 'Quantum Grey' and features distinct Solar Orange accents throughout the car's interior and exterior.
'Highlight' are of course the new laserlights incorporated in both the car's LED headlights and dynamic turning signals. The light is sharper, more natural looking and increases visibility significantly.
In the flesh the Exclusive Edition looks just as impressive as on the photos we were provided with when the special R8 was announced. The grey works really well with the contrasting orange, and comes out a bit lighter than for instance nardo grey.
The Exclusive Edition comes with a $229,200 price tag, and with only 25 units in stock you better be quick to put down an offer.
2017 Audi R8 V10 Plus Exclusive Edition