The reborn Jaguar XKSS has officially been unveiled at the Petersen Museum to coincide with the Los Angeles Motor Show 2016 which starts this week. The XKSS is a continuation project for Jaguar in the vein as the Jaguar E-Type Lightweight, announced a few years ago. Just nine examples of the iconic XKSS will be built for customers to original specifications with deliveries to begin in 2017.
Jaguar Classic will build the one-off Jaguar XKSS using authentic methods intended to created the exact 1957 specification. It will be the first genuine Jaguar XKSS in almost 60 years. The first example gets iconic Sherwood Green paint and has gon on display at the Petersen Museum.
Los Angeles is the perfect destination for the unveil. Jaguar often tout the XKSS as being the world's first supercar. It was originally made by Jaguar as a road-going conversion of the Le Mans-winning D- type. Very few were produced, 16 in total, and they are sought after by collectors.
The legend behind the car revolves around the fact that in 1957, nine cars earmarked for export to North America were lost in a fire at Jaguar's Browns Lane factory. Jaguar's Classic division has therefore commissioned the build of the nine 'lost' XKSS. The project has taken 18 months of research and blueprinting to produce a final car. Each car will get one of the lost car's chassis numbers. It will also carry a price tag in excess of £1 million. All cars are sold!
The body of the XKSS is made from magnesium alloy. A bespoke styling buck was created as the original no longer exists. All nine was will be formed using the same buck and hand-wheeling process. Frame maker, Reynolds, collaborated for the chassis, providing their 531 tubing. The frames are bronze welded in the same way as the period XKSS chassis tubing. The Dunlop disc brakes with Plessey pump emulate the original, as do the Dunlop tyres with riveted two-piece magnesium alloy wheels.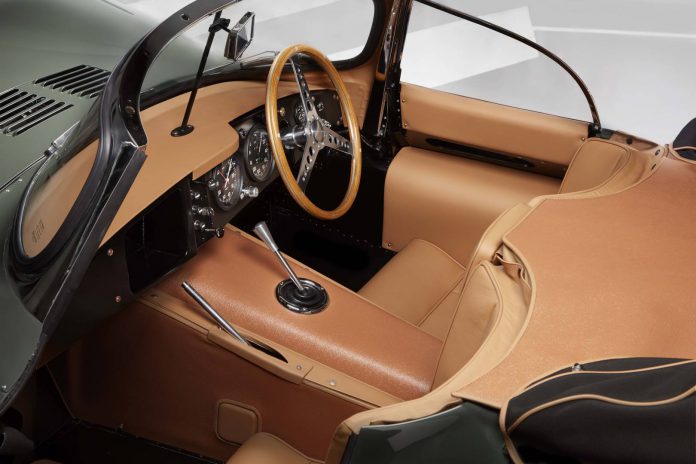 Under the bonnet, the XKSS gets a 262hp 3.4-litre straight six-cylinder Jaguar D-type engine. The engine features completely new cast iron blocks, new cast cylinder heads and three Weber DC03 carburetors. Some compromises have been made to the fuel cell and other items to support modern fuels.
Inside, everything from the wood of the steering wheel, to the grain of the leather seats is precisely as it would have been in 1957. Customer vehicles will be hand-built beginning this year, taking approximately 10,000 man hours.