The RM Sotheby's January 2017 auction in Arizone promises to be a big one, with this Ferrari Enzo being one of the auction's absolute highlights. The desirable F1-inspired collector's item has been part of Tommy Hilfiger's collection and it remains uncertain why the fashion mogul has decided to get rid of the Enzo.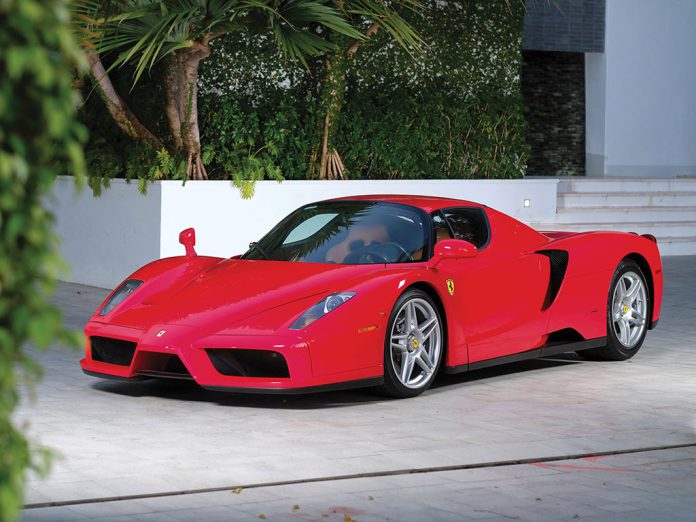 Perhaps it's been decided for him, because this wouldn't be the first of Hilfiger's private assets to be sold in recent months. His lavish Plaza Hotel home in New York City was put up for sale early this year for a cool $70 million, but no buyers have displayed interest so far. In the mean time the listing price of the penthouse was chopped down to $58 million but it still seems like buyers are tough to find.
Things surely will be different with this 2003 Ferrari Enzo in its traditional colors. It boasts a brown and black interior and appears to be in splendid condition. Of the 6.0-liter V12 mid-engined supercar only 349 were originally built and it was one of the first projects where the Italian supercar brand would decide who gets to buy their car instead of the other way around, making it even more rare.
Ferrari later decided to build an additional 50 bringing the total to 399 units, with one more Enzo following in 2005 commissioned by Pope Johannes Paulus II. That example was later auctioned off for $1 million at the benefit of the victims of the 2004 tsunami disaster.
The Ferrari Enzo is still a supercar that could easily take on today's elite with its remarkable performance. Weighing in at only 1,365 kilograms, the 660 hp Ferrari Enzo rushes to 100 km/h in just 3.2 seconds and is able to reach a top speed of 350 km/h. If you're interested in this Enzo, make sure to attend RM Sotheby's Arizona auctions that take place on the 19th and 20th of January next year.