The Jaguar I-PACE Electric SUV is a highlight of the LA Auto Show 2016. The British brand have unveiled a competitor for the Tesla Model X and promised to deliver on a production model in the very near future. We took a closer look at the SUV concept and the technology that underpins it.
The I-PACE is an all electric crossover SUV. Packing around 395 hp and 700 Nm of torque from a 90 kWh battery, the I-PACE will reach speeds of 100km/h in just over 4 seconds. The lithium ion battery was designed and engineered in house at Jaguar Land Rover and promises to take electric car performance to a new level. Jaguar are claiming that the I-PACE will manage 310 miles between charges with an option to quick charge for an easy boost to 220 miles.
Jaguar I-PACE Electric SUV
One advantage of the electric drivetrain is the efficient packaging. As the batteries sit under the floor and the electric motors are much smaller than a conventional engine, the I-Pace has more room than the F-Pace; 530 litres of luggage space in the boot, plus more under the bonnet of the car.
Although the car we see here is a concept, Jaguar confirmed that the production I-PACE will hit the road in 2018. We hope the looks of both the exterior and interior are not altered much in the final production car as the I-PACE certainly looks like the car from the future!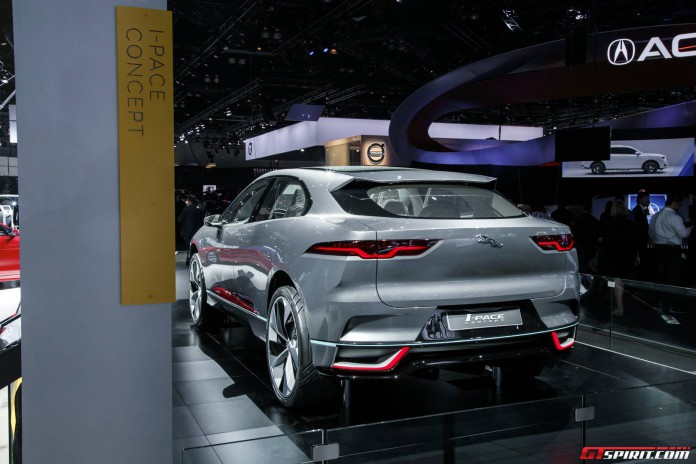 Jaguar has taken a leaf from the Tesla marketing tree and is inviting potential customers to register their interest online at its website.