One thing that has been lacking recently is a truly extreme Porsche. The usual culprits seem to have been relatively quiet of late and there are surprisingly few extreme Porsche 991 Turbo tuning packages out there. Techart seek to change that with the 720 hp Techart GTstreet R.
Based on the Porsche 911 Turbo and 911 Turbo S, the GTstreet R features extensive carbon fibre body parts. These include a carbon fibre front apron, central air outlet, carbon air frames and a lightweight carbon front lid. Carbon front fenders are included with wider front wheel air outlets. There are carbon side skirts, carbon air intakes, rear diffuser and central carbon fibre exhaust pipes.
The rear wing raises automatically with 15 degrees of adjustment. Active aerodynamics provide a total downforce of 321 kg at 300 km/h in Performance Mode. The look is very extreme, making the GT3 RS look tame in comparison.
Techart's increased tire dimensions ensure maximum grip. The Techart Formula IV centrelocking wheels get 265/35 ZR 20 tires at the front (or larger 265/30 ZR 21) and 325/30 ZR 20 tires at the rear (with optional 325/25 ZR 21). Both wheels can be individually customized in color and surface finish.
Techart VarioPlus coilover suspension kits are available with PDDC connectivity. The Techart noselift system provides 60 mm of additional ground clearance at the front axle at the push of a button. Performance exhausts with valve control are also available.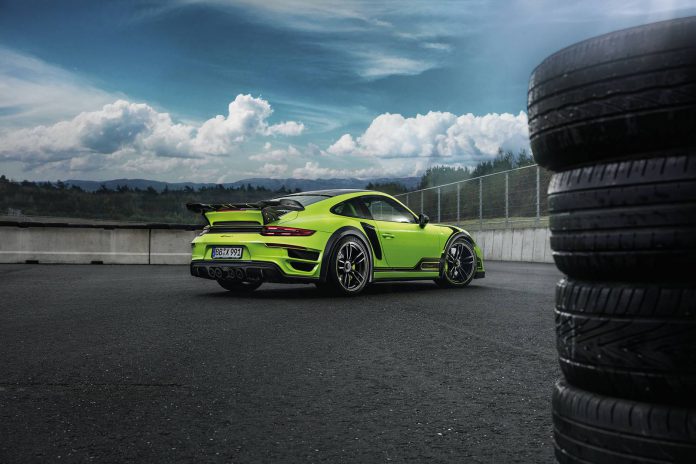 The Porsche 911 Turbo's 3.8 litre engine gets an impressive two stage power boost. The first stage takes the 560 hp unit up to 640 hp and a maximum torque of 880 Nm. The second stage allows for 720 hp and should be available as of early 2017. In combination with the all-whee drive system, performance is likely to be sensational.
GTstreet R interiors are intended to be individual to the customers desires. Two different GTstreet R interior options are available including an "Exclusive" package with the finest leather, the "Clubsport" gets Alcantara highlights. The later also gets a color-matched roll bar, 6 point harnesses and door opening loops. Carbon fiber interior parts are optional together with sport bucket seats and a Techart sport steering wheel.