Since 2011 Pirelli has been the sole tire supplier for Formula 1 and we caught up with Mario Isola, Pirelli's Racing Manager to discuss the big changes coming up next season. Over the last five years the rules have changed gradually to increase the influence tires have on the strategy of a race but nothing quite like the changes planned for next year.
For next season the board of F1 decision makers has determined a new set of design rules which include much wider tires. The front tires will go from 235mm width to 305mm and the rear tires will increase even more from 325mm to 405mm for the 2017 season. This brings back memories of the 70's and 80's when the F1 tires were as wide as 45 cm!
The ultimate goal of the new regulation is to make the laps faster without increasing top speed. In combination with optimized aerodynamics the F1 cars next year should be 4-6 seconds per lap faster which is mainly gained on the corners. On some corners the lateral force will go up from as much as 4G to 5G next season – this adds another 50kg in force to the cars and drivers.
Wider tires not only impact cornering performance but also increase drag which keeps the top speed at similar levels to this year despite slightly higher power outputs. Wider tires also have an impact on wet performance but Mario Isola is not too worried about the performance of the wet tires. "With a different tread pattern the new wider tires can cope with water on the track as well as the existing wet tires. The intermediate tires are posing as bigger challenge for us".
Another interesting aspect of the wider tires is increased stopping power. To utilize this drivers have to apply up to 30kg more force on the brake paddle. The new regulations and wider tires will make the 2017 cars and races more extreme in nearly all regards. One of the biggest challenge for tire manufacturer Pirelli is the limited testing opportunities. Three teams committed to testing the new tires with modified 2015 F1 cars; Mercedes-AMG, Ferrari and Red Bull. But there are still a few busy weeks ahead of the final tests in Abu Dhabi before the production specs for next year are fixed.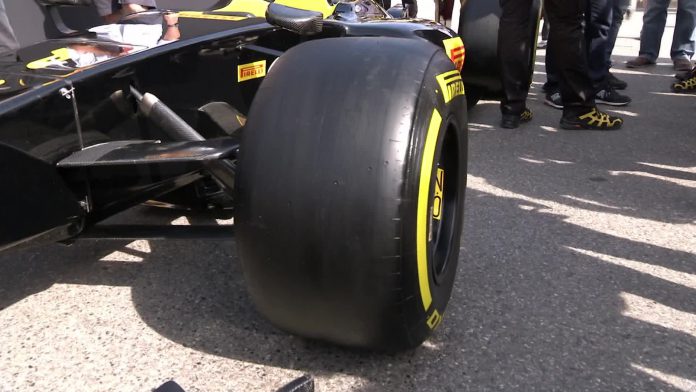 The number of compounds available next season remains the same at 7 which includes wet, intermediate, hard, medium, soft, supersoft and ultrasoft. Pirelli will continue to select three dry compounds per race weekend of which the teams can pick ten sets per driver.
We look forward to seeing the first designs with the new tires later this year and hope it brings more action to the tracks next year!