Gumball 3000 veteran, pro freestyle skier and now daily vlogger Jon Olsson just took delivery of his custom Lamborghini Huracan over the weekend. Olsson designed many unique cars before, including his late RS6 Avant which was stolen in the Netherlands and later found completely burned to the ground.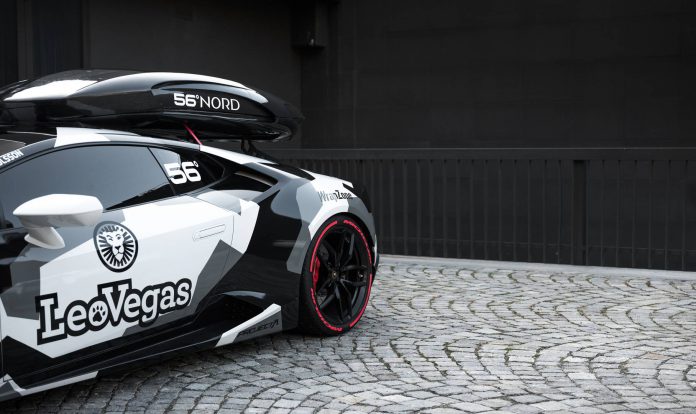 You may have seen this video blog from a while ago in which the Swedish ski champion races his camo-wrapped Lamborghini Murcielago to the top of a Norwegian glacier.
His new Huracan too features Olsson's 'signature' camouflage wrap which matches his villa in sunny Marbella, Spain. Of course a custom carbon fiber ski box was put on top of the car too, just as with many of his other creations. The wrap of the car is courtesy of WrapZone in Sweden and Stertman Motorsport in Stockholm took care of the changes under the hood.
A custom VF Engineering supercharger kit has been installed upping the car's output well beyond 800 horsepower. The custom Huracan underwent some basic testing before it was delivered and the stopwatch showed an impressive 100 – 200 km/h time of just 5.3 seconds, very close to the 5 seconds the Bugatti Veyron takes on the same stretch.
Further highlights on Olsson's new Lambo are Eventuri carbon fiber air intakes, a custom suspension setup courtesy of K&W and a very loud aftermarket exhaust system from our friends at Akrapovich. And that's just the tip of the iceberg, learn more about Europe's most unique Lamborghini Huracan on Jon Olsson's very own blog. If you're not much of a reader but are wondering what the car looks and sounds like on the road, make sure to watch one of his latest video blogs.
For now, check out the gallery of this insane Huracan and let us know your thoughts!