After having been closed for a while for some extensive renovation works, the Four Seasons Anguilla resort has reopened recently. Situated on Anguilla island, which is British territory and part of the Caribbean Leeward Islands, it's one of the most unique Caribbean beachfront resorts out on the map.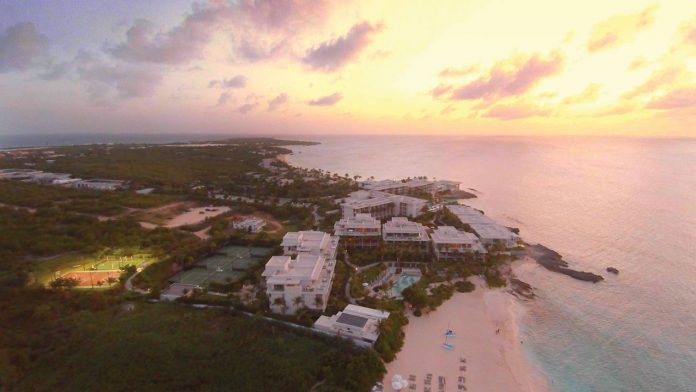 Four Seasons went all out on the renovation works of the Caribbean resort, spending well over $10 million redesigning the resort's restaurants and updating all-around looks. Special attention has been paid to the resort's lighting design.
The beachfront property comprises 35 acres overlooking Meads and Barnes Bays on the North side of the island. Guests get to choose from 181 accommodations now available for booking, ranging from deluxe rooms to five-bedroom villas.
Foodies should feel right at home on Anguilla, it's been said to be one of the Caribbean's prime food destinations with over 90 restaurants coloring the relatively small island. Leading the culinary team is Executive Chef Rafael Gonzalez, who continues under the Resort's new management and who previously worked at Four Seasons hotels in Philadelphia and Vancouver. Menus at the Half Shell Beach Bar and Bamboo Bar & Grill feature innovative new dishes with distinct Anguillan touches, as well as the much-loved favourites of regular guests.
Local hotspot the 'Sunset Lounge' has been expanded in size and provides an alternative option for lounging and drinks. Currently open dining and drinking venues will be joined by the reopening of the resort's signature restaurant 'Cobà' in late November, which is said to boast a stylish new seafood concept.
Appealing to a broad audience, the reopened Four Seasons Anguilla resort now has a larger 24-hour fitness and spa area and a comprehensive 'Sea Centre', where guests can enjoy the best of water sports.
For those that can't sit still there is a brand new basketball court, especially appealing to regularly visiting NBA stars, as well as a rock climbing area.
The resort's extensive list of amenities is finished off by a 820 square meter indoor-outdoor beachfront Spa and three large pool areas. Guests that wish to bath in privacy may opt for the more luxurious accommodations that come with private plunge pools.
Four Seasons Resort and Residences Anguilla