'Lumma Design's yellow -wide-body X6M brightens the day!' – that is Lumma Design's opening sentence in describing their latest creation. I am not sure whether it brightens my day, but it sure won't go by unnoticed with this bright shade of yellow paint.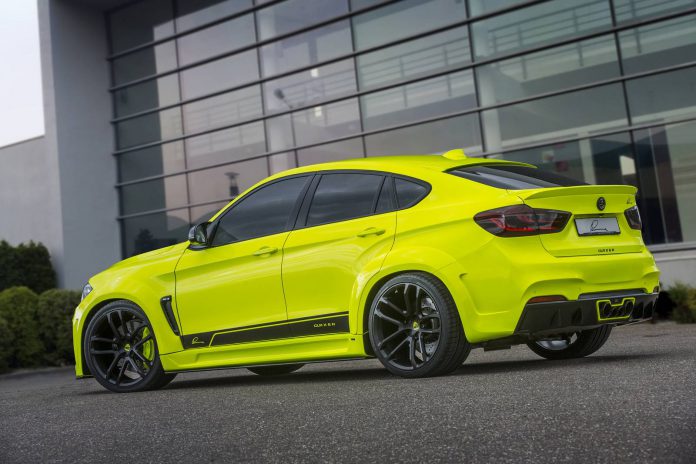 Leaving the color aside, this is Lumma's exclusive bodykit for all BMW X6 (F16 and F86) models. It comes with a set of 22-inch CLR racing wheels and a bespoke interior on request.
The LUMMA CLR X6 R wide body kit further brings out the X6's powerful stance. Carbon fiber accents on the characteristic kidney grille, windscreen surrounds and front splitter add a sense of exclusivity and sportiness.
The wide body kit adds a total of 40 mm to the car's width, mainly through the extra wide wheel arches. The contrasting black elements have an even bigger presence at the rear in the shape of a large rear diffusor. The custom diffusor entails Lumma's aftermarket sport exhaust system with four centralized exhaust pipes.
Individual parts that are separately available include the LUMMA sport bonnet, which is not deemed street legal in Germany and therefore only available for export, the rear spoiler lip, roof spoiler and the set of custom 22-inch wheels.
With the immense and colorful bodykit grabbing all the attention you'd almost forget about the upgrades carried out under the hood. LUMMA have significantly tuned up the 4.4-liter twin-turbocharged V8 to an impressive output of 750 hp and 980 Nm of torque. That is up 175 hp and 230 Nm of torque from the standard 575 hp and 750 Nm. The performance upgrade is said to push the X6 M beyond 300 km/h.
Last but not least for those of you who can't get their eyes off that yellow paint: it's called fluorescent yellow (how felicitous) and is coded RAL 1026.
750hp Lumma Design BMW X6 M