German tuning company 'Lightweight', a titanium exhaust system expert, is all about weight reduction and tinkering with BMW engines. Their latest project involved a BMW, the performance of which they have managed to increase to 444 hp.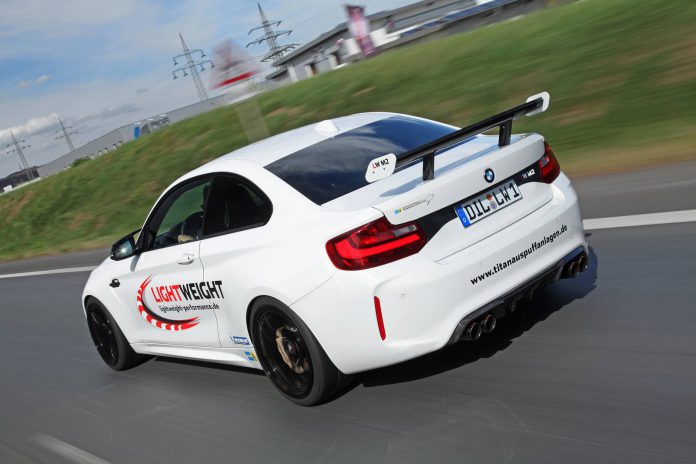 Visually the tuning firm made a couple of changes both enhancing the M2's aggressive stance while reducing weight at the same time. At the front a LW (Lightweight) PE front spoiler was added, and at the rear a LW spoiler was fitted. In-house developed M4-style mirrors made out of carbon fiber are certain eye-catchers as well.
More carbon fiber can be found in the newly installed air-intakes. On the side the striking 19-inch forged LW-rims make a bespoke impression. The M2 sits really low courtesy of the custom Clubsport suspension kit by Bilstein. The regular brake system is replaced by an aftermarket Brembo system with 380 mm discs at both the front and rear wheels.
Saving additional weight is the in-house developed LW titanium exhaust system with full-titanium tailpipes and a valve control system.
Finally the company's interior workshop took care of the rest, installing carbon fiber seats with Alcantara upholstery, laying down a few velour floor mats, installing a custom aluminum pedal set and a range of carbon fiber inserts to finish it off.
Performance of the LW M2 is up to 444 hp and 690 Nm of torque, good for a top speed of 297 km/h! Check out the gallery below and let us know what you think.