Porsche has revealed the 'greenest' version of the Panamera at this year's Paris Motor Show: the Porsche Panamera 4S e-Hybrid.
The all-wheel drive hybrid promises a pure electric range of 50 kilometers and a combined fuel consumption figure of 2.5L / 100 km. The electronic component of the hybrid drivetrain can be used on its own up to speeds of 140 km/h thanks to its 136 hp and 400 Nm of torque.
The electro motor is linked to the 2.9-liter V6 biturbo forming a powerful hybrid drivetrain altogether. Combined output is set at 462 hp, with the V6 powerplant being responsible for 330 hp on its own. Porsche's new hybrid is capable of sprinting to a 100 km/h in just 4.6 seconds and an impressive top speed of 278 km/h.
2017 Porsche Panamera 4S e-Hybrid
The Panamera hybrid comes with the Sport Chrono package as standard. The drive select mode switch is integrated into the steering wheel and is used to activate various driving modes including "Sport" and "Sport Plus" modes and hybrid-specific modes including "E-Power", "Hybrid Auto", "E-Hold" and "E-Charge". The Porsche Panamera 4 E-Hybrid powers up in "E-Power" mode.
Hybrid auto is a completely new driving mode available on the 2017 Panamera 4S e-Hybrid. It combines all driving sources in order to reach maximum efficiency. The 'E-hold' mode balances power of the electronic motor and combustion engine in order to maintain the current battery charge and finally the 'E-charge' mode solely makes use of the V6 engine to charge the battery for later use.
The new Porsche Panamera Hybrid is already available for order and deliveries will start from mid-April next year. The hybrid's starting price is €107,553 including VAT in Germany.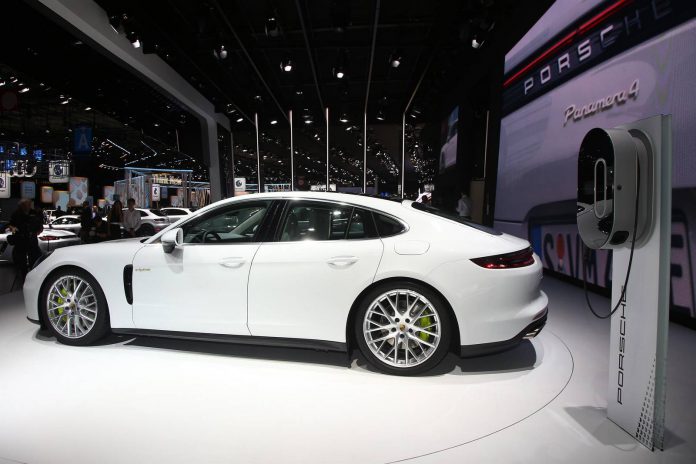 For more detailed information on the 2017 Porsche Panamera 4S e-Hybrid please read our earlier release. For more information and live coverage from the 2016 Paris Motor Show, please subscribe to our news channel and social media channels.