Launched under a sub-brand of Mercedes-Benz, the new 'Generation EQ' electric model line of Mercedes-Benz was given a proper kick-off at the 2016 Paris Motor Show today with the unveiling of a fully-electric concept car with SUV coupe design.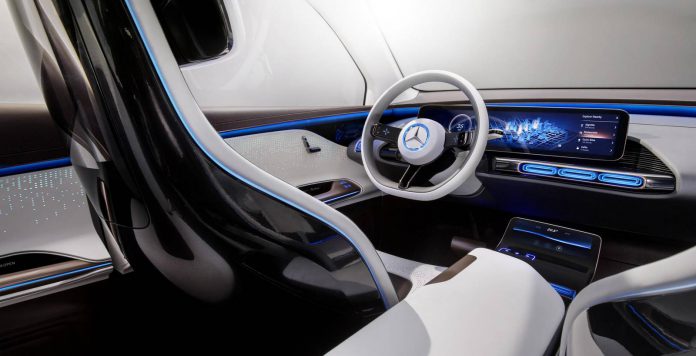 Mercedes-Benz' electric model line is supposed to bring forth up to 10 fully electric vehicles between now and 2025. Whereas Mercedes-Benz previously focused most of its efforts on hybrid technology and the development of driver assistance systems, it is now – completely according to this year's Paris Motor Show trend – fully committing to the development of EVs.
The new electric vehicle line of Mercedes-Benz is going to rival Tesla and a range of other manufacturers that released increased range EVs at the Paris Motor Show today. The concept's drivetrain comprises two electric motors with a combined system output of up to 300 kW – good for a range up to 500 kilometers.
Releasing a new line of electric vehicles is completely in line with Mercedes-Benz future strategy. "The mobility of the future at Mercedes-Benz will stand on four pillars: Connected, Autonomous, Shared und Electric. 'Generation EQ' is the logical fusion of all four pillars," says Dr Dieter Zetsche, CEO of Daimler AG and Head of Mercedes-Benz Cars. "The emission-free automobile is the future. And our new EQ brand goes far beyond electric vehicles. EQ stands for a comprehensive electric ecosystem of services, technologies and innovations."
The new electric vehicle line will be based on a new platform specifically developed for battery-electric models. The modular architecture is in its basis suitable for a wide range of builds including SUVs, saloons, coupés, convertibles and other models. Similar to Mercedes-Benz latest models, the vehicle architecture is produced from a mix of steel components, aluminum and carbon fiber.
The tech list on this concept car seems endless, including many of the already fully in-use features that we know from the 2017 Mercedes-Benz E-Class. These include the Drive Pilot and safety assistance systems including autonomous braking in emergency situations and pre-collision assist, anticipating on a side-collision by moving the passenger seat away from the window.
In terms of design Mercedes-Benz went for an all-new 'electro-look'. "Generation EQ is hot and cool," says Gorden Wagener, Head of Design at Daimler AG. "Its fascination lies in a reinterpretation of our design philosophy of sensual purity, the aim being to create an avant-garde, contemporary and distinctive electro-look. At the same time, the design of the visionary show car, which has been reduced to the essentials, reveals an alluring progressivity."
Mercedes-Benz Generation EQ
The name 'EQ' is derived from 'Electrical Intelligence', a term that Mercedes-Benz deems fitting for their future generation of EVs. In terms of charging the vehicles Mercedes-Benz says the vehicle is ready both for charging at home by induction or wallbox and for 'fast charging'. It remains uncertain whether Mercedes-Benz anticipates to build its own charging infrastructure rivaling Tesla's Supercharger, however the company is currently working on 'Mercedes-Benz energy storage units' for home-use.
Mercedes-Benz furthermore mentioned the Combined Charging System (CSS). Using this European charging standard charging times should be significantly reduced. With currently only 50 kW to 150 kW charging facilities available, in the future a charging capacity of up to 300 kW is planned. Such a capacity would charge 100 kilometers range to the EQ in just 5 minutes time.
For more information and live coverage from the 2016 Paris Motor Show, please subscribe to our news channel and social media channels.