The world's most valued automotive media gathered tonight at the birth place of the bikini in the French capital for an exclusive preview of the Mercedes-Benz presence of this year's Paris Motor Show.
The theme for the evening is performance – and obviously this leads to the dedicated team based in Affalterbach, Germany. AMG and Mercedes-Benz celebrated a new sales record in 2015 with over 11%+ confirmed to previous year. Boosted by a brand new line-up and SUVs and performance vehicles, AMG sales doubled in just two years to 70,000 sales in 2015. At the end of this year AMG will offer no less than 48 different AMG models – taking the competitors in Munich and Neckarsulm by storm.
Before the real fireworks of the evening three of Daimler's valued heads present part of the line-up here in Paris. First up is the Mercedes-AMG GLC 43 Coupe which is one of three AMG world premieres in Paris. It comes with AMG's 3.0 liter V6 engine – good for 377hp and shorter shift times. It is based on the GLC Coupe introduced earlier this year.
Mercedes-Benz Media Night - Paris 2016
Customers love the AMG GT like almost no other Mercedes and that's why Mercedes-AMG keeps expanding its line-up. Following the AMG GT, GT S, GT3 and GT R it is now time for the GT range to loosen its top.
In Paris Mercedes-AMG launches two open top versions of the AMG GT: the AMG GT Roadster and the hardcore AMG GT C Roadster. The latter takes elements from the AMG GT R and represents one of the fastest and sportiest roadsters on the market.
The AMG GT C roadster comes with 557hp and offers the most intense way to experience the AMG GT range to date. It combines elements of the AMG GT R with the open-top pleasures of the roadster.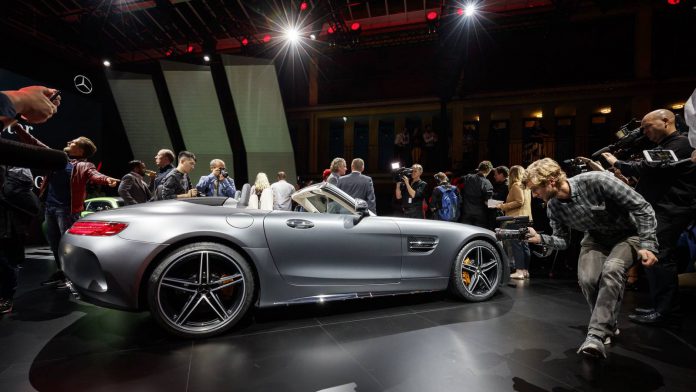 Earlier this year sales of cars with Mercedes-Benzs airscarf were halted but this issue has been settled and we are pleased to see the AMG GT roadsters come with airscarf.
Pricing for the AMG GT C and GT R, which was also on display tonight along with the AMG GT3, is not announced yet but we will hunt for more details tomorrow.
Along with the world premiere of the AMG GT C, Thomas Weber – head of Mercedes-Benz Research & Development confirmed the Mercedes-AMG 'R50' hypercar featuring a hybrid engine with F1 drivetrain technology to debut next year.
At tonight's media night we got a glimpse of AMG's most important premieres here in Paris but two important pieces remained at the sideline: Daimler CEO – Dr Zetsche and the new electric Mercedes-Benz concept car – both of which will shine at the press conference tomorrow morning!