Audi recently injected a sports package into its Audi TT line with the announcement of the Audi TT S-Line. The Audi TT S-Line competition will add some further desirable features. The package will be available in limited numbers to European customers from the end of 2016. It will debut next week at the Paris Motor Show 2016!
S-Line is an optional sports trim package Audi generally applies to its mainstream models. Don't expect to be able to order S-Line on TT S and TT-RS models. They get their own trim levels. It's the low level petrol and diesel models Audi focuses on with the Audi TT S-Line package. The Audi TT S-Line competition will be made available in both Coupe and Roadster form.
The Audi TT S line competition adds further details for the exterior and interior. On the outside, the TT gets a singleframe front grille with a blade at the front finished in black. The exterior mirror housings and the diffuser insert also come finished in a high-gloss black finish. A fixed rear wing is also available together with tailpipe trims finished in a black chrome finish.
The Audi TT S Line competition also gets a sport suspension setup with firm spring/damper settings. This translates to a ten millimeters (0.4 in) lower ride height compared with the basic version. Audi drive select becomes standard on the TT S-Line models, enhancing driving dynamics whenever desired.
The limited-edition TT is factory-fitted with 19-inch wheels in a gloss black five-spoke blade design. Brake callipers are finished in red and customers will get a choice of body colours including glacier white, nano gray, tango red and the new TT color Ara blue. The hood of the TT Roadster S line competition is black.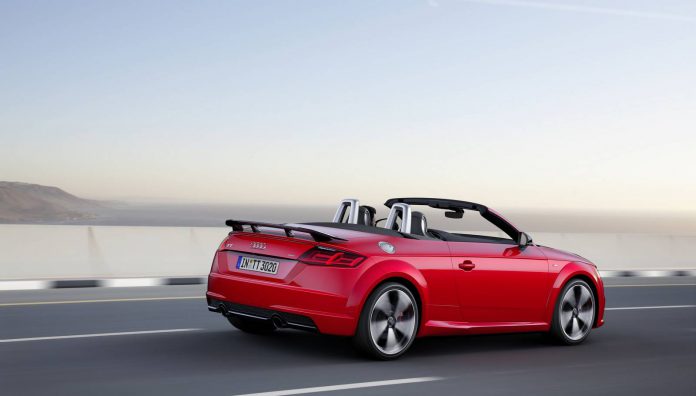 Inside, S sport seats are new with embossing in the backrests together with a flat-bottomed S line contoured sport leather steering wheel. Virtual cockpit comes as standard, the limited edition model has a sport screen where the central tachometer with integral speed display dominates the instrument cluster.
Audi is offering the special TT S line competition with the 230 hp 2.0 TFSI engine. It is available in a front-wheel-drive version with six-speed manual transmission or S tronic, and as a quattro with S tronic. Prices for the TT Coupé S line competition start at EUR 41,940. The roadster version of the special model costs EUR 44,340 upwards.