It's one of the most famous yachts in the world, turning heads wherever it goes and arguably the most photographed yacht in modern times. The Blohm+Voss built motor yacht A is now for sale, listed by her owners, Russian billionaires Andrey and Aleksandra Melnichenko. No price has been specified but the initial cost of the yacht was $300 million. It will become the second biggest sale following Serene's $350 million sale last year by owner Yuri Scheffler, yet another Russian billionaire.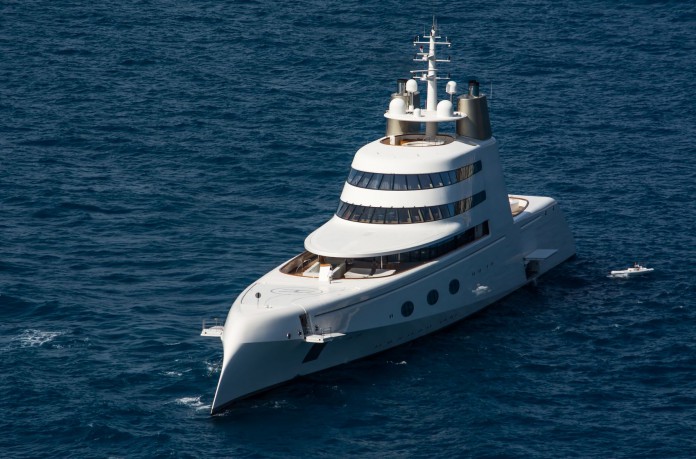 A was conceptualized in 2004 when her owners placed an order with Blohm + Voss. Like most of their private properties, they commissioned renowned designer Philippe Starck to take care of the exterior and interior design. Starck has performed numerous designs for the couple including an extension found on their Villa Altair in Antibes.
Delivery of A took place four years later in 2008, she was the sixth largest yacht in the world at the time. She is currently in 21st position in that list as more yachts have been built between now and then. The name "A" was used in order make the vessel appear first on shipping registries, while the design is largely based on advanced nautical engineering and maritime technology which accounts for many benefits including waveless cruising.
Motor Yacht A by Blohm & Voss
[Photos by SuperYachtTimes and Tom van Oossanen]
The interior is generous enough for a total of 14 guests across one master suite and six guest cabins. Additionally, a crew of 37 can be accommodated in the crew area to provide support during cruises. The interior materials and design can be easily tied to Starck, mirrored surfaces mixed with Baccarat crystal that has been implemented on tableware, glassware and the furniture. Other features include the stingray hides on the walls and ceilings as well as crocodile skin on the furniture.
There are three special tenders aboard A, one open, one covered and a sports tender all designed by Vaudrey Miller. The tenders cost a whooping $1 million each. Two MAN RK280 diesel engines provide the main propulsion, rated at 12,000hp. A has a maximum speed of 23 knots and a cruising speed of 19 knots.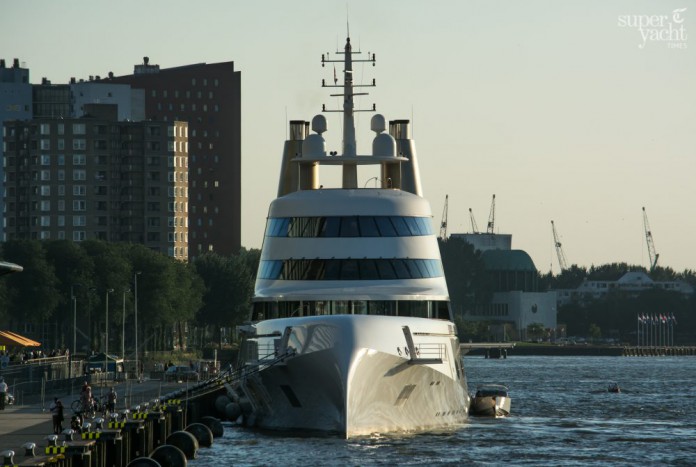 While motor yacht A has been listed for sale, her replacement is currently undergoing the final touches ahead of delivery in 2017. Dubbed Sailing Yacht A, she is being built by Nobiskrug in Kiel. Starck is still in charge of the design once again, in what will be one of the largest sailing yachts ever built. Sailing Yacht A has reportedly cost the owners $450 million to build.