Nico Rosberg has won the Belgian GP 2016 after leading from start to finish, in a race that was filled with drama right from the start. It all started with Ferrari's crash, followed by a series of multiple contacts especially at the Les Combes chicane. Daniel Ricciardo claimed P2 followed by Hamilton in P3 to score a double podium for Mercedes.This was Rosberg's sixth win of the season, he is now nine points behind Hamilton in the championship standings.
Both Hamilton and Alonso started from the back row. During practice, Alonso changed an engine while the Brit changed several components of his power units including his seventh turbocharger and MGU-H of the season. Alonso finished in a strong 7th place for McLaren.
Belgian GP 2016 Results
1. Nico Rosberg – Mercedes
2. Daniel Ricciardo – Red Bull
3. Lewis Hamilton – Mercedes
4. Nico Hulkenberg – Force India
5. Sergio Perez – Force India
6. Sebastian Vettel – Ferrari
7. Fernando Alonso – McLaren
8. Valtteri Bottas – Williams
9. Kimi Raikkonen – Ferrari
10. Felipe Massa – Williams
The Belgian GP was first held in 1925 and has taken place for a record 71 times. It also served as the European Grand Prix six times between 1925 and 1973. Michael Schumacher has the most Belgian GP wins at six followed closely by Ayrton Senna with five wins. Ferrari is the most successful team at the Belgian GP with 16 wins, while McLaren comes second with 14 wins. Lotus is third with 8 wins, making two British teams in the top three.
15 MINS TO GO ⌛️

AIR TEMP: 26C 🌤
TRACK TEMP: 35C 🌡
ATMOSPHERE: 🔥#BelgianGP 🇧🇪 pic.twitter.com/yhVvLzWbkd

— Formula 1 (@F1) August 28, 2016
Those with tire choices started on softs apart from Alonso and Hamilton who opted for mediums.
The Belgian GP 2016 started with a collision between the two Ferraris of Raikkonen and Vettel. Rosberg led Verstappen ahead while the field behind was left in chaos, both Vettel and Raikkonen were confused by the confusion. Meanwhile, Alonso managed to move up to P17 while Hamilton only moved to P19.
LAP 1/44: Chaos at the start for Ferrari as both drivers collide

RAI P19
VET P22#BelgianGP pic.twitter.com/k92AZFC7VR

— Formula 1 (@F1) August 28, 2016
The order changed again, and Sainz who running in P7 picked up a puncture and spun out at Les Combes. Verstappen was also missing part of his front wing, he had fallen back to P17 within a few minutes, the new order was Rosberg, Hulkenberg, Ricciardo, Bottas, Grosjean, Perez, Palmer, Magnussen, Gutierrez and Alonso. Hamilton was now up to 12th place by lap 3.
YELLOW FLAGS after SAI suffers a puncture on Lap 2

Chaotic start to the #BelgianGP 🇧🇪 pic.twitter.com/M19buS0lcz

— Formula 1 (@F1) August 28, 2016
A brief virtual car came out to clear the debris as well as Sainz's car. In the meantime, it was confirmed that Verstappen was a victim of the Ferrari collision, that's how he lost his front wing while running second.
Button, Sainz, Wehrlein and Ericsson were the first retirements after only four laps, Button was smashed from behind by Wehrlein while Sainz suffered a puncture. Magnussen also retired after suffering a heavy crash at Eau Rouge, the safety car came out and allowed the front leaders to ditch the supersoft tires they had started on.
RENAULT 📻: "Big crash..but Kevin is ok"

Huge relief after MAG walks away from incident at Eau Rouge#BelgianGP pic.twitter.com/Z8FE1fJNXX

— Formula 1 (@F1) August 28, 2016
Rosberg and Ricciardo were both on 11 laps old soft tires while Hulkenberg was on a fresh set in third with the safety car still in play. The red flag had been enacted in order to repair the damaged barriers at Eau Rouge after Magnussen's shunt. All teams then dived into the pits under the red flag to change tires and work on their cars, this rule could be changed in 2017.
The field was back to racing again behind the safety car, and soon as the SC disappeared, Rosberg led the pack away from Ricciardo and Hulkenberg. Rosberg was now on mediums, Ricciardo on softs, same as Hulkenberg. Also on new softs were Alonso, Hamilton and Massa. Worth mentioning that after the restart, Hamilton had moved up to fourth with Alonso right behind him in fifth on lap 12th.
Suddenly, Verstappen and Raikkonen touched at the Les Combes chicane, what followed was a lengthy rant by Raikkonen.
"Do I have to let the Red Bull past? He's only interested in pushing me completely off the track," said Raikkonen who went ahead to complain, "Hey come on, this is ****ing ridiculous now, he's moving when I'm at full speed on the right."
That kid in the purple car is having an eventful afternoon… 😳 #F1 #BelgianGP

— MERCEDES AMG F1 (@MercedesAMGF1) August 28, 2016
By lap 15, Rosberg led from Ricciardo, both separated by only 1.4s and followed by Hulkenberg, Hamilton, Alonso, Massa, Perez, Kvyat, Vettel and Grosjean. Remember Rosberg was still on medium tires, his fight against Ricciardo who was on softs only proved to be a thin one.
Hamilton managed to pass Hulkenberg on lap 18 to take P3, and after starting from last one can say things were pretty good for him. "Nice work Lewis, nice work. We've got Ricciardo next," his team radioed.
Les Combes was a bad luck spot for Raikkonen, he had another incident this time with Grosjean whom he hit while trying to pass for 12th. After 20 laps, the order has changed a little to Rosberg, Ricciardo, Hamilton, Hulkenberg, Alonso, Massa, Perez, Vettel, Bottas and Kvyat.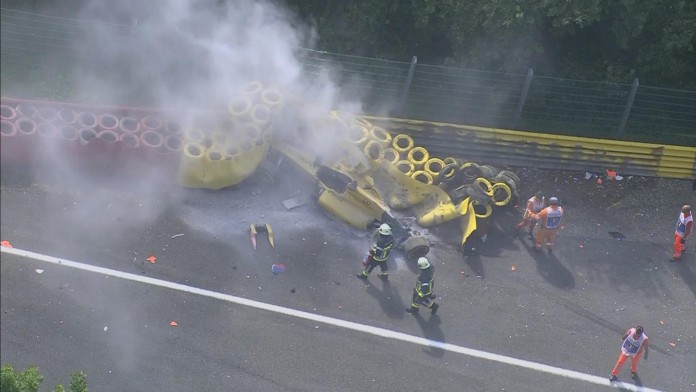 Hamilton stopped on lap 22 for a fresh set of soft tires and rejoined in ninth place, the field was clear but the Brit had a bit of work to do ahead. Moments later, Hulkenberg, Alonso, Vettel and Bottas also made their stops. Hulkenberg made contact with Alonso when exiting the pit lanes. In the meantime, Hamilton was back in third, 31s behind the leading pair of Ricciardo and Rosberg.
Ricciardo made his stop too, picking up a set of mediums. The stop was well timed as he joined ahead of Hamilton. Rosberg was next in line, the German stopped for a fresh set of mediums as well, and rejoined in P1. Lap 33/44 is when Hamilton made his final stop, this time picking up medium tires to take him all the way to the end. The Brit was now in P4 after that stop, right behind Hulkenberg.
Precautionary 🚑 tests being conducted on MAG, according to @RenaultSportF1

He is "fully conscious and responsive"👍 pic.twitter.com/G5lYEKx8Qb

— Formula 1 (@F1) August 28, 2016
Hamilton managed to pass Hulkenberg at the Kemmel Straight for third and was now 35s behind the two leaders. The top three were all on medium tires, Hamilton's set was fresher though he still had a significant gap to fill. He then set a new fastest time on 1m51.692s with just five laps left to go.
Nico Rosberg would go on to win the Belgian GP 2016 with a comfortable lead of 13s, followed by Ricciardo and Hamilton.