The Lamborghini Centenario Roadster has been unveiled at the Monterey Car Week 2016, following the coupe's debut at Geneva Motor Show 2016 back in March. Just like the coupe, only 20 units of the Roadster will be built and they are all sold out with a starting price of $2.27 million.
Making its debut at The Quail 2016, the Lamborghini Centenario Roadster is a tribute to Ferruccio Lamborghini, who would have turned 100 this year. It's made of full carbon fiber from the monocoque to the body panels. A new color known as "Argento Centenario" was created exclusively for this model, and the results is a shiny and matte-like finish on the body panels.
The Lamborghini Centenario Roadster, gets a 770hp V12 naturally aspirated engine, the most powerful unit ever made by Lamborghini. The outcome is a top speed of 350 km/h and 0-100 km/h in just 2.9s. The heavy use of carbon fiber results to a dry weight of just 1,570 kg while the power-to-weight ratio has been rated at 2.04kg/hp.
Lamborghini Centenario Roadster
Aerodynamically, the Centenario Roadster benefits from an extending rear wing coupled with an advanced air flow mechanism that channels air from ducts within the headlight casings to the side ducts and through the wheel arches. Special Pirelli PZero tyres were developed to go hand-in-hand with the new rear-wheel steering that increases turning agility at low speeds with less steering angle and turning radius.
See Also: Top 20 Most Expensive Cars in the World 2016/17
The Lamborghini Centenario Roadster comes with Lamborghini's three signature driving modes – Strada, Sport and Corsa as well as the magneto rheological suspension and Lamborghini Dynamic Steering (LDS). The transmission features the light and quick shifting Independent Shifting Rod (ISR) gearbox.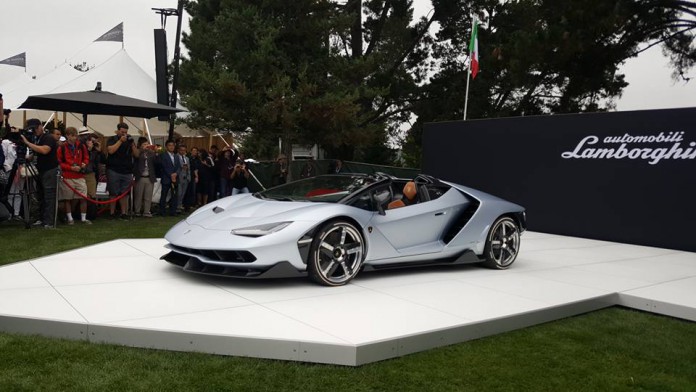 The car can be specced with any color available on the Lamborghini Ad Personam program. The interior comes with Apple CarPlay and two optional cameras to record driving moments.
Stay tuned for live photos of the Lamborghini Centenario Roadster from Monterey Car Week 2016.