Over the course of last weekend the AvD Oldtimer Grand Prix took place at the famous Nürburgring in the German Eifel. Porsche attended the oldtimer event as well and took the opportunity to reveal a special edition of their Porsche 911 Targa 4S: the new Exclusive Design Edition.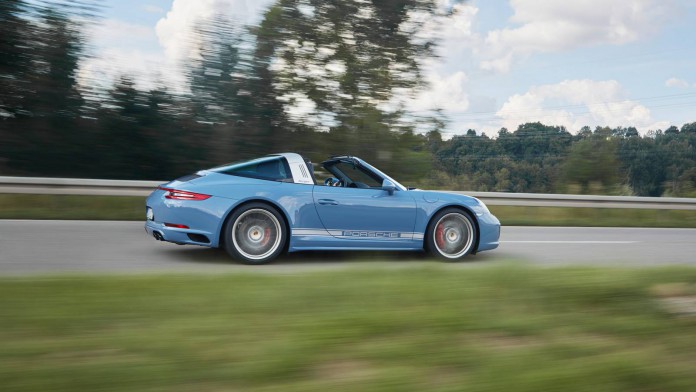 The modern classic of the 911 range now has its own special edition, officially called the Porsche 911 Targa 4S Exclusive Design Edition. Presented as a collector's item, it's finished in Etna Blue, the same color boasted by the classic 356 B (T5) model in 1960 and 1961. Several details of the special edition sports car are finished in the characteristic satin white gold metallic.
The same combination of unique colors continues on the inside of the car, which features a range of hand-finished details. The interior door guards are made from black anodised stainless steel and have the car's special edition name engraved in it. The car's all-around graphite blue leather interior matches the exterior paint and features the Porsche adaptive sport seats.
Porsche 911 Targa 4S Exclusive Design Edition
Under the hood we find the 420 hp (309 kW) bi-turbo boxer engine, which is left untouched. Further exterior details however, such as the front spoiler, covers for the headlight washers and the 'Targa' logo on the Targa bar are all finished in the car's unique blue shade of paint. The special edition Targa get's a set of 20-inch RS Spyder wheels and blacked out tailpipes to finish it all off.
Following their assembly at the plant where the regular Targa is produced as well, the Porsche 911 Targa 4S Exclusive Design Edition cars are shipped over to the famous Zuffenhausen plant where they will be hand-finished at the Porsche Exclusive production line. To underline the exclusiveness of the Porsche, customers get a fancy indoor car cover and bound photo album finished in the graphite blue leather that also covers the car's interior, which documents the development process of their unique vehicle.
People that are in the market for this special edition 911 Targa have to decide quickly, as the special edition will only be available for a limited amount of time.