Swedish hypercar manufacturer Koenigsegg made quite an impression at the 2015 Monterey Car Week last year by bringing one of their highly-limited Koenigsegg One:1 to the event. This year the brand is sure to impress even more by bringing two of their hypercars across the pond, a Koenigsegg Agera RS and their upcoming Koenigsegg Regera.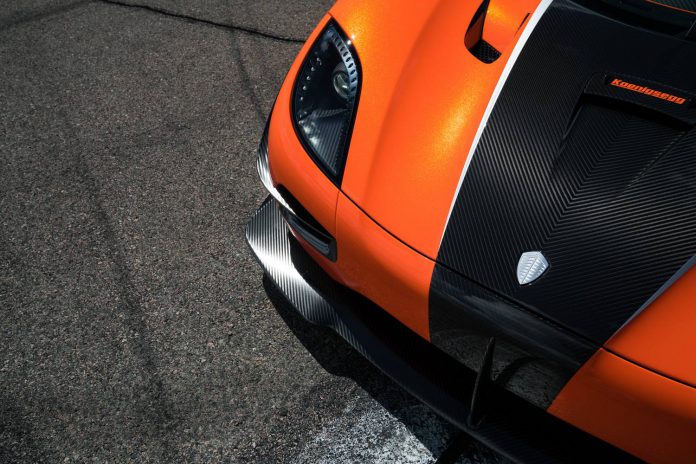 The Koenigsegg Agera RS is the first of its kind to arrive on U.S. soil and is there to stay, it has been bought by a well-known car collector who requested for the hypercar to be officially badged 'Agera XS'. The Agera XS is painted in a shiny shade of 'Karosserie Orange' with diamond dust metallic finish. To match the exterior, the interior sports black alcantara leather with orange contrast stitching.
There is nothing quite like its huge bespoke rear wing that will show you how unique this Agera XS with chassis number #128 is. It's the largest rear spoiler Koenigsegg has ever installed on a customer car and it was specially designed after the wishes of the owner.
Christan von Koenigsegg, founder and CEO, commented: "It is a true pleasure for us to present the Agera XS at this year's Monterey Car Week, especially as this is the first Agera RS that will be fully homologated for use on American roads. Our re-entry into the US market a watershed moment for our company and the Agera XS is the perfect car to emphasise this occasion."
The first U.S. Koenigsegg Agera RS is joined by the intriguing Koenigsegg Regera hybrid hypercar. With chassis number #126, it's finished in Candy Apple Red, just like the example that was on display at this year's Geneva Motor Show.
We would like to thank Koenigsegg Registry for the chassis number details and very talented photographer Arnaud Taquet for the amazing photo set which you'll find in the gallery below!