I'm standing at the edge of a cliff in a scenic overlook, looking out over the endless blue of Lake Michigan. Beneath me, swimmers and sunbathers fight to keep cool on the hot beach. It's humid and hot and my clothes are sticking to me. The fresh breezes from the lake that usually keep the air clear and comfortable are absent – the air is stagnant and hazy. I'm sunburned and tired and overstimulated by the wind, the sun, and the sounds of the last two days – the rush of wind, the scream of pistons, the loud wail of the exhaust, the thrum of tires on blacktop, the deep burble of an idling engine. I'm fatigued, and fatigue leads to mistakes so I've pulled off my route and followed a narrow, winding road that climbs a few hundred feet through the trees above Lake Michigan to take a break.
To my left and right are other people sitting in parked cars, taking in the view as well, though the cars to my immediate left and right have stopped looking at the lake and are instead leaning out their windows, checking out my car. It's the 2016 Alfa Romeo 4C Spider. A tiny wisp of a sports car infused with so much racing engineering you wonder how Alfa Romeo can sell it for the price it does. It's a beautiful pearl white – Bianco Madreperla as the Italians say – with red leather seats. It is, in a word, magnificent. The others sightseers seem to agree. They've completely forgotten about the lake and the view, and their eyes are busy absorbing every flowing line of the car's body, taking it all in before it disappears, something the car does rather well on the open road.
I'm looking at the car again too. I don't tire of looking at it. From the "tri-lobe" intake and the traditional Alfa Romeo grille at the front, along the sweeping fenders that disappear into the sharp side intakes beneath the buttresses, across the short tail of the car to the small ducktail spoiler, there are no bad lines and it never gets old. The pearl white really highlights the lines of the car. The red leather headrests of the seats are visible and the combination looks classic. Perfect. Dark anthracite grey wheels and thin Pirelli P-Zero tires fill the wheel wells. The windshield surround is carbon fiber. It's a short car, a small car, but it's so attractive. Similar in shape and size to Lotus' Elise.
2016 Alfa Romeo 4C Spider
I glance over at a couple gazing upon it from their car. The woman sees me looking at her and takes the opportunity to ask "What is it?"
"An Alfa Romeo," I reply. "Their new 4C sports car."
"Alfa Romero?"
"Romeo. They're from Italy. They haven't sold cars in the US since the early nineties. This is the first production car available in the United States since then."
"Oh. I've never heard of them before. Beautiful car."
I'm surprised how many times I've heard this response over the last three days and it still surprises me. So many people have never heard of Alfa Romeo. How is this possible? I grew up familiar with the name, though less familiar with their cars. I knew of the Spider Veloce, renamed the Spider Graduate in the U.S. after it received some prominent screen time in the 1967 film "The Graduate." I'd hung out at the local road course as a teen when the local Alfa Romeo Club was running and watched the usual mix of Spiders, 164 sedans, and some older coupes from the sixties. They were moderately interesting cars but not beautiful or striking. In the US, the nameplate had some panache but there wasn't much to back it up other than a storied history of racing and some pretty but not entirely impressive products. However, the 4C has completely and inalterably changed my opinion about Alfa Romeo. If this is a hint at product to come, I'm very excited to have Alfa Romeo back in the US.
I had started the previous day giving rides to a few people who were interested. Friends and family mostly. After each ride, photos were texted and posted on Facebook and I started getting more calls and texts from other friends and family. It quickly snowballed and I ended up spending twelve full hours demonstrating the car before finally getting home at 10:00 PM, tired, sunburned, and on edge, my nerves buzzing from the adrenaline and the excitement that came from driving it.
Today was just about me and the car though – driving it, pushing it, getting a good impression of it, and getting some photographs of it. I wanted to really push the car, to wring it out on good roads and see how it would do. A track would have been ideal but I hadn't planned ahead far enough so I defaulted to my favorite driving road in all of lower Michigan: I would run M-22. It's a scenic rural highway that runs up the beautiful shoreline of Lake Michigan from Manistee, Michigan to Northport, Michigan, passing through small summer resort towns that cater to vacationers from several states, Sleeping Bear Dunes National Lakeshore, and the thick forests of northern Michigan. The road, established at the advent of motoring, rises and falls hundreds of feet with the now-forested sand dune bluffs, weaves between dozens of lakes, orchards, and farm stands, and cuts through miles of shady forest land, providing the curves and elevation changes that every driver seeks in a fun road. It's heavily traveled by vacationers seeking to escape the cities and get back out into nature. In the last decade or so, it's popularity has soared and many vehicles on Michigan roads today carry the ubiquitous decal of the M-22 route sign.
I have been on the road for about four hours by this point and, despite my fatigue from the day before, I'm itching to get back in and drive some more. I'm anxious, nervous like a junkie. I can't relax. I need another hit. Jealous eyes watch me as I walk back to the car and open the lightweight door. Inside is one of the prettiest interiors I have ever seen. The heart of the 4C is a large, hand-laid carbon fiber monocoque passenger compartment. Alfa Romeo had the good sense to leave as much of the carbon fiber exposed as possible because the weave of the fiber is strikingly beautiful. It gives both a raw and yet completely refined and finished look at the same time. The black leather dash, red leather seats, and Bianco Madreperla body panels all blend perfectly with it, creating a very spartan but inviting interior. Small black carpets with "4C" embroidered on them protect the bare carbon fiber floors from hard soled shoes scuffing them.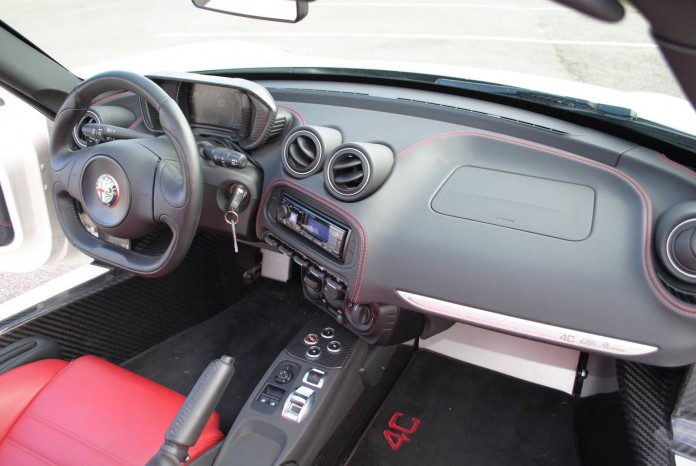 The carbon fiber isn't just a design element though. It provides fantastic weight reduction, rigidity, and strength to the platform. It's quite expensive so it's impressive that Alfa Romeo chose to use it in this fashion on a street car. To the carbon fiber monocoque is bolted an aluminum front subframe that the front suspension bolts to, and an aluminum rear subframe that cradles the engine and transmission and provides a mounting point for the rear suspension. It's essentially designed and engineered like a race car or a supercar, which is exceptionally unusual and innovative for a street car that costs much less than six figures.
Continuing the comparison, the front suspension is unequal-length tubular steel A-arms and coilovers, just like a race car. The rear suspension is MacPherson struts and a multi-link lower control arm.
I pull the key (yes, key!) from my pocket and step across the wide sill, drop my large American butt into the thinly padded but well-bolstered red leather bucket seat, then awkwardly drag my left leg and foot into the car after me. I sit low in the carbon fiber tub. The top of my leg is about even with the top of the tub's sill and my butt is inches from the pavement beneath me. I pull the light door shut until it clicks, pull my seatbelt across me and buckle it. The small, flat-bottomed steering wheel sits before me with an Alfa Romeo badge prominently displayed on it. I plant my foot on the brake, insert the key and twist it – the digital dash display lights up before the motor cranks behind me and fires. Once running, it makes a loud gurgling sound, almost like a Honda with a fart-can muffler in a tunnel, but…better. It could be because it's an Alfa Romeo, or maybe just because it's Italian, but there's the sound of history and racing tradition mixed into the sound. Or maybe it's all just in my imagination, but I love it regardless.
The view out the windshield is dominated by the two front fenders, which helps the driver place the front wheels. That's about all you can see besides the road stretched out in front of you. Although the rear window isn't much larger than a mail slot, the view through the rearview mirror is sufficient to see traffic behind you. Adjust the side mirrors out past the sharp triangular side intakes and you'll have a pretty complete view of what's behind you. The view is limited but sufficient. Our car came equipped with a back-up sensor system, which helps in parking lots.
The center console to my right is capped in black molded plastic that provides two cupholders behind my elbow. The parking brake is the manual variety, attached to the center console as well. Further up the console is the switch for adjusting the side mirrors and Alfa's D.N.A. switch. Above that, furthest away on the center console, is a small square of carbon fiber trim housing four buttons. Reaching forward, which isn't much of a reach in a car this small, I push the button labeled "R" for Reverse. You can feel the Alfa TCT (twin-clutch transmission) select the gear. I take my foot off the brake pedal and gently push on the accelerator, which requires a firm push to get moving. It resists light pressures. The little Alfa begins backing up, and I turn the flat-bottomed steering wheel as I back out. There's no power steering in the car, so it requires a little muscle in parking lots and slow speed situations. It's not difficult, it just isn't one-finger spinable is all.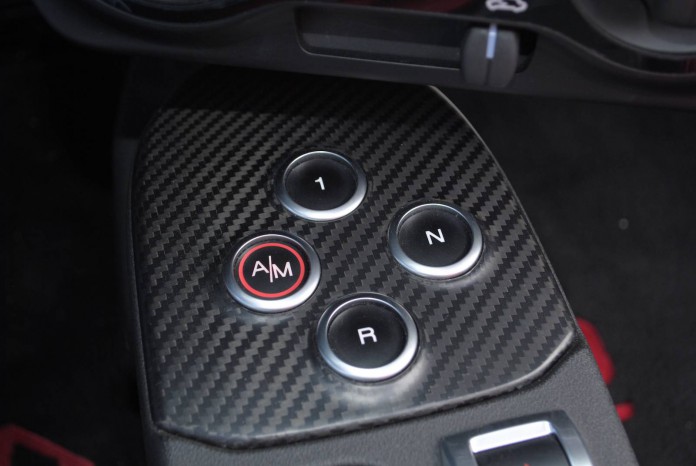 Now I reach out and push the button labeled "1" for first gear, feel the TCT select the gear, then push "A/M" to get manual mode instead of automatic mode. This activates the paddle shifters behind the steering wheel – left is downshift, right is upshift.
Then I reach for the D.N.A. switch. D.N.A. stands for "Dynamic-Natural-All Weather" and controls the character of the car. Natural is the default setting and provides a sporting ride but defaults to all the computer controls overseeing the car's performance. Traction control, stability control, and any other electronic nanny keeps you from swapping ends due to a dumb mistake. It retards the engine and applies the brakes if you whip around a corner too fast, keeping the back end from stepping out and keeping it dog slow as you exit the corner. Selecting Dynamic tells the electronic controls that I intend to have some fun and please stay out of the way unless I really do something stupid. It relaxes the computer controls and allows some slip in corners but never lets things get too out of hand. Select Dynamic again and it engages Alfa Racing Mode, which shuts off all the electronic aids except when braking hard. All-Weather applies engine retardation and traction control when it senses ANY slip, which is what you'd choose if you got caught in a freak snowstorm. Not expecting any freak snowstorms in July, I selected Dynamic or Race most of the time. It allowed me to get a good feel for the car's balance and allowed me to play with it a bit.
With that out of the way, I give it some throttle and head back down the winding road to M-22 in Elberta. The Race Exhaust, which our car has, is essentially straight pipes muted by only the turbo, the catalytic converter, and a resonator. It's loud but not obnoxiously so. Okay, maybe a little. The engine roars to life sounding like a race car, then spits and pops at idle like one, like it would be happier going faster like it was designed and built to do. As we idle into Elberta, people hear us and look up from whatever they're doing. When they see the car, they're transfixed. The exhaust is an attention getter, that's for sure. It's not discreet at all.
We get an easy break in traffic and turn north onto M-22 again. The little direct-injected 1.75L turbocharged four-cylinder gets louder and the car leaps out onto the road, propelling it quickly to 65 mph, from which we have to back off. The engine makes about 240 hp and 260 lb-ft of torque, which can really propel the lightweight 2400 lb car with lightening-fast immediacy. We cross the channel and motor about a mile to the town of Frankfort. Frankfort is still an industrial shipping port along Lake Michigan but it's also a vacation town and it's very busy late on this summer Sunday morning. The farmer's market is crowded along the channel and people are everywhere, on bikes, walking, pushing strollers, chasing children, and walking dogs. I see mouths drop and kids point as I go by, but I can't relish the moment because the unassisted steering is so sharp and immediate, I don't feel comfortable taking my eyes off the road to watch reactions like I normally do. Driving it demands your full attention. I motor through Frankfort, and then north through Chrystalia and around Silver Lake until I come to an elaborately carved sign that reads "Welcome to Sleeping Bear Dunes National Lakeshore."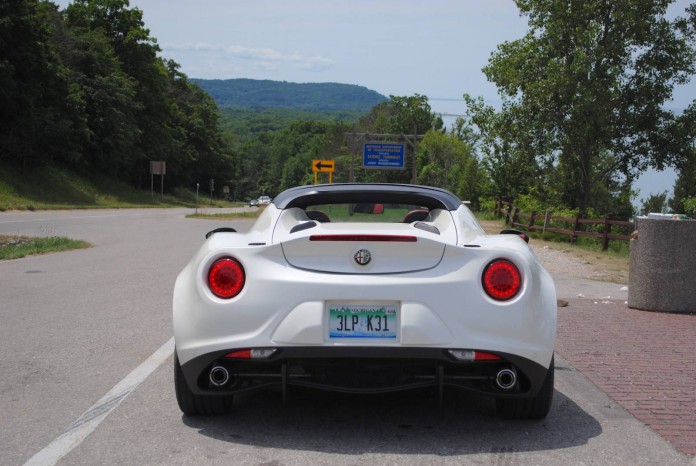 The road, until now, has been scenic and beautiful, with bluffs and orchards and some good curves and hills. Now it's about to get better. I accelerate and the car leaps up the road, the engine note getting sweeter and smoother, the trees flashing past faster, the sound of the rushing wind intensifying. The steering feel is incredible. I can tell exactly what the front end is encountering, what the grip is like. Faster! Left paddle. The engine shrieks, the car leaps ahead even faster. There's a sharp curve to the right up ahead, the first curve of a great "S." I back off the throttle and the engine note hangs in the air, then slowly falls, falling, falling. I turn into the corner, the steering resisting my efforts but obeying my command, the chassis feeling nervous. I accelerate and the chassis suddenly feels more confident, more composed, and the car rockets through the first curve at a speed I've never taken it before in any car. Elation and excitement and adrenaline kick into my system, and I'm setting up for the second curve. No hesitation this time, just dive in fast and come out faster. The chassis feels amazingly confident, no nervousness at all. It's rewarding my courage, showing me that it's up to the task, and reassuring me that it's not the weak link here.
Mazda has used the concept of "Jinba Ittai" in their marketing materials for years. It translates roughly to "horse and rider as one," working together as a single entity instead of two disparate ones. There's an element of zen in there too, of not having to worry about the car's behavior, but trusting it to work together in a symbiotic fashion. The Alfa Romeo has that same oneness to it, but it's performance level is much higher. I feel totally in tune with this car. Like it's an extension of me. It's hard to describe, but it's indicative of some fantastic engineering and suspension tuning.
I'm flying through the forest now, two-lane blacktop winding like a ribbon between the stands of trees. Another corner, sharp and tight – left paddle – the engine blips high into the rev range before falling – left paddle – blips again before falling. Dive into the corner, engine note falling off, stab the throttle, shrieking again, pulling like mad, out the other side like a cat on fire, clawing the pavement for as much speed as it can muster – which is a lot. Right paddle. Waste gate dumps with a loud "Whump!" Revs fall. Peddle down, revs climb again ever so sweetly, engine smooth, right paddle: Whump! We're way too fast now. Go-to-jail speed. Stab the brake, car slows. Try to modulate the speed to stay legal but the car wants to run, wants to run fast. This car is amazing. I'm jittery with adrenalized excitement, hands sweating. Wipe them on my pants, one at a time.
Alfa Romeo 4C Spider Interior and Details
Traffic approaches, or rather I'm catching up to traffic. A minivan and a Suburban, both going slower than me. No oncoming traffic. Left paddle, the engine screams, we're alongside them, redline flashes, right paddle – Whump! – someone in the minivan probably just had the crap scared out of them when the waste gate dumped, engine note rising fast, tach needle whipping around – we're past. Doing 97 mph. Brake back down to legal. Keep going, middle of the rev range, listening to the beauty of the exhaust note hanging in the air behind me.
A few more great curves, several more passed vehicles, and I'm approaching the town of Empire. There's a great S-curve just before Empire too and if I want to run it clean, I have to pass another car. By now, I'm so confident in the engine's ability to effortlessly launch me around traffic that I shouldn't even get excited but I do. Get a clear passing zone, left paddle, accelerate, noise, glorious noise!, right paddle, whump!, we're past them, brake a bit. We're at the first corner, it's a sharp uphill to the right, blind. I dive into it and am startled by two teens on bikes riding on the shoulder of the road. They are just as startled by the white Alfa Romeo coming around the corner in their lane, or so I judge by the surprised large eyes and wide-open mouths as one hand points at the car. I brake hard and the thick cross drilled discs get squeezed hard by the gorgeous red four-piston Brembo calipers and the car slows right down without issue or any chassis instability. I move over to give them some room, pass them, then accelerate, and watch in my rear-view mirror as the two stop their bikes and watch me disappear around the second corner, revs climbing yet again, sound reverberating off the trees.
I drive through Empire, through some more curvy sections, then north through Glen Ellen, which is as crowded with tourists as Disney World on a Saturday, many of whom stop and gawk at the white Italian jet threading it's way through town. The roads out of Glen Arbor are thick with traffic and I'm suddenly stuck behind a line of slow SUV's with no breaks in traffic in which to pass them. About 10 excruciating minutes later, I get a brief chance to pass and instinctively decide to take it. Left paddle, left paddle, throttle, the car squats, whines, shoots up the road, going faster, faster. Right paddle. Whump! Rev's fall and start over. Right paddle. Whump! Oncoming traffic approaches, but I'm clear and get back over with plenty of room to spare. Let my speed fall off as the road winds more through the woods, past endless summer homes and cottages, wineries, trucks pulling ski boats, and soon I arrive in Leland. 

Leland is a busy little summer town with a lovely and bustling marina tucked next to a gaggle of tourist shops selling everything from t-shirts to fudge, a Michigan institution of sorts. Denizens of Michigan's rustic upper peninsula like to joke about the "fudge-suckers from under the bridge," a pointed reference to the tourists from Detroit, Chicago, and Grand Rapids who all live south of the Mackinaw Bridge and venture north to escape the cities and, apparently, like to buy fudge. I'll admit, I've done it. I've got a huge sweet tooth. I decide to check for a good photography backdrop down by the marina, but it's too busy so I do a slow lap of the parking lot and watch every guy and kid in a 100 yard radius stop and smile as I growl through. Conversations stop. Camera phones come out. People point. The 4C is a junior exotic and it looks and sounds the part. One guy sneers at me as I pass, trying to act unimpressed but I catch him in my mirrors slyly pulling his cell phone out of his pocket and discretely taking a picture from waist height, then glancing down to see if he got a good shot to show people. I can't help but chuckle. People can tell it's something special but few know what it is.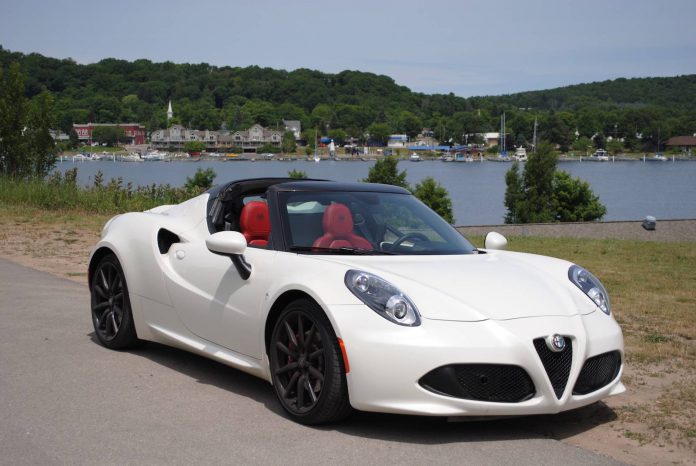 Leland is a bust, so it's north out of town and on to Northport and the best part of M-22 for driving: Hills and deceptively sharp corners. I unintentionally four-wheel drifted a Miata out of my lane up here once, the result of too much speed and an unexpectedly tight curve. Let's see how the Alfa does. My run starts good but I quickly run into slow traffic and there are no passing zones any more because the roads are too curvy. Even after pulling over on the shoulder for a few minutes to create some distance, I still catch up to the traffic quickly and end up just defeatedly following it into town. When I leave though, it's a different story. The southbound run is empty and the car rips through the corners with fantastic drama but no surprises, other than the car is even more freaking fantastic than I thought. I feel the tail slide out on a few corners at speed, but the car is unflappable and it's not a cause for alarm. Brilliant!
Evening is falling and traffic is disappearing as I cruise south on M-22. The lighter traffic allows me attack the curvy sections a little harder and drive a little faster than I did on the way up. Deer are a very real problem up here so I try to keep a sharp eye out for the big critters waiting to leap into my path. The loud exhaust might help with that though. A motorcyclist once told me that Harley Davidson owners remove their mufflers because it scares deer away from the road and avoids a potentially lethal encounter. "Loud pipes save lives!" the saying goes. So the loud little Alfa Romeo may be safe, but I keep an eye out just the same.
As I return through all the little resort towns again, I slow and take the time to examine things inside the car. Like the steering wheel. It's a good thick wheel, easy to grab, and rigid, which is good when turning the unassisted steering at low speeds. The bottom section of the wheel is flat, like in a race car, and offers more leg room when driving and when getting in and out. With my thumbs tucked into the crevices where the crossbar meets the round wheel, I have good control and can easily snap off shifts using the paddles. However, there are palm swells at about eleven o'clock and one o'clock – too high to effectively use. When I grip them, they fill my palms nicely and give good control, but then I can't reach the paddles to shift. Odd. Still, the wheel is nice overall.
Alongside the seats are little puffy leather bags with slits in them. It takes me awhile to realize that they're cell phone holders. My iPhone5 fits nicely in the slit but I don't think a 6 would fit.
It suddenly dawns on me that there's a stereo in the car – an aftermarket Alpine unit with a removable faceplate. I never bothered trying it. One, I'm pretty sure I wouldn't be able to hear it over the wind and exhaust noise. Two, why would you want to listen to music when that exhaust is so gorgeous and right behind you? The engine makes fantastic sounds at speed, better than any music I can think of.
Not that it's great all the time. When you're idling it's very racerish and loud and you can't help but love it. When you're pushing it and deep in the revs, the shriek from the engine will about make the hairs on the back of your neck stand straight up. However, rolling around at low revs, motoring through town like I'm doing right now, you get kind of a boomy drone that's not very pleasant to the ears. I'll admit, as much as I love the race exhaust and the sounds it makes, I spent as much time shifting to find a better rev-tone as I did to extract better performance out of it. The easy solution is just to hammer the throttle, but you can't drive around at 6000 rpm's all the time. Sometimes you have to stop driving like Tazio Nuvolari and drive like your mom and that's when the sound sucks. But please Alfa, don't ever change it. I'd be happy living with it because it sounds so sweet the rest of the time.
The suspension too – the info I got about the car didn't go into much detail about the suspension, but it's fantastic. Firm all the time, it just glides over bad section of pavement without transferring harsh impacts to the driver. I don't know how they did it, but it's superb. When you push it, it comes alive without beating you up, diving into corners and carrying you through them with complete control and excellent feedback at all times.
Yet when something is this close to perfection, it's flaws often seem…offensive. Take the HVAC controls as an example. Amidst all the precision engineering that you experience in this car, the unpowered razor-sharp steering, the milli-second shifts, the immediacy of the throttle and engine, are the sloppiest, wobbliest HVAC controls I've ever used. They're worse than mid-eighties GM controls and that's saying something. There's no smoothness or precision to them at all. The position detents are non-existent. The control knobs didn't just rotate sloppily, they seemed to move laterally as well! The actual function was unaffected, but amidst such brilliant precision engineering, using them was a jarring experience.
The other big issue was the seat controls. If I could change one thing about the car, it would be the seat controls. Visually, the seats are art and they're well bolstered, but they were designed for shorter people than this big Hollander. Italians are on the small side of our species, so perhaps that's why it got designed that way. I'm 6'1" with a 32" inseam – fairly tall but a little longer through the torso than I am through the legs. Even after I adjusted the steering wheel for distance (it doesn't adjust for height), I found myself having to slouch in the seat, my butt on the front edge of the seat pad with only my shoulders contacting the seat back, just so I could read (barely) the top half of the display. Which left my lower back unsupported and it really took a toll after a few hours. I realized that if I were to slide the seat forward and recline the seat back, I'd be perfectly ensconced in it. However, the seat back doesn't recline. At all. It adjusts forward so you can stow very thin things behind the seat, but there is no rearward adjustment. Giving it some recline would open up some possibilities for tall driver comfort.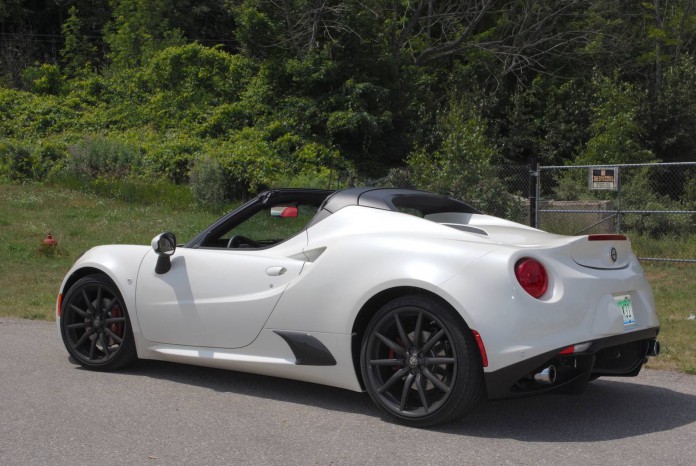 Frankfort, then Elberta arrive. South of Elberta, I was able to open the car up a bit again, letting that sweet engine propel the car down the road at an impressive clip before needing to reign it in again. For such a small engine, it really gets the job done. It revs so quickly that the digital tach needle blurs across the display. Even with paddle shifters, I was caught out a few times by the engine hitting the rev limiter. Boost starts to come on around 1000 rpm's, starts swelling exponentially at 1500, and is making full boost from 2000 right up to the 6500 rpm redline. Lag is non-existent. And the faster it revs, the smoother it feels. And the better it sounds. It's a very impressive little engine.
The road is now empty except for me and I'm making the most of the twisting road, snapping upshifts and downshifts as I wind around the orchards of Arcadia. This is the first car I've driven where I feel that the paddle shifters are a benefit to the car. Typically, in auto/paddle shift cars, I prefer to leave the transmission in auto and let it do the work. Even in the automatic Corvette Z06 I drove last year, I didn't feel that the paddle shifters really added much to the experience. But this…this is brilliant. The twin-clutch transmission shifts milli-second quick – snap! snap! – and is responsive enough that it adds quite a bit to the car's performance. Acceleration runs feel almost seamless as you flick off shifts. Mind you, I'm a dyed-in-the-wool manual transmission guy, but the TCT really suits the character of this car and improves the package. This is the first car I've driven that I would not want a manual transmission in. It's fantastic just the way it is.
And as I throw the car into the last set of downhill S-bends that return us to the lakeshore in the sleepy town of Onekama, I'm both exhilarated and a little melancholy because I'm having the time of my life but it's almost over. I want to keep driving. i want to try it on other roads. Everywhere. I want to head out to the Rocky Mountains and run mountain roads or maybe northern California's forests and continue to wring out the 4C. I'm going to be very disappointed to give it up.
The sun is setting out over Lake Michigan but the beautiful view is being obscured by dark clouds that are gathering out over the lake and moving inland. I motor through Onekama, keeping my speeds low, then head for the last set of uphill S-bends that start and end M-22 before Manistee. There's a slow guy in a VW holding me up, but as soon as we hit a passing zone I drop a gear and rocket past him and push the 4C effortlessly through the last set of bends unobstructed. Left, right, left, right, left, right, left…. Then, too soon, I'm back on a normal highway heading back down into Manistee. I still have about three hours before I get home. Night is falling and rain is coming.
I stop and put the canvas top up. It's a simple top to operate. There are two aluminum bulkheads with canvas stretched between them. You simply snap one side into place, snap the other side into place, then make sure the leading edge of the canvas slipped into a groove along the windshield header. Inside, hand screw two twist-bolts into the header and you're done. No sooner do I have it on than I feel a rain drop. Perfect timing. It's starting to rain. I climb back into the car, fire it up, and get on the freeway. The rain picks up in intensity but I stay warm and dry inside. With the top on and the windows up, the 4C Spider is pleasantly quiet inside. Surprisingly quiet. With little carpeting and no sound deadening, I expected more noise. It's not as quiet as, say, a Camry, but it's not exactly loud either.
Wow, I've fallen for this little car. I can't help it. It's like a junior race car with better manners and presentation and I love everything about it. It's so addictive. That's why two twelve hour days and 1000 miles later, I'm still jonesing for more seat time. One last trip to the gas station. The grocery store. To a friends house for…something. Anything. I can't get enough. Yes, there are faster cars out there, putting down bigger numbers, faster times, that are more comfortable, but this is so Italian, so passionate, so driver-oriented that you can't help but love it. It has some minor flaws, yes, but they're not deal-killers and you learn to live with them. It's like a passionate woman: you learn to tolerate her temper, her quirks, her craziness because she makes your life so exciting.
I've driven some great cars in my day but if $75,000 fell into my lap tomorrow, I'd be heading down to the local Alfa Romeo dealer to buy one. That's how much I enjoyed this car. I'd probably have it at the track every weekend too. Which got me thinking – you know what this car needs? A racing series like Ferrari's Challenge racing series. That would be some fun! I have no doubt they would fill the grid at every event.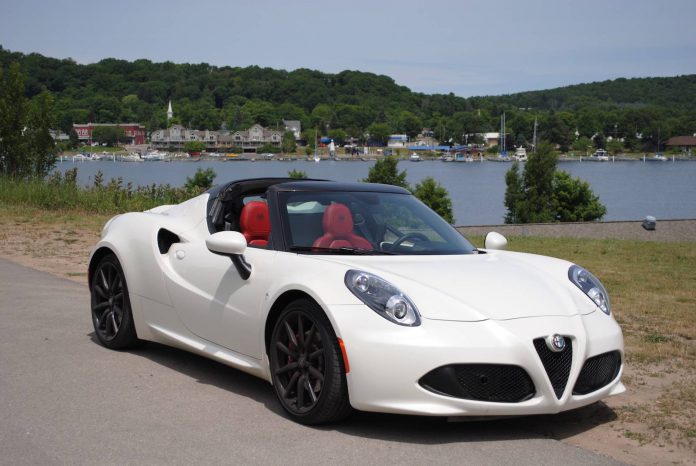 Alfa Romeo has built the most balanced little sports car I've had the privilege to drive in quite some time. It's a testament to Alfa's racing heritage, a nod to the past from the present. Every trip becomes a recreation of the Targo Florio or the Mille Miglia or perhaps more appropriately given it's modern race car layout – The 24 Hours of LeMans. The 4C isn't a car for everyone like the Boxster is, cosseting you with every creature comfort and isolating you from the from the very things that make sports cars great. It's more focused. It's small, it's loud, it's a little buzzy. It can be a little difficult to get in and out of. If you're passionate about driving though, if you like racecars, and if you want a budget exotic that can run with more expensive cars without having to apologize, the 4C is an incredible car and definitely worth a look. It's like an entry-level Ferrari.
As I said before, if this is a sign of things to come from Alfa Romeo, and it appears it is (hello Giulia Quadrofoglio!), then I'm glad Alfa has returned to North America and I look forward to witnessing their brightening future. Welcome back, Alfa.
Special thanks to DestinationRoads.com for the M-22 road sign decal.