This morning the 1,000,000th Audi Q5 drove off the production line in Audi's factory in Ingolstadt. The popular mid-size SUV is still doing extremely well with over 266,000 Q5s sold to customers worldwide last year. First introduced in 2008 the second generation Q5 is due to be unveiled later this year.
The Sepang Blue Audi SQ5 pictured above goes to a family in Germany. Along with production facilities in India and China the total Audi Q5 production topped 1,6 million cars this month.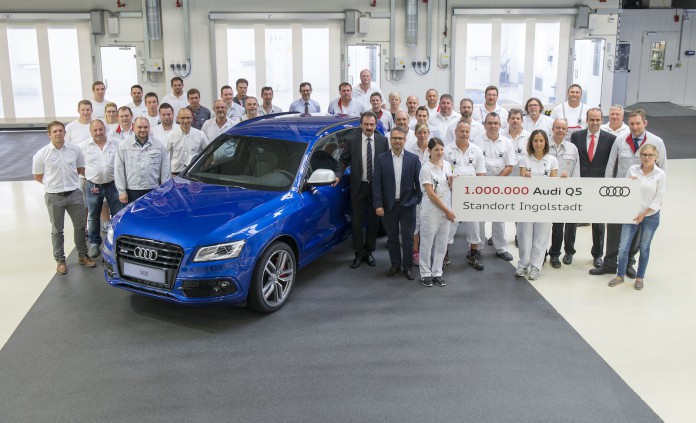 Since 2014 we have had an Estoril Blue Audi SQ5 in the GTspirit garage and now might be a good moment to reflect on two years and 30,000 kilometers with our 313hp V6 turbocharged diesel car. Interestingly Audi sells the SQ5 with a diesel engine in Europe but with a petrol engine in the United States and some other countries. I was never a diesel fan and would have probably opted for the petrol version if it was available but now two years later I have become a fan of the diesel's tremendous torque of 650Nm!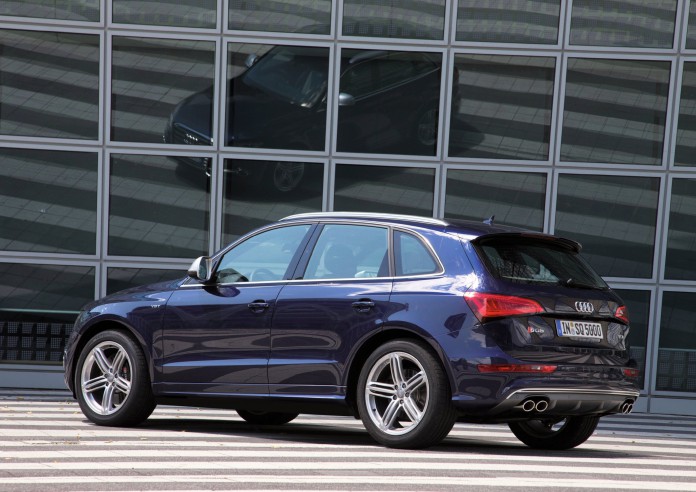 The fabulous engine is paired with an 8-speed ZF gearbox, the same gearbox you can also find in most Bentleys among others, with flappy paddles behind the steering wheel which I never really use. The SQ5 weighs a bit over 2 tonnes with driver so it is by no means light. The ride is quite stiff and on multiple occasions I miss air suspension or adaptive suspension at least. With Audi's drive select we can change a lot of things about the ride between comfort and dynamic – engine/gearbox, steering and sound but not the suspension. Especially with the large – but stunning – 20 inch wheels it makes the ride rather harsh on unsmooth surfaces.
On the upside it corners way better than you would expect from a 2 tonnes SUV. It looks great – from all SUVs I believe it has the best proportions. Not too big, not too small. And the smooth, round design with LED lights front and rear just make it look appealing and cool. Especially at night the rear LED lights look stunning.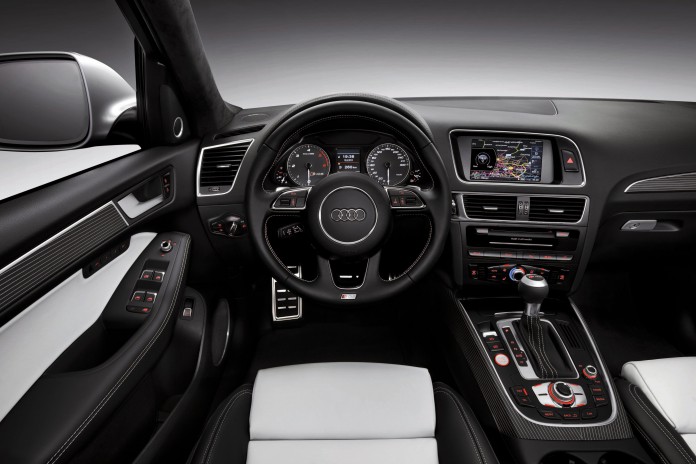 Inside everything just works, ergonomics are great even for tall people like me (1,90m). The infotainment screen is a bit small but in combination with the display between the speedometer and the rev counter there is always enough information.
Our SQ5 is pretty much full option but a few things I really like:
Panoramic roof – an option I had never chosen before but it adds so much light to the cabin that I am really happy to have it now.
Adaptive cruise control – a must for a daily driver in my opinion. Works great between 30 and 200 km/h. Sadly it is an early version of the system so below 30 km/h the system switches off, on new Q5s it should also work in traffic jams.
Climate Control – a must
Wifi hotspot – great when you or your passengers run out of data and ideal to stream spotify during the drive.
Parking sensors front and rear and rear view camera – just convenient when parking in tight spots.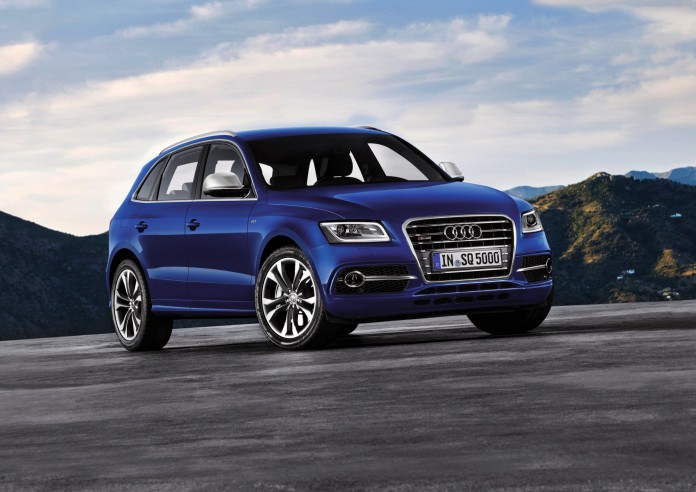 Is there anything I miss on our SQ5? Yes, a few things. Adaptive cruise control with traffic jam assistance would be nice but I believe that is available on the 2016 Q5 already. I also miss seat cooling to keep your back cool on hot summer days. Adaptive dampers or air suspension would be very welcome too.
Over 30,000 kilometers we had one service done, nothing to repair and with oil change etc cost around 600 euro. The fuel consumption comes in at around 10 liters per 100 kilometers – if you drive a lot of highway you can probably get it down to 8 liters but since we drive a lot in cities and on the unlimited German autobahn 10 liters is acceptable.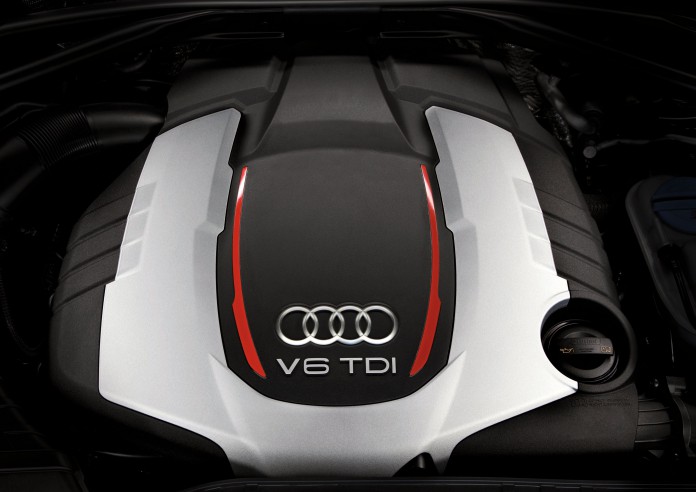 I already praised the engine of the SQ5 and I also have to praise it's performance. Acceleration from 0-100 km/h is done in just 5.1 seconds and it tops out at 250 km/h with the feeling it has quite a bit to spare. On the German autobahn it feels very confident also, steering inputs are very direct and driving above 200 km/h for longer periods of time is less exhausting than in many purpose built sportscars. One last thing is the sound; thanks to Audi's sound engineers it has a proper – yes, I know it's fake – sound track which makes it sound anything but like a diesel. I once had another car journalist in the car with me and after an hour or so on the autobahn he asked if it was a V6 or V8 petrol engine..!!
Time to draw a conclusion: Our 2014 Audi SQ5 is a pleasure to drive, very practical and attractive at the same time. I hope the next gen will offer a slightly more comfortable suspension setting and retain some of the current Q5's cool design as I'm not a big fan of the new Q7 design. Inside a larger infotainment screen and upgrades to the latest tech for infotainment and assistance systems are welcome too. But for now I'm very happy with our Estoril Blue SQ5 and will definitely put a few thousand more kilometers on it.