The vehicle of choice for most fisherman is a boat, understandably. However Bentley is now proposing an alternative: its new Bentley Bentayga SUV.
The Bentley Bentayga Fly Fishing by Mulliner was designed by the automaker's special in-house coachbuilding division to be the perfect fly fishing companion. The SUV comfortably carries "all the equipment required for a successful day on the river," Bentley says, and does it quite stylishly, we might add.
Many of the changes have happened in the boot, where four fly fishing rods are stored in special Saddle leather-trimmed tubes with linen cross stitching. Joining the rods are a pair of landing nets in matching leather bags, which are stored in a bespoke, carpet trimmed hard pocket.
2016 Bentley Bentayga Fly Fishing by Mulliner
Bentley has also added three saddle leather-trimmed cases to Bentayga's boot. The largest is the master tackle station, which features Burr Walnut veneered drawers and a selection of tackle. A waterproof wader stowage trunk can be used to store used fishing waders, while a refreshment case houses to three metal flasks and a set of Mulliner fine-china tableware. An electronic dehumidifier is also onboard to ensure the cabin stays fresh and dry.
Rounding out the changes are Mulliner 'Welcome Lights', which are housed in the underside of the doors. When the doors are opened, the lights project Bentley and Mulliner logos onto the ground. Bentley says any personal logo or graphic can be individually specified on a customer's Bentayga through the Mulliner program.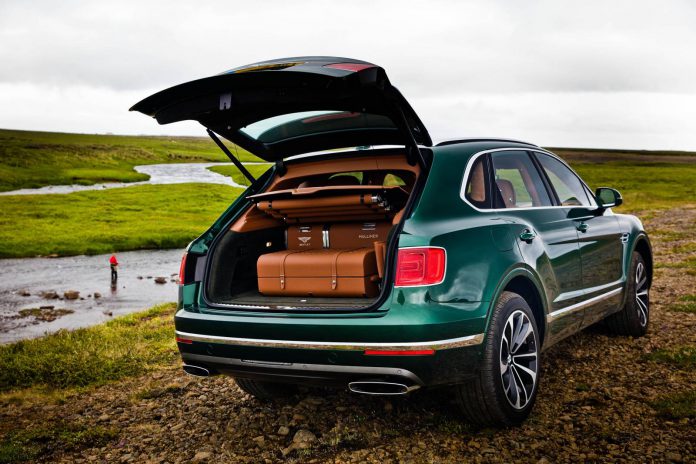 "The Bentayga Fly Fishing car showcases the breadth and level of detail a customer can expect from Mulliner," Bentley Mulliner director Geoff Dowding said. "This is an individual bespoke solution and our skilled craftspeople can design elegant and exquisitely executed bespoke solutions to complement any customer lifestyle or hobby."
Apart from the changes mentioned above, the Bentayga Fly Fishing is identical to a standard Bentayga. The 6.0-litre twin-turbocharged W12 delivers the same 600 hp and 664 lb-ft and will hustle the SUV from 0-96 km/h in about four seconds. Pricing for the Bentayga Fly Fishing was not specified, however the standard SUV will command £160,200.