The DTM has made it halfway to the 2016 season at the Zandvoort circuit this weekend. Robert Wickens claimed Race 1's win while Jamie Green dominated race 2, both drivers started from pole in their respective races.
After the 9th and 10th races in Zandvoort, Marco Wittmann now leads the standings with 105 points, he finished fourth in race 2. Jamie Green's victory sees him jump into second place on the standings with 98 points while Edoardo Mortara is third with 88 points.
Race 1
Wickens remained undisputed throughout the first race on Saturday, cruising through to victory with an advantage of 7 seconds. The Mercedes-AMG driver had a margin of five seconds after 20 of the 25 laps, making it impossible for the pack behind him to put up any challenge. That said, second place was contested by Marco Wittmann and Christian Vietoris.
Wittmann was right behind Wickens up until a slow zone cost him valuable pace allowing the Mercedes driver to get away. The slow zone was caused by Augusto Farfus who crashed at the Armco barriers. In the meantime, Vietoris in third edged his Mercedes C63 closer to Wittmann's BMW after that stint. Despite his efforts, Wittmann was still faster on the straights, they crossed the line in second and third place respectively.
Gary Paffett finished fourth in his Mercedes-AMG C63 leading Jamie Green in fifth place. Audi had a tough session, Mortara started from second but was handed a drive through penalty for exceeding track limits, he finished in 17th. Nico Muller also suffered the same fate as Mortara while Adrien Tambay crashed on the first lap after a collision with Maximilian Götz.
Race 2
Green had little trouble claiming his first win of the season at Zandvoort today, the Audi driver crossed the finish line with a 9s margin over his rivals to clinch his 13th career victory.
The Brit led the race and immediately opened a gap between him and Wickens, Paffett and Vietoris – the three drivers were in a small hive behind the leader. Things turned around for both Vietoris and Wickens who both suffered a puncture, the latter finished in 16th place losing an opportunity to reduce Wittmann's lead in the standings.
Green thus shared the podium with Paffett in second for Mercedes and Mortara in third, making it a double podium for Audi. Points leader Wittmann crossed the finish line in fourth place ahead of Müller, Glock, Ekström, Di Resta, Auer, and Blomqvist.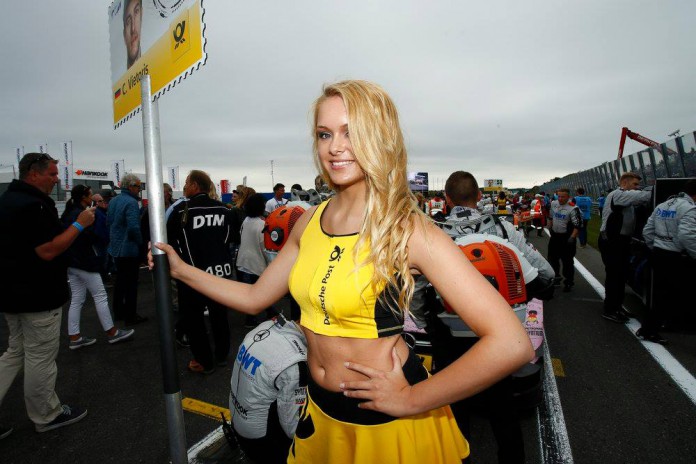 Drivers will now go for a summer break and will return to action on August 19 at the Moscow Raceway in Russia.