The highly anticipated Aston Martin – Red Bull AM-RB 001 Hypercar has been revealed at the Aston Martin Headquarters in Gaydon, via a live broadcast which showcased a full-sized clay model of what the actual car will look like. Aston Martin teamed up with Red Bull and F1 designer Adrian Newey to create the most extreme model yet on Aston Martin's portfolio.
The AM-RB 001 will be the fastest and most powerful Aston Martin ever made, a total of 99 road cars and 24 track cars will be made available to select customers. The production and engineering process will be handled by Q by Aston Martin Advanced and Red Bull Advanced Technologies, deliveries will commence in 2018.
Aston Martin Red Bull AM-RB 001
Powering the new Aston Martin-Red Bull AM-RB 001 is a naturally aspirated V12 engine, and while Aston Martin does not reveal the exact power output, they did point out that they are aiming for a 1:1 power-to-weight ration – 1 bhp per kilo. Logically speaking, if the car is meant to shake up the current competition, we are expecting its output to range between 900 hp and 1000 hp or more.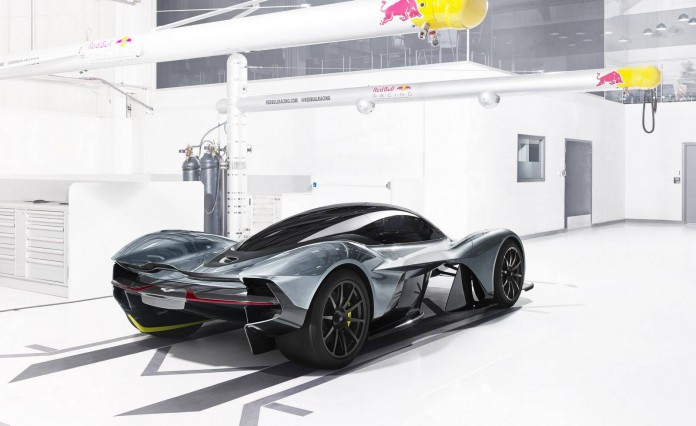 Pricing for the Aston Martin-Red Bull AM-RB 001 will range between $2.6 million and $3.9 million depending on the model, that is road car vs track car. Aston Martin claims to have received more than 300 expressions of interest since May when they held a private viewing of the hypercar in Monaco.
Speaking about the project, Adrian Newey, Red Bull Racing's Chief Technical Officer, said: "I've long harboured the desire to design a road car. Aston Martin was at the top of my list. I've always been adamant that the AM-RB 001 should be a true road car that's also capable of extreme performance on track, and this means it really has to be a car of two characters. That's the secret we're trying to put into this car – the technology that allows it to be docile and comfortable, but with immense outright capabilities."