This is it, the ULTIMO Lamborghini Veneno Roadster. It's the last unit and it comes in a legendary color, Verde Miura. GTspirit photographer David Kaiser was lucky to see the 9th production model live and hereby delivers another stunning photo set. Looking at the car in real life leaves you speechless and humble: There are endless details to be explored and every view angle reveals the elements of power, strength, style, functionality and elegance.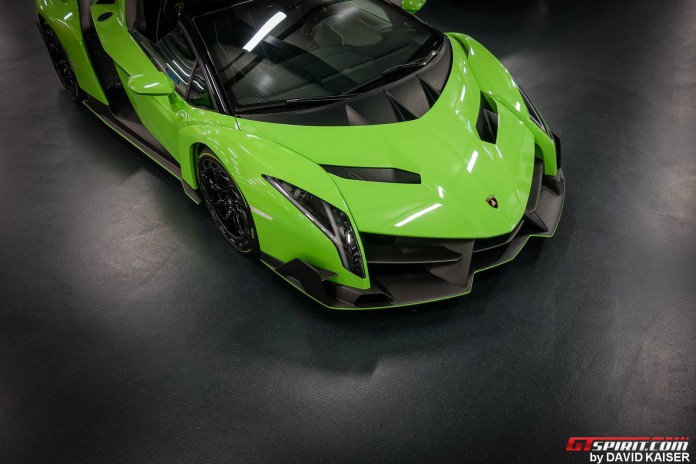 Back in 2013, as a culminating finale of the 50th anniversary celebrations, Automobili Lamborghini was once more presenting one of the most exceptional supercars of all time. The Lamborghini Veneno Roadster is an open racing prototype with an extreme design and breathtaking performance. And it is one of the world's most exclusive automobiles, not more than nine units were built during the following month after the unveiling on an Italian navy ship in Abu Dhabi. Price tag? 3.3 million Euros (excl. tax).
The entire design of the Lamborghini Veneno Roadster has been laid out for perfect airflow and downforce. The front end works as a large aerodynamic wing. The visual division of the rear fenders from the car body is a reference to the world of racing cars and optimizes the aerodynamic flow. The smooth underbody transitions into a substantial diffuser framing the four sizable exhaust pipes divided by a splitter. Large openings serve to ventilate the engine bay and direct airflow to the rear wing. The design of the adjustable rear wing is the product of motorsport experience and extensive aerodynamic simulation to ensure optimum airflow in the interaction of the rear wing with the rear diffuser.
Lamborghini Reventon Roadster - #9 Verde Miura
A lot has been written about these Venenos since 2013 and every street sighting goes viral in the social media channels immediately. Thanks to all the spotters and with the help from Lambocars we tried to give you the full list of existing Veneo Roadster.
Lamborghini Veneno Roadster Chassis Numbers
#0 Rosso Veneno – factory owned
#1 Rosso Veneno – seen in Dubai , now USA?
#2 Nero Nemesis – located in USA
#3 Bianco Isis – Hong Kong
#4 Nero Aldebaran – Gibraltar plates, seen in Switzerland
#5 Verde ? – location unknown (#5 or #6 could also be mixed)
#6 Nerdo Aldebaran – Lamborghini HK
#7 Bianco Isis – UAE
#8 Matte carbon fiber over Rosso – location unknown
#9 Verde Miura – location unknown
Enough said, enjoy the gallery! Follow @gtspirit and @davidkaiser_photo on Instagram for more exclusive supercar photos!