Lewis Hamilton has won pole for tomorrow's Austrian GP at the Red Bull Ring today. The last two sessions were hit with both heavy and mild showers prompting the drivers to run on intermediates before changing back to slicks in the final minutes of Q3. Rosberg crossed the finish line second but the Mercedes driver will serve a five-place grid tomorrow alongside Vettel who finished fourth.
This is Hamilton's fifth pole of the season. Worth noting that besides Vettel and Rosberg, Hulkenberg will also be penalized for not slowing enough during Sainz's yellow session. The fifth place finish for McLaren today will benefit from those penalties tomorrow, Button will start from third.
Austrian GP 2016 – Qualifying
1. Lewis Hamilton – Mercedes
2. Nico Rosberg – Mercedes
3. Nico Hulkenberg – Force India
4. Seb Vettel – Ferrari
5. Jenson Button – McLaren
6. Kimi Raikkonen – Ferrari
7. Daniel Ricciardo – Red Bull
8. Valtteri Bottas – Williams
9. Max Verstappen – Red Bull
10. Felipe Massa – Williams
Magnussen was the first to set a time in Q1 with a 1m08.600s only for Hamilton to beat with a 1m07.014s which he trimmed even further with a 1m06.947s. Rosberg would then join the track much later, after recovering from a crash during FP3 where Vettel went fastest. Vettel will however serve a five-place grid penalty at the Austrian GP tomorrow for a gearbox change. The Ferrari team discovered metal filings in his gearbox after Baku, forcing them to replace it with a new one.
After his flier lap, Rosberg emerged fastest on the grid, demoting Hamilton to second place, the Brit soon found himself in third place after Vettel went faster in his first proper lap. Meanwhile, Rosberg will also get a five-place grid penalty at the Austrian GP tomorrow for changing his gearbox today after the crash.
Star Wars creator George Lucas is down at Mercedes 👀

But we think he might be a fan of (Force) India 🚀 😂 #Quali #F1 pic.twitter.com/QxwqDz2RGU

— Formula 1 (@F1) July 2, 2016
Rosberg had just set the fastest time of the session when Kvyat crashed heavily in his Toro Rosso. The session was red flagged as Kvyat walked out of the smoking car uninjured. The crash was caused by a suspension failure, the third of the day after Perez and Rosberg.
RED FLAG: Daniil Kvyat has crashed at Turn 9

KVY: "I'm sorry guys… I crashed" 📻#Quali 🇦🇹 #AustrianGP pic.twitter.com/FrgNI90CPQ

— Formula 1 (@F1) July 2, 2016
The session was restarted with only 1m 44s left on the clock, the other Toro Rosso of Sainz was next on the troubled list after pulling over with smoke coming from his rear. Eliminated in Q2 were Magnussen, Palmer, Haryanto, Kvyat, Ericsson and Nasr.
The top ten in Q1 comprised of Rosberg, Vettel, Hamilton, Verstappen, Bottas, Raikkonen, Hulkenberg, Massa, Ricciardo and Wehrlein.
Q2 started with chances of rainfall which was expected to start falling eight minutes into the session. Hamilton headed the field with a 1m06.228s, Rosberg and Vettel not far behind.
And the clouds are rolling in at #AustrianGP. pic.twitter.com/FMOVwU5QpZ

— Pirelli Motorsport (@pirellisport) July 2, 2016
Both Red Bull and Ferrari were on supersofts in this session, the same tires they will start on tomorrow. Mercedes also bolted supersoft tires on both cars with four minutes left on the clock, rain was beginning to fall on some parts of the track. The session was forced to an end due to the rain, meaning Mercedes will start on ultrasoft tires instead, unlike Ferrari and Red Bull who will be on the longer lasting supersoft rubber.
Eliminated in Q2 were Gutierrez, Wehrlein, Grosjean, Alonso, Sainz and Perez, the last two never set a time. The top ten comprised of Hamilton, Rosberg, Vettel, Ricciardo, Verstappen, Bottas, Raikkonen, Massa, Hulkenberg and Button.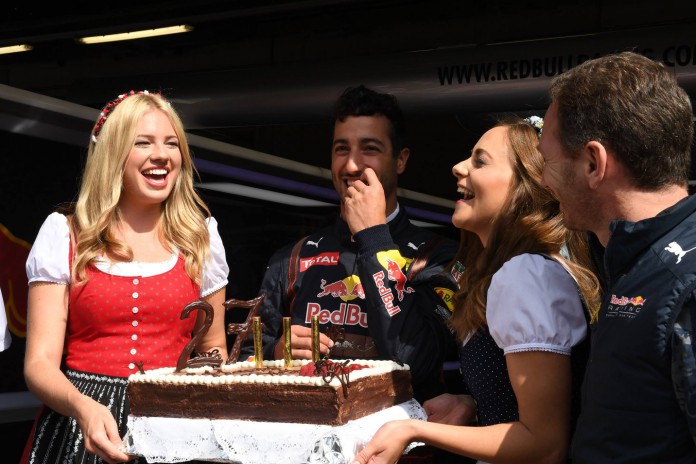 Q3 started with showers of rain still dropping on the track but that did not stop the drivers from venturing out on the wet surface – all drivers were on intermediates. Vettel went fastest on 1m20.798s, leading Hamilton and Ricciardo. That time was soon beaten by Raikkonen, and later by both Mercedes cars with Rosberg on top.
Ricciardo was the next man to go fastest, Hulkenberg had jumped to second at one point too. The Mercedes duo then replied with a set of two fastest laps, Hamilton taking provisional pole ahead of Rosberg, Button then went second fastest splitting the two Mercedes cars as the track began to dry up.
All the drivers soon pitted for slicks as they prepared for the final fight for pole. Hulkenberg had already warmed up his slicks, the Force India went fastest on 1m14.996s as the rest of the field began to roll in. The provisional pole changed hands between Massa, Raikkonen and Hamilton. Vettel also held it momentarily before handing it back to the final pole winner, Hamilton.