In a move which some may be regarded by some as premature, MF Jebsen, the local Aston Martin dealership has unveiled the new flagship DB11 coupe in Hong Kong, at a private parking area of a certain luxury hotel in the Admiralty area, in late mid-May.
The ~HK$3.58M grand tourer – one of the most important milestones in the brand's 103-year history – served a plethora of guests and press even though it's only a pre-production sample currently touring in Asia. Those who have missed out the launch party will have to wait till end of year to spot one, when deliveries of actual production units commence sometime in the fourth quarter. Yet still, we're talking such deliveries from a global perspective, meaning Hong Kong-bound units may arrive much later.
Typically, it takes longer than other regions to deploy and launch a new vehicle model in Hong Kong, say, 6-8 months after global market launch announcement. So it was a surprise things went the other way this time, as the DB11 only debuted at the Geneva Motor Show in March 2016, followed by the Beijing Motor Show in April. A sample was later shipped to Taiwan after Beijing, followed by Singapore, and then Hong Kong, where the vehicle only landed a day before the unveil. After the event, the vehicle managed to stay briefly in the local dealership's service & maintenance facility for some final checkup, and at least one more on-demand session of independent media scrutiny before heading for Malaysia.
Aston Martin DB11 Hong Kong launch
The previous DB9 was active from 2004-16, having spanned a number of variants and concluded with the GT Bond Edition last fall. The DB11 should be just as successful, this time also thanks to the technological partnership with Daimler signed in 2013 which sees the latter supplying Mercedes-AMG electrical systems on future Aston Martin models. As the first model under Aston's "Second Century" plan, the DB11 features the new 5.2L, four-cam, twin-turbo V12, compatible with cylinder deactivation and star-stop technologies and driven via a ZF 8AT with selectable drive modes. Conversely, there is a good chance Mercedes' own 4L twin-turbo V8 will be implemented on future Aston model variants, although the choice between the wet-sump (M177) or dry-sump (M178) lubrication versions is yet to be determined. Do, however, expect the subsequent engine tune to exceed the current 510hp level when mounted onto an Aston.
Other Daimler's involvements in the DB11 production include various in-car electronics and design, such as the familiar centre stack arrangement featuring the top fixed centre Comand display (albeit with Aston-specific menu GUI config) and Comand rotary controller/touchpad bundle, infotainment systems including improved sat nav and other telemetry, surround camera system, and Park Assist system. There's also the unique digital binnacle in place of the previous analogue design, consisting of a properly-shaped, combined 12.1" screen area divided into three sections, refraining from the single, dull Mercedes-inspired rectangular panel(s) found in the W222 S-Class and the new E-Class.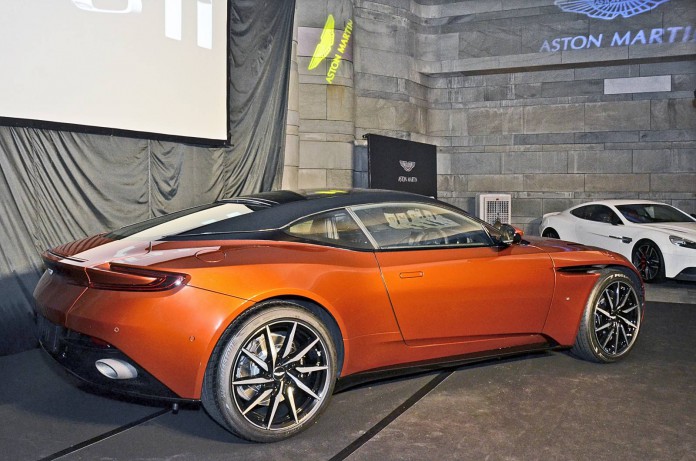 The DB11 is currently under various overseas test-driving sessions, although it's not known when the local auto media will be summoned to any additional overseas sessions for a taste of the vehicle before the expected end-of-year delivery period, where at least forty orders will be fulfilled locally by then.
Elsewhere, the DB11 will reach US showrooms by end of the year and has an MSRP of around $215,000, while price in Japan starts from JPY23.8M.