Lucas Auer has become the first Austrian to win a DTM race today at the Motorsport Festival, Lausitzring. The 21-year old Mercedes-AMG driver started his 23rd career race from pole position and went ahead to win the race in front of 67,500 spectators. Audi driver Mattias Ekstrom claimed second while new points leader and Mercedes-AMG driver Robert Wickens finished third.
For Saturday's race 1, the victory went to Audi's Miguel Molina who also started the race from pole position – his sixth career pole which he successfully converted into a win just like he did with his fifth pole last year at the Nurburgring. He shared the podium with Audi's Jamie Green and Mercedes-AMG Robert Wickens.
Race 1
Molina started the race from pole but with heavy attack from Jamie Green who managed to snatch the lead a few moments later. The two Audi drivers fought back to back up until the eighth lap when Molina claimed the lead back, the Spaniard drove a perfect race for the remaining laps and eventually crossed the finish line first.
Green claimed second leading the Mercedes of Robert Wickens who also had to fight with 2014 DTM champion Marco Wittmann. His Mercedes incurred temperature issues but his spirit was enough to keep him going through to the end. Wittmann on the other hand used all his DRS and therefore had a hard time retaining fourth position, the BMW driver had to constantly fend off a hungry AMG duet of Lucas Auer and Christian Vietoris.
Vietoris claimed fifth place while Auer settled for seventh after using all his DRS as well. Sixth place went to Rallycross star Ekstrom.
Race 2
Auer had the perfect race on Sunday after starting from pole and eventually claiming the win. Team Mucke was excited to be racing in their home circuit, not to mention they set the 1st and 2nd fastest qualifying times for race 2 with both Auer and Vietoris. The latter was however slammed with a five-place grid drop for obstructing Ekstrom.
The race had quite a number of disappointed drivers starting with Mike Rockenfeller who was handed a drive through penalty for jumping the start, and in the process lost his fourth place advantage. Race 1 winner Molina made contact with Augusto Farfus, and consequently incurred the same punishment as Rockenfeller.
For Auer, it was a flawless race which he commandeered from pole to finish, at one time leading by over 7 seconds. Ekstrom was also on a roll today, starting from ninth but finishing in second. He utilized the same strategy as Spielberg, staying out longer while trusting in his pace to climb up the order, and it worked out in his favor.
"When you have a good pace, you can allow yourself such a tactic. I pushed to the max prior to my stop and I knew that I had to save the tyres," said Ekström.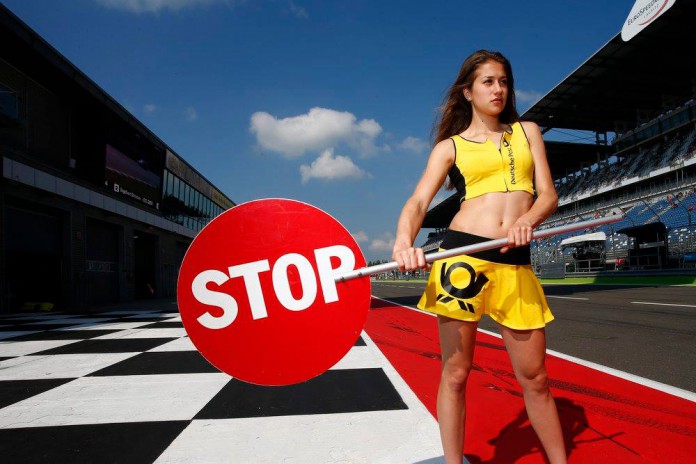 Wickens on the other hand was pretty much comfortable with his third place, a repeat of Saturday's race that ultimately allowed him to take charge of the driver's standings. Green finished fourth leading Gary Paffett, Wittmann, Vietoris, Muller, Bruno Spengler and Timo Glock.
Paul di Resta came to Lausitzring as the points leader but his retirement on Sunday meant that he lost both the lead and a chance to fight back. Wickens leads the standings with 58 points away from Wittmann, 55 points; Ekstrom, 46 points; Green, 45 points; Mortara, 44 points and Di Resta, 43 points.
The next DTM round will head over to Norisring on June 24.