Wheelsandmore have released a special customized version of the Aston Martin Vantage GT12.
The GT12 is already a rare car, with only 100 units having been produced and sold worldwide. So having a customized version of such a car is a rare commodity in and of itself. Wheelsandmore have taken the stock GT12 and added a set of custom wheels to make the GT12 look even more imposing than it already does. The wheels are forged, multi-part F.I.W.E. wheels finished in matte black.
Aston Martin Vantage GT12 by Wheelsandmore
The wheels are sized 10.5×20 on all four corners. All four wheels are shod in Dunlop Sportmaxx GT tires sized 265/30/20 in the front and 325/25/20 in the rear.
All 100 units of the Aston Martin Vantage GT12 feature the firm's customary 5.9-litre V12 engine tuned to deliver 592 hp as well as 461 lb-ft of torque. By comparison, the already potent Aston Martin V12 Vantage S produces 565 hp and 457 lb-ft. Helping to achieve the power and torque gains are new inlet manifolds, a titanium exhaust system as well as tweaked geometry. Finally, the torque tube is now made of lightweight magnesium and the titanium exhaust alone saves 19 kg from the car.
Thanks to this engine, the Vantage GT12 will accelerate to 96 km/h from a standstill in a mere 3.5 seconds down from the 3.7 seconds needed by the V12 Vantage S. Due to the added downforce generating elements of the Vantage GT12 however and the higher drag, the top speed has dropped from 329 km/h (205 mph) to 297 km/h (185 mph). Tweaks to the seven-speed transmission have also been made.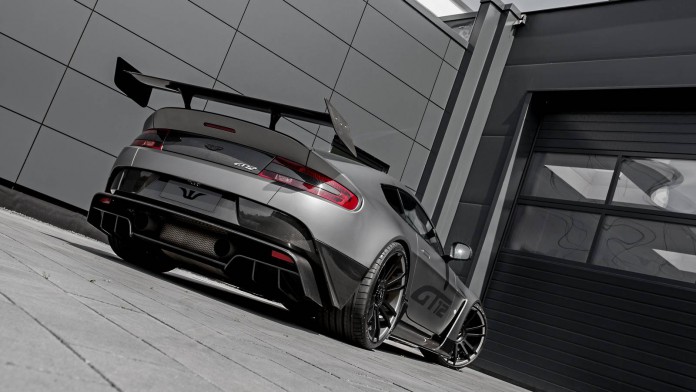 Check out the full gallery for a look at Wheelandmore's interpretation of the super-rare Aston Martin Vantage GT12.