Sweden's Mattias Ekstrom has reigned again at the FIA World Rallycross Championship, scooping his third straight win at the World RX of Britain today. The Audi EKS RX driver has won three of the four races since the season began and now sits on top of the standings, leading defending champion Petter Solberg by five points.
Solberg completed the day in second place in his Citroen DS3 Supercar, leading Timmy Hansen who rounded off the top three at the Lydden Hill circuit. Hansen came to Great Britain hungry for a win, he had not stepped on the podium since Turkey last year – a season that the 22-year old thrived significantly proving to be a real threat to Solberg. Even better, his younger brother Kevin claimed fourth overall in the other Team peugeot Hansen supercar, he turned 18 this weekend.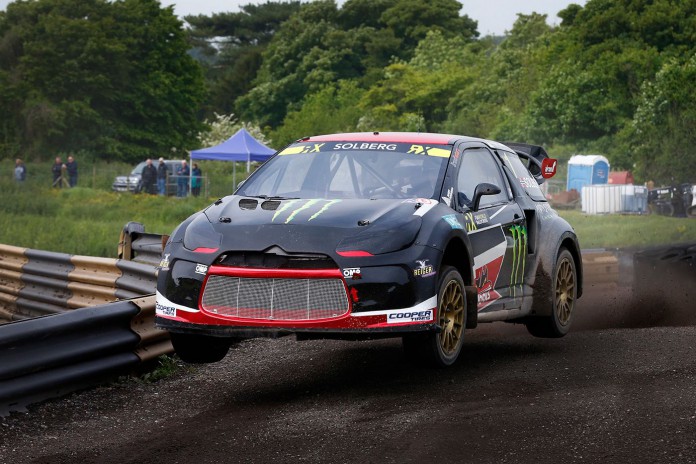 Fifth place went to Russia's Timur Timerzyanov who led Andreas Bakkerud from Hoonigan Racing Division. Bakkerud was moments away from a podium victory today but a technical issue in the intermediate stage ruined it for him.
Solberg was the fastest on day 1 winning both qualifying sessions, Q1 and Q2. Ekstrom and Bakkerud finished second and third on the first day. The reigning champ continued to set fastest times by winning Q3 today but was beaten by Bakkerud in Q4. Timmy Hansen faced Solberg in their semi-finals while Bakkerud and Ekstrom faced each other in the other semi-final.
Rallycross of Great Britain - Lydden Hill
Speaking about his win today, Ekstrom said: "I think the secret to winning this year was losing last year. But now it's me on the top step, and not Petter [Solberg]. I think this weekend has been one of the hardest in my career – I couldn't figure out why Petter was quicker and it was quite frustrating. In the end, it came down to the joker lap and tyre strategy – I had a bit more rubber left towards the end. Realistically, five or six drivers could win the Championship – Sebastien [Loeb] was very quick this weekend but was unlucky and we can't underestimate the potential of the Peugeots."
Elsewhere, Topi Heikkinen finished seventh in his EKS RX Audi S1 Supercar ahead of Team Volkswagen Sweden Johan Kristoffersson, Kevin Eriksson and Sebastian Loeb.
The next World RX round heads over to Norway in two weeks time, that is June 10.