Lewis Hamilton has won the 2016 Monaco GP after leading for most part of the race, exchanging close battles with Red Bull's Daniel Ricciardo who started from pole. Ricciardo finished in P2 while Sergio Perez made it three different teams on the podium today with a commanding P3 finish.
Ricciardo had an early lead in the race but an error by his team cost him P1, surrendering the position to Hamilton who retained it till chequered flag. "Save it, there's nothing you guys can say that will make it any better, just save it," said a disappointed Ricciardo. He was delayed on the pitlanes when his team failed to have his tires ready for him in time.
Rosberg was running second at some point but lost ground during his pitstop when Vettel exited earlier than him, the German finished in seventh place behind Hulkenberg in P6, Alonso in P5 and Vettel in P4. The other Ferrari of Kimi Raikkonen retired after colliding with Grosjean.
This was the first race victory of the season for Hamilton, Justin Bieber was at the scene to congratulate him too.
First man to congratulate @LewisHamilton?? @justinbieber, of course 😄 pic.twitter.com/C2aqk3C2dr

— Formula 1 (@F1) May 29, 2016
2016 Monaco GP Results
1. Lewis Hamilton – Mercedes
2. Daniel Ricciardo – Red Bull
3. Sergio Perez – Force India
4. Seb Vettel – Ferrari
5. Fernando Alonso – McLaren/Honda
6. Nico Hulkenberg – Force India
7. Nico Rosberg – Mercedes
8. Carlos Sainz – Toro Rosso
9. Jenson Button – McLaren/Honda
10. Felipe Massa – Williams
Monaco Grand Prix
The Monaco GP is one of the oldest races on the F1 calendar held since 1929. The circuit is laid out on the streets of Monaco featuring tight corners and a tunnel. Together with the 24 Hours of Le Mans and Indy 500 they form the Triple Crown of Motorsport. Ayrton Senna holds the most number of wins at Monaco GP with six, leading Graham Hill a.k.a Mr.Monaco who dominated the race in the 60s with five wins.
Nico Rosberg has the most number of wins at Monaco GP among the modern drivers with three victories. McLaren has a total of 15 wins making them the most successful team in Monaco GP history.
Just like the Nurburgring 24 Hours, Monaco GP was met with heavy rains even before the race started. All drivers started on the blue-marked full wet tires under the safety car due to the track conditions. Kvyat was the first to pit after nearly spinning out in the wet conditions, he picked up a new steering wheel as the safety car stayed out for another lap.
On lap 3, the safety car was still at large and Kvyat had been lapped in the process of fixing his steering wheel.
LAP 4/78: We still have the safety car out on track #MonacoGP #F1 pic.twitter.com/xPbbDCgi41

— Formula 1 (@F1) May 29, 2016
"Visibility is as good as it's going to get. We should just start the race already" said Hamilton, the safety car was still present on lap 5.
"The circuit's ready, we can start racing," said Magnussen. But that was not the case, lap 7 and the safety car was still in control. Race action began on lap 8 when the safety car exited, Ricciardo held on to the lead while Rosberg and Hamilton retained P2 and P3. The first incident happened almost immediately when Palmer crashed hard at Ste Devote bringing out the virtual safety car.
Magnussen and Button had already picked up a set of intermediate tires shortly before the virtual safety car ending. Magnussen then set the fastest lap on inters with a 1m42.919s lap, beating an earlier one set by Button on the same tires. Felipe Nasr's 1m42.322s lap smashed the competition before Ricciardo set the fastest lap on wets, a 1m38.140s flyer.
Raikkonen and Grosjean had an incident at Portier when the Ferrari outbraked and in the process of getting back in line he pushed Grosjean nearly into the barriers. In the meantime, Ricciardo was flying through, setting new fastest times of the race on each lap. By lap 16, he was 13s clear of Rosberg, but that changed on lap 16 when Hamilton passed Rosberg for second. The Brit then set a new fastest time of the race on 1m35.194s.
Rosberg made his first stop picking up a set of intermediates and rejoined in fifth behind Sainz and Perez. Another incident followed when Kvyat and Magnussen crashed at at Rascasse. Kvyat was trying to pass Magnussen when he sent them both into the barriers. Rosberg was back into third after both Perez and Sainz pitted, the German was 20s off Hamilton, who was 8s behind Ricciardo.
Ricciardo pitted from the lead allowing Hamilton to take P1, the Red Bull rejoined in second just ahead of Rosberg who was 30s behind. In tenth place, Verstappen set a new fastest time of the race on 1m30.853s which was immediately beaten by Ricciardo with a 1m29.962s lap.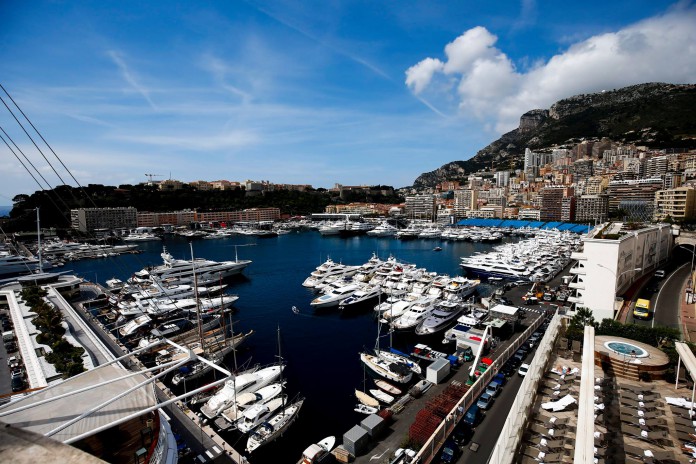 Hamilton also made his stop picking a set of ultrasoft tires, he rejoined in second behind Ricciardo. A few more drivers pitted for softs including Button and Perez while Grosjean and Bottas got dry tires. The sun was beginning to come out, and just when Ricciardo made his stop, his team did not have tires ready for him. Hamilton claimed the lead at that point, with Ricciardo in second and Perez in third.
Another crash for Magnussen at Mirabeau, the Renault broke a front suspension again. Elsewhere, Vettel was running fourth after exiting the pit lanes before Rosberg, the Ferrari was on soft tires. Rosberg was in sixth place behind Alonso on lap 36. On that same lap, Verstappen crashed hard at Massenet prompting out the virtual safety car for the second time in the race.
LAP 35/78: 📻 "Agghhhh, I've crashed" Verstappen OUT after crashing at Casino Square #MonacoGP #F1 pic.twitter.com/4PcozktMGb

— Formula 1 (@F1) May 29, 2016
The virtual safety car ended moments later and Ricciardo charged against Hamilton but the Brit blocked him out as they approached the tunnel. "What the f*** was that?!" barked Ricciardo over the radio. And indeed, the incident was under investigation by the stewards.
📻 Red Bull to RIC: "Let's get your head together. You're quicker than him. Let's do it" #MonacoGP pic.twitter.com/4sQNOfq8Eh

— Formula 1 (@F1) May 29, 2016
The stewards finally had a decision regarding Hamilton and Ricciardo, no further action will be taken. Another fastest lap by Hamilton put him 1.2s ahead of Ricciardo boosting him after a close chase by the Red Bull which had trimmed the gap to 0.4s. By lap 50, Hamilton led the race from Ricciardo, Perez, Vettel, Alonso, Rosberg, Hulkenberg, Sainz, Button and Massa.
The list of retirements included Raikkonen, Verstappen, Magnussen, Kvyat and Palmer. \
The virtual safety car was out again this time after the two Saubers of Nasr and Ericsson collided. Nasr was refusing to let Ericsson pass prompting his teammate to push his way through, the two cars later dived into the pits for repairs.
VIRTUAL SAFETY CAR: @SauberF1Team's NAS & ERI bash into each other around Rascasse #MonacoGP pic.twitter.com/86GEaJOLEh

— Formula 1 (@F1) May 29, 2016
Even though Ricciardo was faster than Hamilton on some sections, the Red Bull couldn't find the perfect place to overtake given the nature of the circuit. Reminds us of the 1992 Monaco GP battle between Senna and Mansell.
The field remain pretty calm for the rest of the race except for a VSC that had to come out on lap 68 after a plastic bag was found on the track.
For a plastic bag on the main straight?!?! Who put that there?!?! #F1 #MonacoGP

— MERCEDES AMG F1 (@MercedesAMGF1) May 29, 2016
Rain began to fall again with just two laps left in the race, but Hamilton held it to the end claiming the 2016 Monaco Grand Prix win. Ricciardo finished second ahead of Perez, Vettel, Alonso and Rosberg.
2016 Monaco GP – Post Race Comments
Hamilton: "I haven't even thought about the championship. We're in the battle and there is a long way to go. When it feels like it can't get worse, it gets better. We never give up."
Perez: "I'm extremely happy. The team did a tremendous job with the strategy. My third podium with the team and a very special one. We did the right call, the soft was the best tyre. Seb had a lot of pace, but I was saving my tyres and when I needed to push I had the tyres left."
Ricciardo: "I don't even want to comment on the race. Thanks to the fans for sticking out in this weather. Two weekends in a row now I've been screwed. It sucks, it hurts. No idea [what happened] in the box, they should have been ready. It hurts, I don't have anything else to say. We had the speed in the wet, we pulled away, we pitted for inters and put ourselves in a race with Lewis that we didn't need to be in. I was the quickest in all conditions but the result doesn't show that."