Sebastien Buemi won the penultimate round of the 2015-2016 FIA Formula E championship at the Berlin ePrix yesterday. The Renault e.dams driver also managed to close the gap in the drivers' standings between him and the leader Lucas di Grassi, the two are now separated by just one point.
The rest of the podium was filled by the two drivers from Abt Schaeffler Audi Sport, Daniel Abt who scored his best Formula E podium win (P2) and Di Grassi in third.
Berlin ePrix 2016 Results
1. Sebastien Buemi, Renault e.dams, 53:46.086s (25)
2. Daniel Abt, Abt Schaeffler Audi Sport, +1.767s (18)
3. Lucas di Grassi, Abt Schaeffler Audi Sport, +2.381s (15)
4. Nico Prost, Renault e.dams, +3.328s (12)
5. Jean-Eric Vergne, DS Virgin Racing, +4.927s (13)
6. Robin Frijns, Andretti Formula E, +6.501s (8)
7. Nick Heidfeld, Mahindra Racing, +7.700s (6)
8. Mike Conway, Venturi, +8.305s (4)
9. Simona de Silvestro, Andretti Formula E, +12.473s (2)
10. Stephane Sarrazin, Venturi, +13.241s (1)
Speaking about his victory, Buemi said: "The first lap is always a bit tricky because you don't know how much energy you will consume so basically he was using a lot of energy and I had to decide how much energy I was willing to use in the first laps. I let him [Vergne] go but after four or five laps he had to save a lot more so I made my move. He closed the door so it was tricky but from then on I focused on building a gap. I was going for the fastest lap with the second car but it was not the quickest race as when you used a lot of energy you really had to save a lot. In the end I didn't manage it so I'm a bit disappointed with that as it's two points, but overall it was a good weekend."
Buemi stole the show from polesitter Jean-Eric Vergne of DS Virgin Racing moments into the race, and the Renault pushed into the lead until the safety car was called out to clear Loic Duval's car which had been hit on the track. On restart, Buemi had the perfect go that allowed him to claim his first win since December last year.
Daniel Abt was given a standing ovation by the 15,000 crowd at the e-Village for his incredible performance. As for di Grassi, his performance was not that bad at all considering he started from eighth place. The Audi Sport driver fought his way up by passing both Prost and Vergne using an effective energy conservation strategy before finishing in third.
Prost claimed fourth place which was good enough for the Renault e-dams to extend their championship lead in the team's standings. Vergne finished fifth after a front wing damage derailed him behind the leading pack while Andretti's Robin Frijns finished sixth despite a disappointing qualifying session.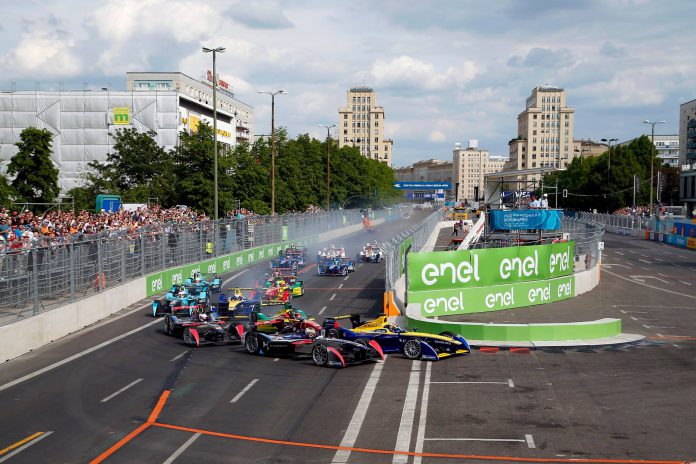 Mahindra had two of their cars disqualified from qualifying after infringing on tire pressure regulations. Nick Heidfeld still managed to finish seventh while his teammate Bruno Senna was awarded two bonus points for the Visa Fastest Lap.
Di Grassi still leads the championship with 141 points away from Buemi with 140 points, Sam Bird with 82, Jerome D'Ambrosio with 64 and Nico prost with 62 points.
The season finale of the current Formula E championship will head over to London on July 2.