BMW has dominated the second round of the DTM season in Spielberg, Austria by winning both races on Saturday and Sunday. 2014 DTM champion Marco Wittmann ruled race 1 from start to finish on Saturday while Timo Glock drove his yellow beast to victory on Sunday ending the round on a high note for the Bavarian car maker.
In the end, Glock managed to climb up the drivers' standings and now sits in third with 37 points, sharing this position with fellow BMW driver Maxime Martin. Mercedes-AMG driver Paul di Resta leads the standings with 43 points despite finishing down the order in 15th place while Edoardo Mortara is second with 40 points.
Wittmann started race 1 from pole and led through the 30 laps, BMW had a fantastic race as five of its cars finished in the top six. Tom Blomqvist made it 1-2 for BMW leading the only Audi in the top five, Mortara in his RS5 DTM car. Fourth, fifth and sixth places went to BMW drivers Timo Glock, Martin Tomczyk and Maxime Martin.
Multi-talented Audi driver Mattias Ekstrom had an uneventful race after colliding with Martin and Félix da Costa on lap 3. Ekstrom fought his way up from the bottom of the field before finishing in 16th place. Nonetheless, the Rallycross driver managed to set the fastest time of the race on 1:23.442 which instantly became a new DTM lap record – breaking the previous one set by Audi driver Mike Rockenfeller in 2013.
Behind Martin was Di Resta, Tambay, Farfus and Müller.to complete the top ten in race 1.
Race 2's victory went to Timo Glock in his yellow BMW M4 DTM after a very smooth race marking his third DTM career victory. Glock was on fire right from the start having jumped Félix da Costa for P2 after the start and with the help of DRS, he claimed the lead from Jamie Green on lap two. At the same time, Muller collided with Wickens on turn 6 after which he retired from the race.
After the safety car period, Mortara managed to pass de Costa for third place, the two drivers collided on lap 24.
Ekstrom had started the race from 11th place and was the last driver to pit. A good strategy by his team enabled the Audi driver to claim P2 in the end. Third place went to pole starter Jamie Green making it a double podium victory for Audi. Behind Green was Farfus, Martin, Blomqvist, Wittmann, Rockenfeller, Spengler, Scheider to make the top ten in race 2. Gary Paffett had started from 21st but moved up the ranks and was 11th on the final lap before running wide and dropping back to 13th.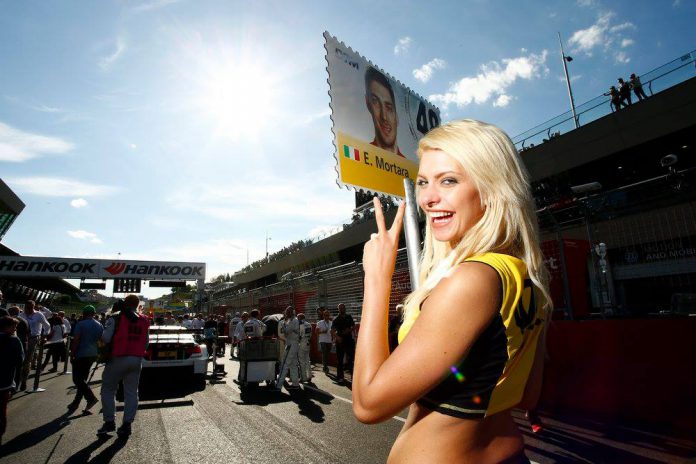 The next DTM round will head over to the Lausitzring on June 3.