VOS Performance have just taken the wraps off their 900 hp Ferrari 488 GTB. With 'VOS' standing for 'Vision of Speed', it is clear what part of the Italian supercar received most attention during the tuning process.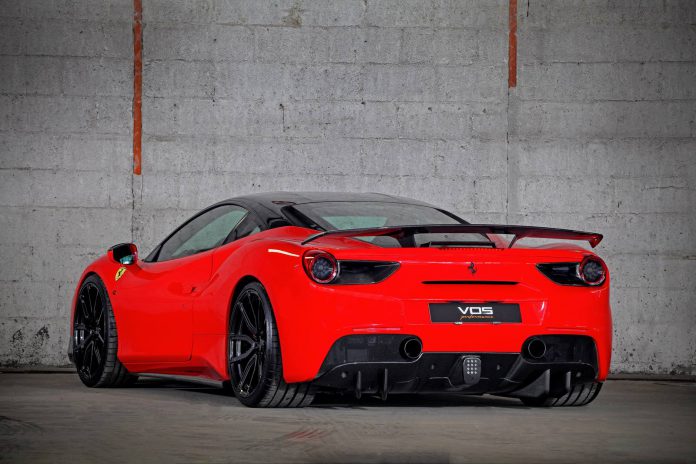 Continuing on that line it would only be right to start off with the engine modifications. The fact that the 488 GTB is a turbocharged Ferrari breaking up the steady and long line of naturally aspirated engines, also comes with perks. It is far more powerful than the 458 and produces 670 hp (493 kW), courtesy of its 3.9-liter twin-turbo V8 power plant.
By far the most extreme engine upgrade presented by VOS is stage three of their tuning program, increasing the 488's output to a massive 900 hp (662 kW) and 1230 Nm of torque. If that is a bit too much for you or simply out of your price range, VOS offer stage one (750 hp) and stage 2 (830 hp). The increase in performance follows the optimization process of the engine management system and the installation of an adjusted air induction system.
A specially 'VOS' developed exhaust system is also fitted either with a custom downpipe or sport catalysts (200 cpsi). The custom exhaust system is the result of a collaboration with none other than the absolute specialist on custom sports exhausts: AKRAPOVIČ.
900hp Ferrari 488 GTB by VOS Performance
While the German tuner put their main focus on the engine, they haven't exactly left the car's bodywork untouched. Adjustments to the 488's exterior all come in the form of carbon fiber and involve a lower front splitter, custom sideskirts, a rear diffusor and a customized rear wing that has been fabricated as a complete mono bloc component. Additionally the mirror caps and air intakes are finished in the lightweight and contrasting material.
Striking the side are exclusive Spanish-made 21-inch LOMA forged alloy wheels, shod with Michelin Pilot Super Sport tires. For those of you that want to admire this piece of German finetuning in person, the VOS PERFORMANCE Ferrari 488 GTB will celebrate its official world debut at the Tuningworld Bodensee event from May 5th to May 8th.