The new Smart Brabus has gone on display at the Beijing Motor Show 2016. The sporty version will come to all Smart models including the Fortwo, Fortwo Cabrio and Forfour. The 2017 Smart Brabus get's a power boost of 5 kW and 23 Nm of torque, launching the two-seater to 100 km/h in 9.5 seconds while reaching a new top speed of 180 km/h with the Smart Forfour.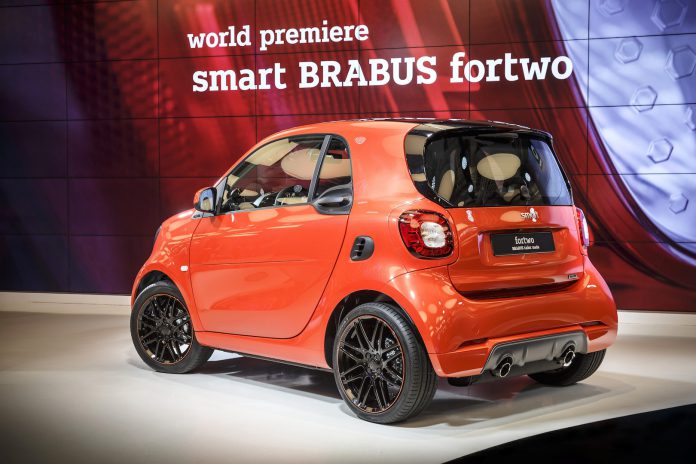 The modest power upgrade is not the only result of a close collaboration between Smart and Mercedes-Benz tuner Brabus. The popular city car get's sportier looks and several other aspects of the car will be adjusted to reinstate the balance in regards to the power upgrade. The Smart's suspension will be up to 20% stiffer, while its twinamic 6-speed dual clutch gearbox will be programmed to shift between gears faster. Additionally the Smart Brabus get's a race start function, a more civil form of launch control.
In terms of appearance the Smart Brabus stands out via its larger blacked out wheels and the twin-exhaust tips at the rear. The interior can be tailored to match with a variety of Brabus packages to choose from. To clearly draw a line between the interior of the regular Smart and that of the more luxurious Smart Brabus, several packages that come optional with the ordinary Smart come standard with the Smart Brabus.
To learn more about Smart's hot new 'pocket rocket', please read our earlier article. For more news from the 2016 Beijing Motor Show, make sure to subscribe to our dedicated news channel.