The new Smart Brabus makes its global debut at 2016 Auto China in Beijing this week. With an output of 109 hp (80 kW), this is the most powerful version of the hot two-seater to be ever mass-produced. We already spotted a tailor-made Brabus version of the Smart ForTwo Cabriolet in Valencia and Geneva earlier this year, and it seems like Smart and Brabus are moving forward with the bold version of the small city car after all.
In addition to a power increase, the Brabus version of the Smart receives a Brabus performance sports suspension with specially adapted ESP, sports power steering and a dynamic configuration of the twinamic dual-clutch transmission with Race Start function. The Brabus version will come to all Smart cars, including the ForTwo, ForTwo Cabriolet and ForFour models.
The Smart's modest power increase of 5 kW and 23 Nm of torque available at the 2000 – 5750 rpm range sees the small city car reach 100 km/h from a standstill in 9.5 seconds, while the forfour will top out at 180 km/h. Besides the engine modifications, the Smart comes with an upgraded sports suspension courtesy of Brabus. Suspension is up to 20% stiffer and an anti-roll bar is installed on the front axle to reduce roll tendency by 9%.
With the power upgrade also comes a better anticipating transmission with shorter shifting times. The twinamic 6-speed dual-clutch transmission has a 40% faster response time compared to the 66 kW model. A cool additional feature is the race start function that sets the optimal rpm and clutch slip configuration for a fast acceleration from a standstill. To engage the race start function, the driver simply needs to release the brake pedal after previously depressing it and flooring the accelerator.
Aesthetically the Smart Brabus receives more sportive looks starting with the obvious twin-exhaust tips at the rear revealing that it is a more powerful version of the Smart. The rear is also fitted with a matt grey rear diffusor insert while enlarged matt-painted Brabus Monoblock IX light-alloy wheels reveal the car's sporty character from the side. The wheels are shod with Yokohama sports tires fitting the Smart's dynamic driving style.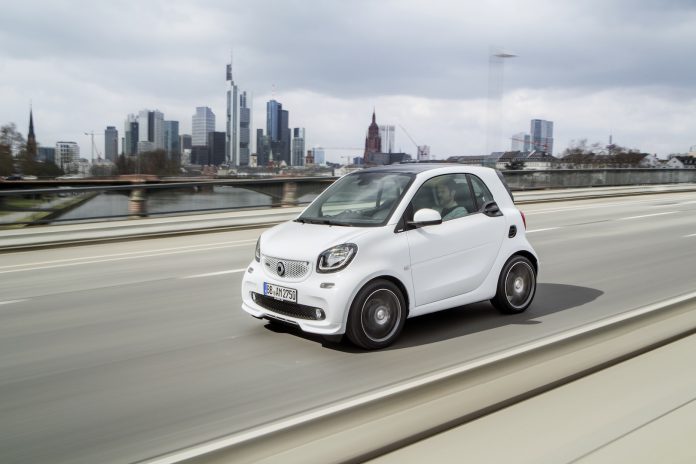 On the inside all Smart Brabus models come with a lockable glove compartment, the Cool & Audio package and proximity warning function as standard. The Fortwo coupé and Forfour additionally boast a panoramic roof. Smart Brabus Xclusive interior packages offer customers with the opportunity to personalize their Smart even further; Brabus sport seats with upholstery in perforated Nappa leather with specific grey topstitching as well as a specific Brabus instrument panel finished with a material-mix of man-made leather and fabric are available upon request. Further options include a Brabus instrument cluster, Brabus floor mats and exclusive badging around the car.
The first models of the Smart Brabus will arrive at European dealers' showrooms from July 2016.