Lurssen has recently launched a new 106-meter superyacht named 'Mistral' in Germany, ahead of its delivery later this year. This has been a top secret project ever since the keel was laid back in 2013 and even after the launch which took place on April 16th, not much was revealed to the public including the length, specs or the owner.
Nonetheless, from a visual standpoint Mistral has a layout of five decks and will become one of the largest yachts in the world once it's delivered, it should rank well within the top 30. At the same time, Lurssen is currently performing sea trials for the upcoming Project Omar which boasts a length of 156 meters and will be the fourth largest yacht in the world once delivery is made.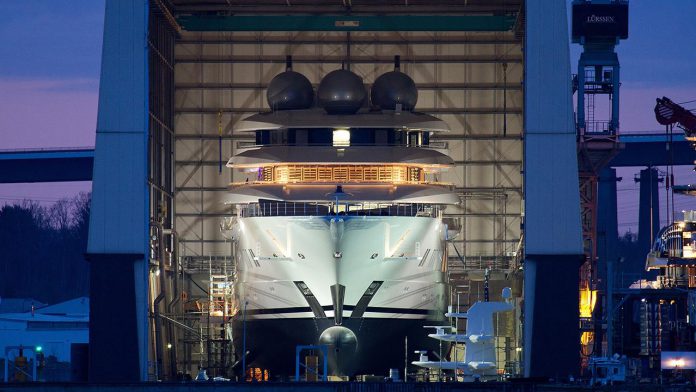 That said, Project Mistral will be headed to the Middle East later this year. No records exists in the Global Order Book of Project Mistral again showing how secretive the project has been, the few known details include its exterior design which was overseen by Espen Øino while Lurssen took care of the naval architecture.
Lurssen Project Mistral Superyacht Aerial View
[Photos by Superyacht Times]
The Hull is made of steel and aluminum and is a full-displacement type, under LR classification.
Lurssen has a rich history in shipbuilding with contracts ranging from government naval ships to private yachts, including ocean-going corvettes ordered by various countries such as Israel and Germany. The modern portfolio of Lurssen boasts some of the largest yachts in the world including Azzam (the largest yacht in the world at 180 meters), Golden Odyssey, Quantum Blue, the infamous Solandge and more.
Besides Project Omar and Mistral, Lurssen plans to launch six more yachts between now and 2019 including Project Jupiter, Project Thor, Project Sasha and Project Thunder.