Bespoke and luxury car tuner Mansory have released their tuning program for the Rolls-Royce Dawn. The luxury tuner from Bavaria is one of the first companies to take a shot at customizing Rolls-Royce latest addition to their lineup.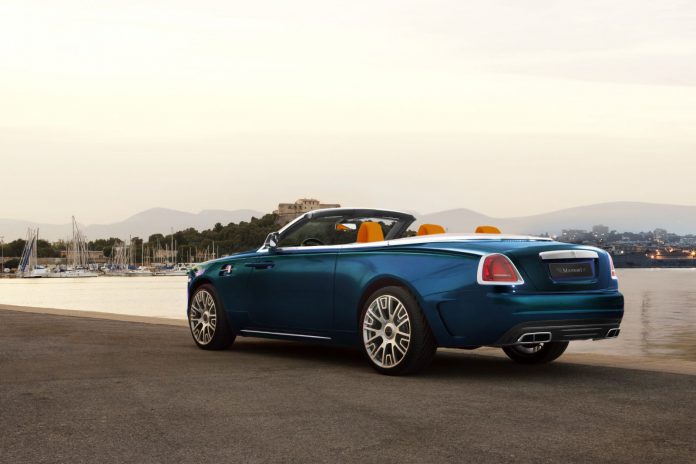 Different from what we're used to, Mansory have done a modest redesign of the Dawn's exterior starting at the front. The front of the open-top four seater get's larger air intakes that sit above the newly designed front spoiler. Applying the new intakes and front spoiler goes without compromising the luxury convertible's characteristic LED daytime running lights, yet giving the car a more dynamic appearance.
In addition to the works on the front, Mansory made use of visible carbon fiber components enhancing the vehicle's sporty looks. A carbon fiber front lip, radiator housing and contrasting lightweight hood additionally contribute to these sporty looks besides saving weight. On the side the car is fitted with Mansory side skirts that are sculptured to benefit airflow and give the luxury convertible a lower and sleeker look.
A versatile yet elegant spoiler lip at the rear reduces lift on the rear axle of the Dawn. Finishing touch on the outside are the 22-inch V6 rims. Mansory recommends to shod the large light alloy rims with Vredestein's ultra-high performance tires with 265/35/22 (front) and 295/30/22 (rear) dimensions.
Rolls-Royce are already pretty much the standard for luxury interior car design but Mansory have attempted to personalize the car's interior looks even further. Using some of the finest materials out there, Mansory makes use of brushed aluminum, carbon fiber and burl wood or highly polished piano lacquer for the Dawn's elegant dashboard. Handcrafted embroidery for the floor mats and head rests are a further personal touch to the inside of the luxury coach.
Arriving at the engine bay Mansory have changed a thing or two in order to boost the Rolls-Royce Dawn's performance. In stock condition, the massive 6.6-liter twin-turbocharged V12 produces 570 hp (420 kW) and 780 Nm of torque. Mansory have managed to bump this up to 740 hp (544 kW) and 1,000 Nm of torque available from the low 1,500 rpm to 5,500 rpm. On the road this upgrade sees the Dawn fly to 100 km/h in just 4.5 seconds while the luxury convertible's top speed has been increased from 250 km/h to 285 km/h.
What are your thoughts on this modified Rolls-Royce Dawn by Mansory?