Porsche triumphed in a last minute stint at the Grand Prix of Long Beach to win the GTLM class, beating rivals and race leaders Corvette Racing. This was the third race on the IMSA Sportscar Championship 2016 calendar, following the 12 Hours of Sebring and 24 Hours of Daytona.
The #911 Porsche North America 911 RSR car of Patrick Pilet and Nick Tandy finished first in the GT class after snatching the lead from the #4 Corvette Racing C7.R, which spun after getting bumped by the #912 Porsche 911 RSR of Frederic Makowiecki. Tommy Milner was leading the race in the Corvette with only a few minutes left when the incident happened, allowing Tandy to storm into victory for Porsche.
"It was definitely the most eventful win that we've had, coming from things going badly, and very badly, to then bouncing back and finishing with a victory." Said Tandy.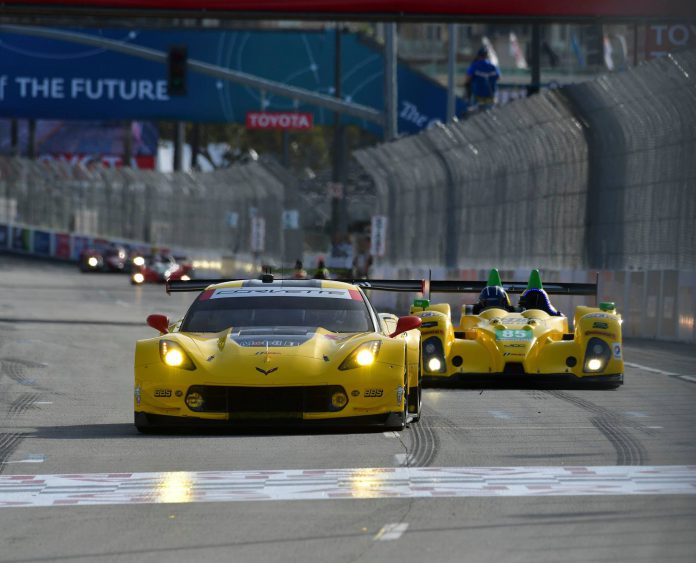 Milner still managed to secure P2 for Corvette despite the unfoldings of the eleventh hour. Third place went to the new Ferrari 488 GTE of Risi Competizione driven by Giancarlo Fisichella and Toni Vilander. The #67 Ford GT from Chip Ganassi Racing finished fourth even after suffering a mechanical issue that denied them a chance in qualifying. The #25 BMW M6 GTLM of BMW Team RLL IHG Rewards Club rounded off the top five in this class.
IMSA Grand Prix of Long Beach
In the quicker prototype class, it was a flawless victory for the Taylor brothers, Ricky Taylor and Jordan Taylor. Piloting the #10 Konica Minolta Corvette DP, the two brothers dominated the 100-minutes race leading in all but 3 laps. They missed the pole during qualifying but managed to take the lead immediately after the race kicked off. It was their fifth victory in IMSA and the first for the Corvette DP this season.
The prototype podium was filled by two more Corvette DPs, the #5 Mustang Sampling Corvette DP of Joao Barbosa which finished second, and the #31 Whelen Engineering/Team Fox Corvette DP of Eric Curran and Dane Cameron.
The next event on the IMSA calendar is the Monterey Grand Prix powered by Mazda which takes place on April 29.