New spy shots have emerged showing Aston Martin's brand new Vantage GT8 as it undergoes final testing ahead of a reveal later this month.
The Vantage GT8 is a new lightweight, race-focused Aston that is based on the V8 Vantage and will be the lightest Vantage ever produced by Aston. While official images of the car have yet to leak, from the included spy shots we can get a pretty good idea of what the GT8 will look like once the camouflage comes off. From what we can tell, the GT8 will receive an almost identical bodykit to the one used on the Vantage GT12. This means a fixed rear wing and larger front spoiler at the very least.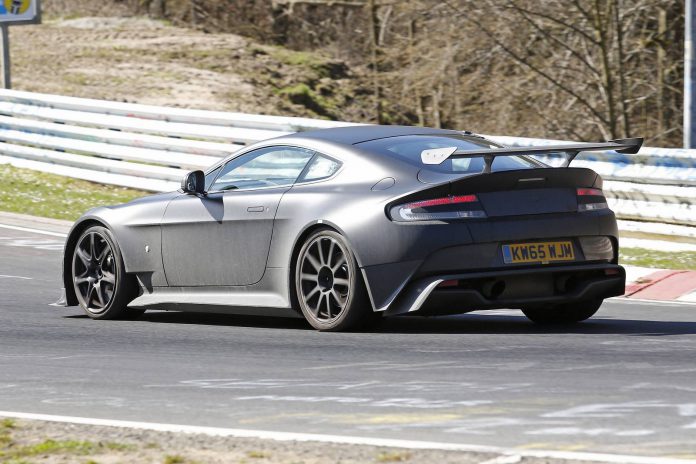 In order to save weight and increase performance the GT8 will incorporate heavy uses of carbon fiber, titanium and aluminum in its construction. In building the GT8, Aston wanted to create a car that would rival the likes of the Porsche 911 GT3 RS in both performance and philosophy.
Performance figures have not been released but we expect the GT8 to be around 0.3-0.5 seconds faster to 60 mph than the standard V8 Vantage S. This would mean a 0-60 mph time in the range of 4.5 seconds, give or take.
The GT8 is set to be revealed to a select group of handpicked buyers later this month. According to sources, those individuals invited to the unveiling have already been presented with sketches of the car.