Rolling out the remaining variants of the recently introduced Mercedes-Benz E-Class is picking up pace with now the recently appeared spy shots of the 2018 Mercedes-Benz E-Class Cabriolet. While the six-cylinder AMG versions of the E-Class were already presented during this year's NYIAS, just this week spy shots emerged of the V8-powered E 63 and E 63 S versions in addition to a leaked sales brochure.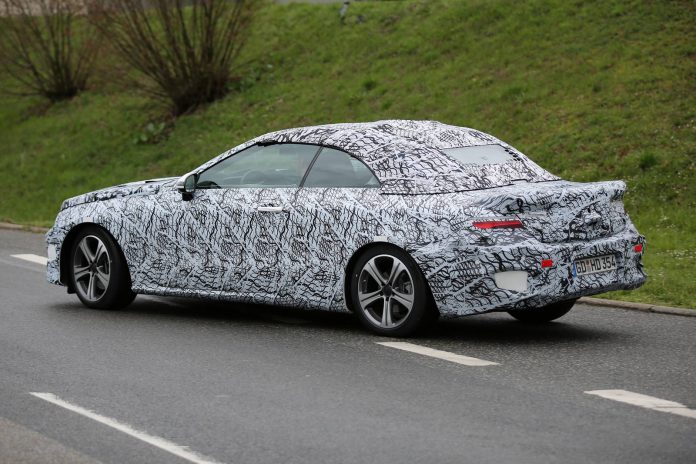 As for the Mercedes-Benz E-Class Cabriolet, it comes as no surprise that just like the E-Class sedan, the convertible version will have similar looks to its C- and S-Class relatives. It is however said that the new E-Class convertible will be everything but a glorified C-Class Cabriolet, as the new open-top E-Class is based on the MRA rear-wheel-drive platform. Practically this means that you can expect the E-Class Cabriolet to have much more interior room and storage space than the open-top C-Class.
2018 Mercedes-Benz E-Class Cabrio Spy Shots
Powering the E-Class cabrio will be the range of four-cylinder and inline six-cylinders that we know from the E-Class sedan. What's more exciting is that the E-Class Cabriolet has a solid chance of getting the AMG treatment this time, which means that the 600 hp 4.0-liter V8 Biturbo could be home to the roofless E-Class in the future.
Concerning the car's interior, the favorable dashboard of the E-Class sedan will make its way to the convertible and so are its high-tech autonomous driving features. Expect the E-Class Cabriolet to make an introduction early next year.