Not just BMW is celebrating their anniversary, German tuner Manhart too have reached a milestone in their history of customizing cars. Manhart celebrates its 30th anniversary this year and proudly present the MINI Cooper JCW F300 project as part of their celebrations.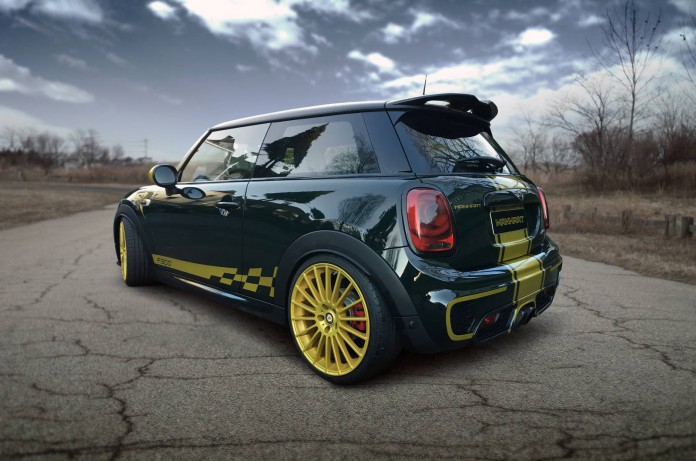 The tuner that has a profound interest in BMW and their subsidiaries presents us with the "Ultimate John Cooper Works MINI". The F300 personalization package fits the latest MINI John Cooper Works (F56), the flagship performance MINI.
Main point of focus for Manhart was the car's weight. Despite its more efficient 2.0-liter four-cylinder turbocharged engine outputting a firm 231 hp, the car is a substantial 114 kg heavier than its predecessor from 2009. To tackle this supposed problem and reinstate the balance in performance, Manhart introduce a remap of the four-cylinder engine and replacing the standard intercooler with a more efficient Wagner unit.
At the rear a Remus stainless steel sports exhaust with a larger downpipe and valve control replaces the stock exhaust and reduces significant backpressure while simultaneously accounting for an improved soundtrack coming from the car's tailpipes. The result of these modifications show an increased 300 hp and 470 Nm output.
Manhart Performance Mini Cooper JCW
To go with the performance upgrade is an enhanced KW Variant 3 coilover suspension kit featuring ride height adjustment as well as separately adjustable bounce and rebound control. An additional Manhart carbon fiber front suspension tower strut brace stiffen up the front-end even more aiming to reduce potential torque steer.
Visually Manhart did not hold back and puts the quick MINI cooper in a quite eccentric jacket. 19-Inch gold-painted multispoke alloy wheels play a large role in the MINI's distinctive looks. The car's base coat is a "British Racing Green" paint complimented by a gold decal set to match the car's wheels.
On the inside Manhart have focused on creating a luxury atmosphere rather than a motorsport look. The car's seats are covered with upholstered luxury leather and alcantar in combination with gold outline stitching. The steering wheel is wrapped in alcantara to match and both the driver's and passengers' feet rest on sets of velour floor mats with Manhart embroidery.