This is German tuner G-Power latest BMW offering: a customized BMW M6 Gran Coupe with up to 740 hp! The stock M6 Gran Coupe produces a respectable 560 hp and 700 Nm of torque already thanks to its powerful twin-turbo V8 engine. G-Power have managed to give the Bavarian sports coupe an upgrade that brings it in range of the supercar league.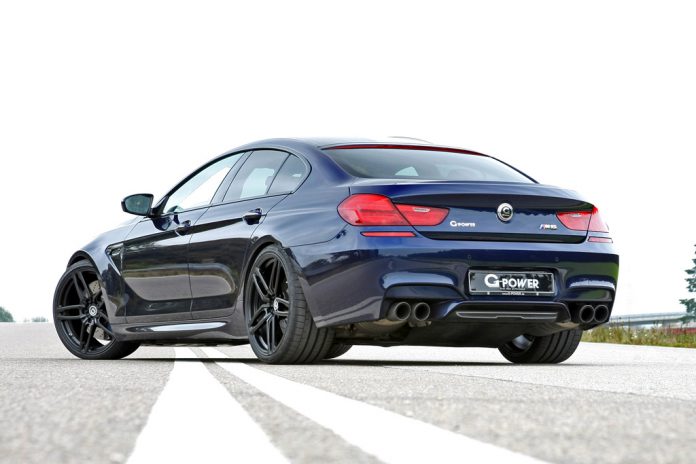 G-Power's tuning program comprises of three stages, pumping up the M6's performance to 650 hp, 700 hp or a menacing 740 hp (544 kW), with its performance peak at 6500 rpm. The car's torque is up from 700 Nm to 975 Nm respectively, surely giving the driver a nice kickback when accelerating from a standstill.
The car's upgraded performance translates to reaching 200 km/h from zero in just 10.5 seconds and an electronically limited top speed of 325 km/h. If that's not enough for you, G-Power offer to take off the limiter for a modest €668,00. Important link in the M6's improved performance is G-Power's custom titanium exhaust system with 4 x 100mm carbon tailpipes.
Visually there are a range of tailor-made additions available from G-Power including the 21-inch Hurricane RR forged alloy wheels. However, as per usual with G-Power, the real customization process happens under the hood and vital parts not instantly visible to the eye.
G-Power additionally offers home-made uprated suspension systems to optimally support the car with its upgraded performance. The stainless steel downpipes with 200-cell sport catalysts play an important role in raising the car's performance, both saving weight and relieving exhaust back pressure. The immense power upgrade sets you back an acceptable €3,750,00 while both the custom exhaust system and alloy forged wheels will cost you double. More information is available on G-Power's website.