Rosberg claimed his second consecutive win of the season at the Bahrain Grand Prix today, after leading from start to finish in a commanding manner through a series of well strategized pit stops. Kimi Raikkonen won P2 for Ferrari while Lewis Hamilton managed to claim P3. The world champion started from pole but suffered a spin when he got hit by the Williams of Bottas.
It was another awesome race for American team, Haas F1 who finished in P5 with Romain Grosjean's car, his teammate Gutierrez retired with a technical issue. Ricciardo claimed P4, Verstappen was P6 behind Grosjean and ahead of Kvyat, Massa, Bottas and the McLaren of Vandoorne – a great first Grand Prix for the McLaren-Honda driver, who was sitting in for Alonso.
Bahrain Grand Prix 2016 Results
1. Nico Rosberg – Mercedes
2. Kimi Raikkonen – Ferrari
3. Lewis Hamilton – Mercedes
4. Daniel Ricciardo – Red Bull
5. Romain Grosjean – Haas F1
6. Max Verstappen – Toro Rosso
7. Daniil Kvyat – Red Bull
8. Felipe Massa – Williams
9. Valtteri Bottas – Williams
10. Stoffel Vandoorne – McLaren
The Bahrain GP made history in 2004 as the first ever Grand Prix to take place in the Middle East and has since won the FIA award of "Best Organised Grand Prix".Fernando Alonso – missing in action today – holds the record for the most number of wins on this circuit (at 3) while Ferrari leads the manufacturers with four wins. For today's race, Pirelli provided three compounds of tires namely supersofts, softs and mediums.
Nico Rosberg started from P2 today after narrowly missing the pole yesterday during qualifying. Hamilton started from pole while the second row was occupied by the Ferrari cars. The top eight drivers started on supersofts, same one they finished with during qualifying.
Soon as the formation lap got underway, Vettel's Ferrari incurred an engine problem. "I'm not sure, I think I have an engine failure," radioed the former world champion. Rosberg also had a rough start after jumping straight into second gear but the German still managed to jump ahead of Hamilton into P1.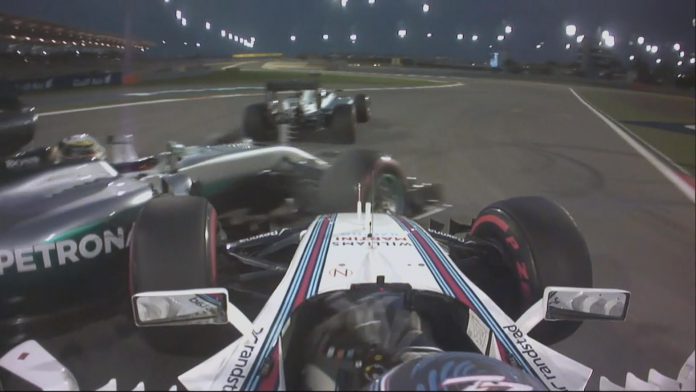 Bottas then made contact with Hamilton causing the world champion to spin, that gave Rosberg a moment to escape followed by Massa in P2. After the dust settled, Bottas was in P3 behind his teammate Massa, and ahead of Ricciardo, Raikkonen, Grosjean and Hamilton. There was additional contact between Sainz and Perez sending both drivers into the pits.
Contact for @LewisHamilton!!! He's been absolutely harpooned!!! What the hell!!! #F1 #BahrainGP

— MERCEDES AMG F1 (@MercedesAMGF1) April 3, 2016
Formula 1 Bahrain GP 2016
After five laps, Rosberg held a 5 second gap over Massa and a 7s gap over Bottas whose car seemed to be okay despite the earlier contact with Hamilton. Massa then pitted from second but Hamilton had already caught up with the top leaders taking third place behind Raikkonen. Bottas was slammed with a drive-through penalty for hitting Hamilton earlier in the race, Massa on the other hand rejoined the race in 14th place after picking up a set of medium tires.
Failure on #Seb5's car was totally unexpected, no warning before, we're all very disappointed #BahrainGP #redseason

— Scuderia Ferrari (@ScuderiaFerrari) April 3, 2016
Gutierrez was the second retirement of the day after his Haas developed technical issues. The group of Rosberg, Hamilton and Raikkonen all pitted at the same time, the German retained his lead while Raikkonen managed to get back into P2. The front-runners were on soft rubber while Hamilton picked up mediums instead, and was running in P4 behind Ricciardo after 15 laps. Elsewhere, the incredible Haas of Grosjean set a new personal best lap and was in P6 behind Massa.
Hamilton then managed to slide past Ricciardo for third place while Grosjean went past Massa for fifth place. Verstappen – who was on softs – became the next man to pass Massa jumping straight into P6 right behind Grosjean. As for Hamilton, he was closely matching the pace of the two leaders ahead of him despite running on medium tires. Rosberg's gap over Raikkonen had extended to 14s.
Ricciardo pitted from fourth allowing Grosjean to take P4 while quick Verstappen landed in P5. The Toro Rosso driver also pitted minutes later and rejoined in 10th on a set of medium tires hoping to go a little longer.
The top three drivers pitted on lap 30 all taking supersofts and rejoining in the same positions. Rosberg however had a slow stop and his gap over Raikkonen was now 10s. Grosjean had managed to climb back to P6 and was running behind the two Red Bulls of Ricciardo and Kvyat – a few laps later the Haas driver who was on supersofts managed to dive into P5 after passing the soft-shod Kvyat.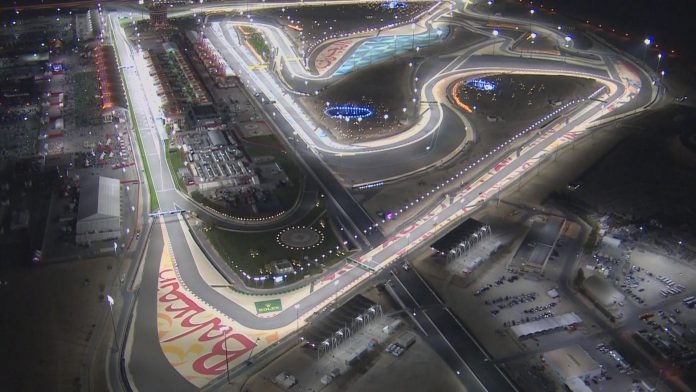 After 36 laps, Raikkonen had trimmed Rosberg's lead to 9.5s, Hamilton was 14s off the lead. Ricciardo was in fourth leading Grosjean, Verstappen, Massa, the McLaren of Vandoorne and Kvyat. The Ferrari pitted afterwards and rejoined in third with a set of soft tires, Hamilton was now in P2 with one more stop to make. Rosberg also pitted from the lead leaving P1 to Hamilton.
Hamilton was the next man to pit on lap 40, Rosberg reclaimed the lead and Raikkonen dived back into P2. The front order remained pretty much the same till the end, Grosjean was however the real star once again proving that newcomer, Haas F1 has what it takes to win. The American team finished in P5, well within the points zone and for the second time this season.