MR Racing's most recent project involves tuning the latest version of the Audi RS3. The German tuning company that is based in Eschweiler have conducted several exterior modifications as well as performance upgrades under the hood.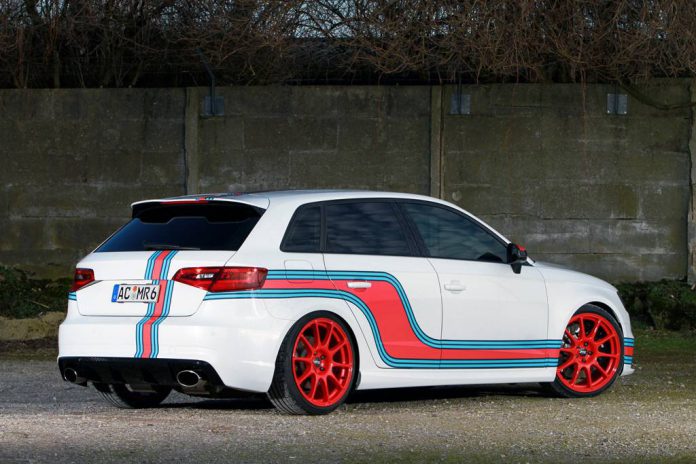 Winning the engine of the year award for five consecutive years, Audi's turbocharged 2.5-liter engine is a favorite among a variety of tuning firms. MR Racing have done several adjustments including optimizing the car's electronically limited parameters and improving the engine ventilation through a modified air system with sports air filter.
Weight is saved and performance is improved by fitting a stainless steel sport exhaust system by "Friedrich Motorsport" at the rear of the RS3. The new exhaust system features a larger downpipe, HJS metal sport catalytic converters and a valve control system that let's the driver control the sound level.
The final stage of improvements under the hood is MR Racing's ECU remap that optimizes the fuel, ignition and boost curves to match the enhanced airflow and aftermarket exhaust system. These upgrades translate to an output of 448 hp and 653 Nm of torque.
For customers that wish to have even more power at their disposal, MR Racing takes it next level with a stage 2 tuning program that raises the output to 535 hp and 700 Nm of torque. To achieve this level of performance, the RS3 will undergo a more intensive modification program that includes a TTE 500 turbocharger, high-pressure fuel pump and a more efficient intercooler.
Visually the German tuner has some eccentric options in store for customers looking to hype up their RS3. This comes in the form of a multi-color wrap with several color accents and 19-inch lightweight ATS GTR alloy wheels finished in "traffic red" with 235/35R19 Pirelli tires.